Way to Personalise our Christmas Hampers
Author: Nicole Adler Date Posted:31 August 2016


The holiday season is one of the busiest times of the year. There are reunions, dinners, and countless parties here and there, and not to mention, the pressure of gift giving. What to give a family, a relative, a friend, a neighbour, a special someone, a boss, or a colleague? What gift would you be proud of to give? What gift would be memorable and unique?

Enter The Hamper Emporium and its wide collection of special hampers that would not leave both the giver and receiver disappointed. When you don't have the luxury of time and energy to choose out a specific gift for each person on your Christmas list, your best bets are the Christmas hampers and chocolate hampers from The Hamper Emporium.

You can conveniently browse online and purchase with just one click. You can be assured that only the finest selection of goods are available – from wines, spirits and champagnes, to luscious sweets like chocolates and baked treats, all combined into a lovely, sophisticated packaging. It's a combination of a lot of crowd favourites, so your loved one who receives it will feel he did not receive just one gift, but one too many! And he will truly feel special and treasured.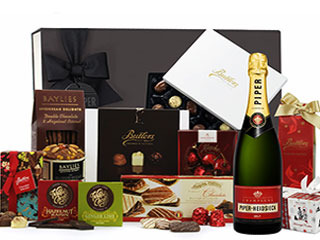 The best part is, you can add your personal touch by personalising the Christmas hampers. Upon choosing from our collection, you can choose the way it is gift-wrapped, including personalising the gift tag and its presentation. That way, each of the Christmas hampers would be unique to each one and you won't be confused when gift-giving time comes.
Choosing your Christmas Hampers Especially for your Recipient
The Hamper Emporium understands that the Christmas season is one of - if not the busiest - holiday of the year. This is why we have a wide line-up of Christmas hampers to choose from.

One of the Christmas gift packs that you should check out is the Everything But The Ham Festive Hamper which is the ideal gift for Christmas food lovers. It boasts of Partridges Artisan Bakehouse crackers which you can aptly use with savoury dips and spreads such as the Tasmanian Fruit Pastes, Valley Seed Crisps, and Spoonfed Foods jam. Combine this with great picks of sweets and biscuits like the Maison Fossier French biscuits, Epicurean Delights from Baylies, Harrogate Biscuit Selection, and Pecan and Date slices, plus a traditional handmade Christmas cake. You can adorn these desserts with the AB Ginger Flavoured Syrup, while basking in a lovely tea set care of Harney & Sons.

Another gift pack to consider from the Christmas hampers collection is the Indulgence Xmas Hamper which boasts of an indulgent fusion of delicious Christmas bites, savoury biscuits, and of course, the traditional Christmas cake. Biscuits found in the Indulgence Xmas Hamper are products of the renowned biscuit manufacturer from France, Maison Fossier. Couple these with French Galettes and Gingerbread Fondants and you'll surely have a luxurious treat.

Speaking of luxury, the traditional handmade Christmas cake included in this Christmas hamper is from Baylies Epicurean Delights, which comes with a tinge of the famous Barossa Valley brandy. Since we want to push the Christmas treats further, this gift pack also comes with Copperpot Christmas Spiced Butter Fudge, Triple Choc Fudge Bon Bons, and Anna's Original Ginger Thins. What more could you ask for?
Chocolate Hampers as a Great Christmas Gift Option
For the chocolate lovers, another option to give out for Christmas would be chocolate hampers. There are many different kinds of chocolates out there – dark, milk, sweet, white, and various combinations and styles. Here at The Hamper Emporium, we have a wide array of chocolate hampers to choose from, each and every one as enjoyable as the rest.

The Hamper Emporium's chocolate hampers proudly carry the line of Butlers Chocolates from Ireland, famous for its line-up of chocolate bars, toffee, fudge, and truffles. There are also other world-renowned chocolates from Belgium's Baru and Hamlet, and Venezuela's Willie's Cacao.
One of the more popular gift packs from the chocolate hampers range is the Sweet Bites Gift Hamper. It is deemed popular since it is one of the more affordable ones. The Sweet Bites Gift Hamper has a little something for every chocolate lover out there. It contains a pack of creamy toffee, and Butler's chocolate and vanilla fudge. Added to this are some of Hamlet's Belgian chocolates, and Maison Fossier's galettes, almond macarons, and palmier pastries. And then topped off with Morgan & Albert's sugar candied peanuts.

The Sweetest of Gift Hampers is another option from the wide array of chocolate hampers. From its name itself, your family and colleagues with sweet tooth will surely enjoy the combination of sweet goodies from The Sweetest of Gift Hampers. First off, the chocolatey package is Baru's chocolate covered marshmallows together with Willies Cacao's white chocolate, Ultimate English's sea salt caramel fudge, and Everyday Gourmet's chocolate hazelnut dipping sauce. Up the chocolate quotient more with seven boxes of different chocolates and three packs of pastries from Maison Fossier.
Order your Personalised Christmas Hampers from The Hamper Emporium Today
The Hamper Emporium knows and celebrates the art of giving. Each and every hamper comes with luxurious gift boxes, either through a handcrafted wine box made of wood or a beer box. Every hamper has been customised to make each unique and special to the person receiving the gift. Plus, shipping is free nationwide, so you save time and effort and just have to wait for the packages to arrive.

You'd be glad to know as well that there are hampers for every occasion, not just for the Christmas season! Classy, luxurious, sophisticated and not to mention delicious, these are what your loved ones will be saying when they get one from you. So, save your time, effort, and money in deciding which to give them this Christmas and just go for The Hamper Emporium – you surely would not regret it. Order today and be one of the growing hundred fifty thousand plus satisfied customers of the The Hamper Emporium!