Festive Bubbles & Chocolate Hamper
Author: Nicole Adler Date Posted:28 June 2016


Are you crazy about chocolates? Or do you have a friend or a family member who values chocolates more than anything else? If you got a yes to any of these questions, sit back and smile big because at Hamper emporium, we have exactly what you are looking for. We understand that the festive season is the best time to surprise your loved ones with gifts, and to this end, we have present to you the Festive Bubbles & Chocolate Hamper.
Why choose the Festive Bubbles & Chocolate Hamper?
This Christmas hamper contains delightful ally of chocolates and a lovely bottle of one of the most lived champagnes in the world. Where there is a need to give thanks or celebrate, Festive Bubbles & Chocolate Hamper is a perfect match.
As always, we choose the very best products from the very best manufacturers not only in Australia but also in the world. We then combine these products exceptionally to not only meet, but also to exceed your expectations. And the most important thing is, we mind your pocket! The Festive Bubbles & Chocolate Hamper will delight your recipient because it offers the best there is; talk value for money, world class bottle of wine, awesome foodies and more.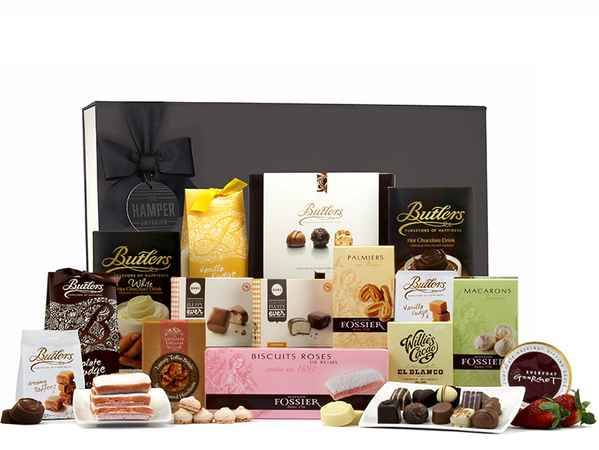 Festive Bubbles & Chocolate Hamper Content
With the best chocolates and the most loved champagne in this basket, how can you go wrong? We have also added two treats from well-known biscuits and sweets manufacturers Morgan's and Maison. This hamper offers you the best there is in terms of quality, palate, aroma, delight, and affordability.
 92 g Red Floral Ballotin Chocolate Selection
- This chocolate from Butlers offers a divine pairing of truffles and pralines to delight of all chocolate lovers.
 100g Handmade Chocolate Collection from Butlers -
Butlers manufacturing company was founded in 1932 in Dublin, so they have been in the game for long to understand what chocolate lovers want! They have created chocolates that have become world's favourites. For this reason, you will find Butlers chocolates in many Christmas hampers in our shops, but not in the same quantity as we have included it in this hamper.
 50 g Willie's Cacao Peruvian 70% Dark Chocolate Hazelnut & Raisin -
this delightful packet of chocolates contain hazelnut and raisin. Willie's Cacao is a chocolate brand that has stood for long due to its innovation and uniqueness of flavours. What makes them even worthwhile to try is their extraordinary mix of flavours with traditional chocolates.

If you purchase
Festive Bubbles & Chocolate Hamper
, you will also find a gorgeous pack of Fardoulis chocolates. Fardoulis is a manufacturer from Australia whose specialty is making chocolates with remarkable flavours. This company is one of the trendsetters in Australia, so if you purchase this hamper, you will experience some of the best flavours in the chocolate world from Fardoulis.

In this hamper, we selected one of the most loved champagnes in the world; 750 ml Moet Chandon Brut Imperial. This classy bottle of champagne will complement everything in this gift hamper, as well as start a fabulous Christmas party! Besides, this lovely champagne can be served with most seafood dishes for example white fish, oysters, scallops, and sushi. And if you are not enthusiastic about seafood you can combine Moet & Chandon Champagne with white meat such as chicken served with herbs. Its kitchen advantage makes it one of the most loved Champagnes across the universe.
 175 g Crème Brulee Roasted Peanuts -
These nuts from the Morgan's Company gives you a delicious treat.
 125 g Maison Fossier Feuilletes Chocolate Chip Puff Pastries -
Ever tasted Maison Fossier biscuits in the past? If not, then you are missing a lot. People who have tasted anything from Maison have never regretted their experiences. This treat from France is one of the most delicious Christmas foods in our gift hampers.

Why should you shop at Hamper Emporium?
At the Hamper Emporium, we are committed to delivering the best products to our customers. That is why we hand-pick products to include in our gift hamper from the best companies in the world. We also deliver our products for free all across Australia, and we are very convenient for that matter. So no matter where you are located in Australia, you can always take advantage of our free delivery. If you need an express delivery, we will do it, and more so at reasonable rate. Where are you located? Check out this table to know your delivery time;
| | |
| --- | --- |
| Region | Delivery Time |
| Darwin and outside major cities | 1 - 3 Business Days |
| NSW, VIC, QLD metro areas | 1 - 3 Business Days |
| Sydney Metro Area | Same Day Delivery |
| Melb, Bris, Adel, Perth, Hob, NSW cities | Next Business Day |
| TAS, SA metro areas | 3-5 Business Days |
| Perth and regional areas | 5 - 8 Business Days |
Each of our drinks and food hampers come with a lovely keepsake box. You are not charged extra for beautiful wrapping because we ensure that your gift basket is ready for you or your recipient upon delivery.
For more information, call us on 1300 459 452, or +61 2 9645 3516 for those calling from overseas; available between 9 am and 5 pm (AEDT) working days. Or you can visit our page https://www.thehamperemporium.com.au.