The Best Non-Alcoholic Christmas Hampers From Hamper Emporium?
Author: Nicole Adler Date Posted:24 November 2015


Not everyone enjoys a bottle of champagne or wine and for that reason Hamper Emporium has included some Christmas hampers in their range that do not contain any alcohol. Curious what our best non-alcoholic Christmas hampers are? Discover our most delicious non-alcoholic Christmas hampers below.

What Non-Alcoholic Christmas Hampers Can I Find On The Hamper Emporium?

We have several non-alcoholic Christmas hampers available for our customers this year. One of these non-alcoholic Christmas hampers is the "Everything but the Ham Festive Hamper".

The "Everything but the Ham Festive Hamper" is an amazing selection of savoury nibbles, biscuits and sweets. Some high-end brands that can be found in the "Everything but the Ham Festive Hamper" are Maison Fossier, Baylies Epicurean Delights, AB and Farrah's Of Harrogate.
Maison Fossier is a French biscuit manufacturer located in the champagne region of France, Reims. An interesting fact about Maison Fossier is that their first biscuits were created to be dipped in a fine glass of French champagne. The first Maison Fossier biscuits were called biscuit roses, which is a vanilla biscuit with some powdered sugar sprinkled on top.

The biscuit roses were not only popular with the local French population, because they eventually made their way to the French royal family. Biscuit roses were served during the coronation of Louis XV, which made Maison Fossier the royal French biscuit supplier.
Since the foundation of their biscuit company, Maison Fossier has created other gourmet biscuits that have acquired fame all over the world. One of these biscuits are also present in the "Everything but the Ham Festive Hamper", more specifically the Maison Fossier French Palmier Pastries.

Maison Fossier biscuits also acquired the royal seal of Charles X, who recognised the superior quality of Maison Fossier biscuits. Three centuries since their founding, Maison Fossier maintains their gastronomic heritage.

Another exquisite brand in our "Everything but the Ham Festive Hamper" is Farrah's of Harrogate. Farrah's of Harrogate is an English biscuit brand with a lot of history, considering that the company was founded in 1840. One of their first releases was Harrogate Toffee, which was created to clear the taste palate of Harrogate's Sulphur Water.

Farrah's Of Harrogate biscuits and treats have enjoyed great success all over the world. They are the official supplier of renowned retailers such as Selfridges and John Lewis. Their current catalogue has more than 250 products, so there is plenty of Farrah's of Harrogate products to add to our hampers in the future.

Another brand in the "Everything but the Ham Festive Hamper" we would like to discuss is AB. AB is a company that is mainly known for the manufacturing and distribution of flavoured syrup, providing some extraordinary syrup combinations such as cinnamon, sweet fire, mediterrano and more. When you want to add more flavour to your milkshakes, ice cream or desserts, you definitely need a good flavoured syrup from AB.

The second non-alcoholic Christmas hamper that is worth a look is the Gourmet Treats Festive Hamper. Inside you can find some of the big brands we discusses earlier, including Farrah's of Harrogate, Maison Fossier and AB. However, you can also find some additional brands providing superior quality such as Partridges Artisan Bakehouse and the Valley Produce Company.

Most Australians are already familiar with the Valley Produce Company. The company is best known for their artisan crackers and fruit pastes, which are being distributed all over the world.

Valley Produce Company crackers and fruit paste are mainly used on cheese platters. The latest addition to their range is a variety of seed crisps, which also go well on a variety of cheese.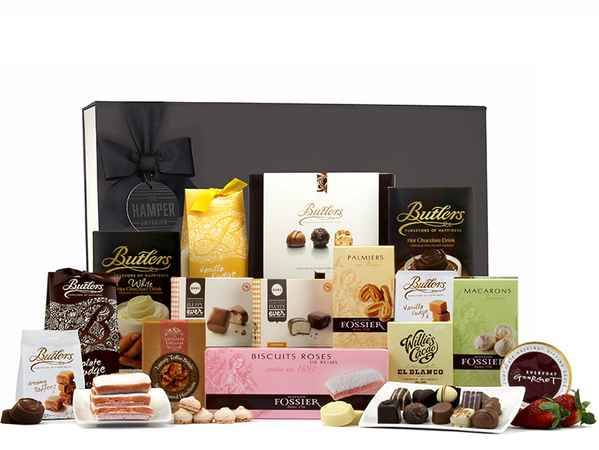 Are There Non-Alcoholic Hampers For Other Occasions?

Looking for non-alcoholic hampers for another occasion? Head over to our "Home" page and click on the "Gourmet Food (No Alcohol)" category. The "Gourmet Food (No Alcohol)" category is packed with hampers containing delicious treats, so let us take a look at some of Hamper Emporium's favourites.

One of our favourite non-alcoholic gift hampers is the "Sweet Bites Hamper". When you choose the "Sweet Bites Hamper", you will receive delicious treats from brands such as Old Dominion and Great Temptations.

Old Dominion is a company that has been creating delicious peanut snacks since 1913. Since its founding, Old Dominion has created nibbles such as peanut brittle, cashew brittle, peanut squares, butter toffee peanuts, coated brittle and so much more. Our "Sweet Bites Hamper" contains the classic Old Dominion Cashew Brittle, so if you are a lover of traditional brittle, this treat will certainly go down well.

Another brand that is worth discussing is Great Temptations, who delivers handmade cupcakes all across Australia. The company was founded by a man called Carl Quarrell. Carl Quarrell developed a passion for cooking at a very young age. He loved cooking with his mother and especially enjoyed licking out the bowl once the cupcakes were in the oven. Through his passion for baking, Great Temptations became one of the most popular cupcake manufacturers in Australia.

The cupcake range of Great Temptations is quite diverse and contains some outstanding flavour combinations. Most of Great Temptations' cupcakes can also be found in our gift hampers. Popular cupcakes from the Great Temptations brand are Vanilla Swirls, Lemon Swirls, Berry Swirls, Chocolate Swirls, Chocolate Speckles, Carrot Cakes, Orange and Poppy, Double Chocolate, Mini Lamingtons and Fairy Cakes.
When you purchase a product from Great Temptations, you also support good causes in Australia. Great Temptations is known to invest a portion of their sales into local communities, which greatly benefits schools and community groups.

Another good hamper in our range, which is great for fish food lovers, is our "The Home Chef" Seafood BBQ Hamper. Inside this seafood hamper, you will find all ingredients you need to create an amazing seafood dish. To make your next seafood dish a success, be sure to use some of the products in this hamper, for example the Seafood Kitchen Salt & Pepper Calamari Mix or the Verlaque Lemon & Gooseberry Splash.