The Best Non-Alcoholic Christmas Hampers From Hamper Emporium?
Author: Emily McWaters Date Posted:3 June 2019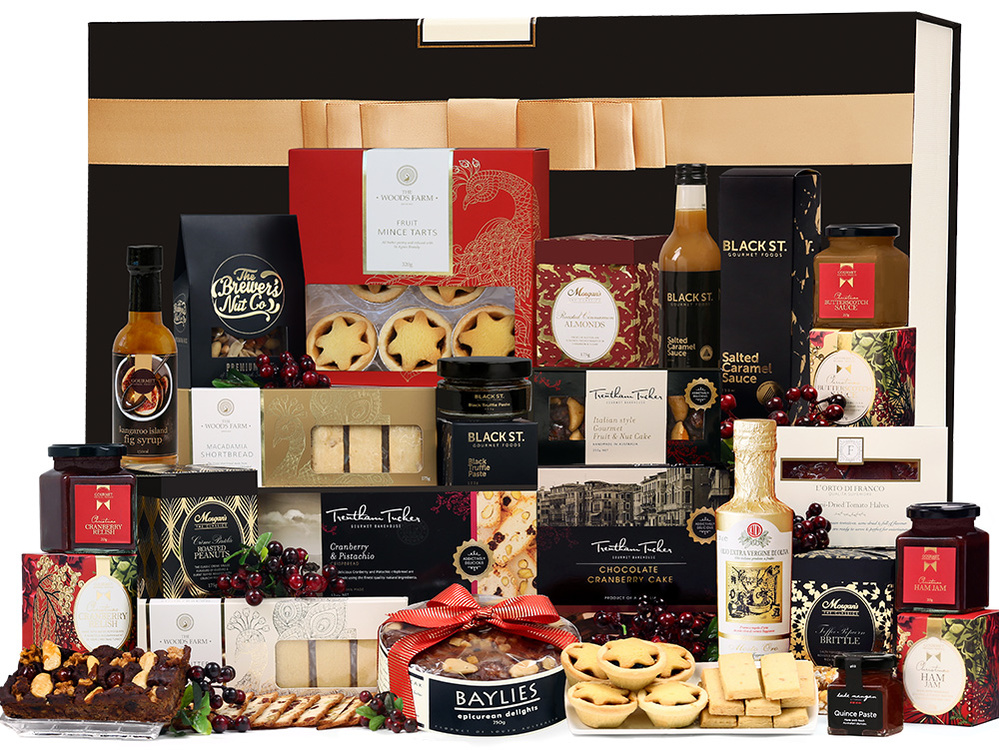 For non-drinkers and gift recipients aiming to fulfil healthy lifestyle aims, your family and friends can still be spoilt for choice with the range of luxurious non-alcoholic Christmas hampers on offer at The Hamper Emporium.
These deluxe gift hampers and gift baskets arrive brimful of the finest gourmet foods from local and international producers.
Every selection in the non-alcoholic Christmas hampers range offers sweet and savoury tastes to delight the most discerning palates and all-age foodies.
Free Australia-wide delivery, superbly presented Christmas hampers in keepsake gift boxes and a complimentary greeting card for you to personalise are The Hamper Emporium's Christmas gift to you.
The festive treats will be as rewarding for the giver as the receiver when you choose, order and arrange delivery of your non-alcoholic Christmas hamper online at The Hamper Emporium.
Your teetotalling family and friends can still receive the gift of total indulgence this Christmas That's because The Hamper Emporium has expertly curated a specialty range of non-alcoholic Christmas hampers to suit all tastes, ages and budgets.
There's an irresistible selection of Christmas hampers offered online, including a host of non-alcoholic gift hampers that are filled with the finest luxuries in sweet and savoury gourmet foods and every festive extra.
Why buy non-alcoholic Christmas hampers?
Non-alcoholic Christmas hampers are the ideal all-ages epicurean gift idea or for those who abstain from drinking alcohol, but still know how to treat and enjoy themself.
These beautifully presented gift hampers and gift baskets come complete with all the finest gourmet foods, in tempting sweet and savoury selections and compendiums. Every luxurious item is sourced from the cream of local producers and also from leading international food suppliers.
What are great non-alcoholic Christmas hamper ideas this year?
For festive flair in alcohol-free Christmas hampers for 2019 that still embrace the spirit of occasion, you can't go past the Ultimate Foodies Christmas Hamper. As the name suggests, this is the penultimate Christmas hamper that's brimful of food, glorious food, in luxurious abundance.
From cranberry and pistachio crispbread, Tasmanian black truffle paste, smoky tapenades and gold-foil-wrapped imported olive oil to gourmet chocolate truffles and an endless selection of artisan chocolates and confectionery taste tempters, dedicated foodies will be overwhelmed by this ultimate festive selection.
What is included in a non-alcoholic Christmas hamper?
Delectable gourmet food of the highest quality and in abundant quantity is what gift recipients will unearth n the non-alcoholic Christmas hamper selection at The Hamper Emporium.
The Everything But The Ham Christmas Hamper is a prime example and true in name and nature.
There's a rich selection of handmade Christmas cakes, fruit mince pies, buttery and macadamia shortbreads, salted caramel sauce, an endless supply of chocolate-covered gourmet treats, sweet and premium roasted nuts, deluxe olive oil, imported semi-dried tomato halves, artisan crackers, and so much more in store.
Where to buy non-alcoholic Christmas hampers in Australia?
The Hamper Emporium offers an extensive range of Christmas hampers online, which includes an enticing selection of non-alcoholic Christmas hampers.
The Hamper Emporium also provides personalised online customer service, should you require one-on-one guidance for all your Christmas hamper gift ideas.
All Christmas hamper surprise packages are curated and expertly presented to leave a lasting impression of luxurious tastes to savour, when you buy online at The Hamper Emporium.
With your professionally gift-wrapped non-alcoholic Christmas hamper designed to arrive in its elegant keepsake gift box, complete with a complimentary gift card for you to personalise, the little touches speak volumes about the highest standards of gift giving.
Free Australia-wide delivery for all gift hampers and products purchased online, as well as an express delivery option for a nominal fee, the icing is sweetly laced on the Christmas cake at The Hamper Emporium.