The Bestselling Gourmet Gift Baskets of the Hamper Emporium!
Author: Nicole Adler Date Posted:15 May 2017


Are you searching for Australian Christmas hampers for your recipients this holiday season, but do not know which Australian Christmas hampers to buy? When in doubt, you can always count on our overview of bestselling gourmet gift baskets! So, to find the perfect present this holiday season, be sure to check out the bestselling Australian Christmas hampers below!
The Cape Mentelle Shiraz & Chocolates
The most popular hamper amongst our collection of Australian Christmas hampers is the Cape Mentelle Shiraz & Chocolates. The reasons why this hamper is a bestseller during the holiday season are not hard to find, because this hamper contains the best combination of Australian chocolate-covered treats and a bottle of Cape Mentelle Shiraz.
Customers can find the Cape Mentelle Shiraz quite regularly in our collection of Australian Christmas hampers, because this shiraz is a popular option for our customers. The wine itself is the perfect combination of Australian shiraz and French wine, so this release will appeal to gourmet lovers and wine connoisseurs.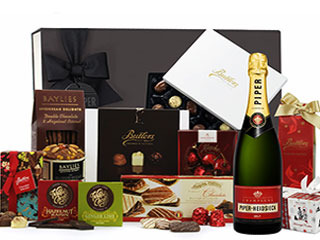 The Chocolates & Red Hamper
Our second most popular hamper is the Chocolates & Red Hamper; this hamper contains a tremendous collection of chocolates, biscuits and the bottle of Cape Mentelle Shiraz we discussed earlier.
The collection of chocolates inside the Chocolates & Red Hamper is certainly worth a second look, because they are some of the finest releases from premium brands such as Butlers Irish Chocolates and Willie's Cacao. Therefore, when you choose this hamper for your recipient, you can count on some of the creamiest chocolates inside the Butlers Handmade Chocolate Selection and Butlers Chocolate Truffles. Naturally, Willie's Peruvian Chocolate with Raisin & Hazelnut will provide the exotic tinge.
The Moet & Gourmet Nibbles Hamper
If your recipient is not too fond of chocolates, there is no need to worry; this because you have other options such as our Moet & Gourmet Nibbles Hamper. Even though this hamper does not contain chocolate, it contains a good amount of gourmet treats that will delight every time.
The first product inside the Moet & Gourmet Nibbles Hamper – which is going to delight your recipient - is the Moet & Chandon Brut Imperial NV Champagne, the main champagne of the Moet & Chandon champagne house. Your recipient can enjoy a nice glass of this classic French champagne on Christmas day, but could also enjoy it with a nice gourmet meal after the holiday season. The possibilities with this champagne are endless.
Our Moet & Gourmet Nibbles Hamper also contains many gourmet crackers, which could be served with any of the accompaniments inside this hamper too. To ensure there are crackers to everyone's personal taste, our hamper designer included options such as Baylies Gourmet Crackers with Sesame Seeds, Partridges Artisan Bakehouse Tuscan Crackers and Partridges Artisan Bakehouse Crackers.
As we mentioned earlier, there are some accompaniments for the crackers included in this hamper. Some of the additional treats your recipient could serve with these crackers include Gourmet Regional Chargrilled Capsicum Tapenade, Gourmet Regional Roasted Eggplant Tapenade and Quince Paste from Tasmanian Fruit Pastes. In conclusion, a great all-round gourmet hamper for the holiday season.
The Best of All Gourmet Hampers
Another option for the holiday season is the Best of All Gourmet Hampers, which also contains a fine selection of gourmet treats. Inside this exquisite hamper, our hamper designer has added some treats from Australian and international brands, providing customers with products such as Le Cordon Blue Paris Olive Fennel Spread, Baylies Epicurean Delights Gourmet Crackers, several tapenades from Gourmet Regional and much more! Therefore, this hamper is not going to disappoint for gourmet lovers.
Of course, customers could also acquire the Best of All Gourmet Hampers for the Cape Mentelle Shiraz, which was also included in this gourmet hamper. Aside from that, it also contains several pantry items; this includes a unique black truffle oil from Conte di Bellomonte and extra virgin olive oil from Calvi Mosto Oro.

The White Wine & Nibbles Hamper
This year, customers can find some new wines in our hampers. One of these new wines is present in the White Wine & Nibbles Hamper – the 2016 Robert Oatley Margaret River Sauvignon Blanc.
The 2016 Robert Oatley Margaret River Sauvignon Blanc is one of Australia's bestseller; this is no surprise when you consider the outstanding reputation of the Robert Oatley winery. Each of their wines offers a unique experience, even to wine connoisseurs who are used to drinking some of the finer wines on the Australian market.
2016 Robert Oatley Margaret River Sauvignon Blanc is bound to appeal to most recipients. It is characterised by faint green hues and has a strong aroma of passionfruit, green apple, lime and citrus. There are also some herbal notes, which provide the refreshing finish a good sauvignon blanc should have.
The excellent aroma and palate of the 2016 Robert Oatley Margaret River Sauvignon Blanc has earned this wine numerous awards; this includes a gold medal at the Sydney Wine Show. While this wine can be stored in the wine cellar for several years, it is recommended to try this outstanding release from Robert Oatley right away!
Finding Other Bestselling Hampers at the Hamper Emporium
Do you need a hamper for another special occasion, but need some inspiration by looking at our bestsellers first? Then be sure to make optimal use of our filter feature, which can be used by selecting the "most popular" option in the sorting menu. When you have selected this option, bestsellers will be listed from most popular to least popular, enabling you to make a better decision for your recipient.
Of course, it is always possible that customers need some help selecting the right hamper. Customers can also have some additional questions about one of the products inside the hamper. If you have any additional questions about our hampers – or need some help selecting a good hamper – feel free to contact our customer support team today! Customer support can be contacted by phone, email and live chat, so choose your favourite contact method to benefit from our experience today!