3 Ways To Adjust Your Skincare Routine For Winter
Author: Nikki Barnett Date Posted:29 June 2020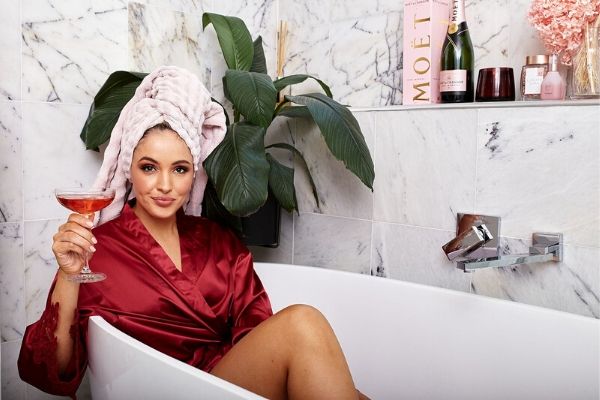 How to look after your skin in the colder months
It is that time of year again. Winter blows in the cold clear days that bring a rosier glow to your cheeks. Unfortunately, those blustery conditions are also quickly followed by dry and itchy skin—from face down to hands and feet.
The skin will start to dry out as soon as you turn the heater on inside. Something as wonderful as sitting by a roaring fire or taking a hot shower can strip your skin of its natural oils and turn winter into a skin nightmare. But how can we still enjoy what makes winter so wonderful without having dry patches at the end of the day? Apart from limiting shower time, reducing the water temperature and turning down the house thermostat, what else can you do?
There are only a few easy changes to your everyday routine needed to keep your skin moist and healthy through the winter months.
1. Eat well, stay hydrated and don't forget using SPF
Drink, drink, drink. Nothing will keep you looking younger, fresher and more rejuvenated than upping your water intake.
If you think you're struggling with the hydration part, make sure you cover this with extra fruits, vegetables and other liquid foods such as soups, juices and milk. Especially berries are great sources of vitamins and antioxidants that your body and skin need to stay healthy during the colder weather. Mix it up in the fruit aisles and pick what you love—strawberries, grapes, blueberries, raspberries or cherries. That way your body will get all the nutrients it needs to keep your skin healthy, happy and glowing.
Even though the sun might not feel as aggressive as in the summer months, it's vital to keep using SPF. Don't be fooled by darker, dreary days in winter, either. The sun's harmful UV rays can permeate clouds and still cause damage. Give your skin that extra lift; protect it when you leave the house and moisturise when you return home.
2. Moisturise, moisturise, moisturise
There is nothing better than a hot shower at the end of a cold, long winter day followed by a snuggle in front of the fireplace, right?
Well, there is something better for your skin. Instead of a hot shower, either turn down the thermostat to lukewarm water or severely shorten the pleasure. You might even want to consider swapping to a relaxing bath. Add some beautiful bath salts, apply a hydrating face mask and throw in a bath bomb rich in oil. You can also install a humidifier to manage the moisture level whilst enjoying the open fire.
Most importantly, make sure to cleanse your skin twice a day; in the morning and before you go to bed. Move from a foaming cleanser to a cream cleanser as they are gentler on dry skin and have moisture built right in. After washing your face, apply a light moisturizer in the morning to lock the moisture in and create a protective barrier. At night, use a heavier moisturiser or overnight cream as that will nourish your skin while you sleep!
Did you know, you should apply your cream on damp skin? The reason being, just-washed skin absorbs moisture much better.
3. Pamper your hands and feet and spoil your lips
No matter which dermatologist you ask about winter skincare tips, they will all remind you about your hands, feet and lips. Most of us seem to neglect them on a regular basis. General advice is, always carry a lip balm, get a facial, have a foot bath and carry a hand cream with you at all times for re-application.
The skin on our hands has fewer oil glands as compared to the skin on any other body part. They are more prone to cracks and itchiness because moisture escapes from your hands quicker. Show your hands some love with a rich, luxurious cream to nourish skin and make dryness disappear!
Always make sure to apply a hand cream before you go out.
Look after your feet—they walk you around all day. Exfoliate the skin on your feet occasionally to allow easier absorption of moisture. Spoil them with a nice long footbath and make sure to add some bath salts to it. Rub the dead skin off the soles while the skin is still damp and then choose glycerine-based creams and petroleum jelly to moisturize your feet.
We all know the winter pains of dry, chapped or painfully cracked lips. Nothing ruins a glamorous red holiday pout than flakey lips. Our lips are more vulnerable to drying out because the skin on them doesn't contain oil glands, so it can't really replenish its own moisture.
By regularly applying a hydrating balm, you can stay ahead of the dryness and chapped lips won't be a fact of life during winter.
Any balm that contains wheat germ oil, almond oil, jojoba oil, coconut oil, aloe vera, shea butter, sunflower oil, or cottonseed oil, will do the trick to keep your pout pretty and protected.
Treat yourself and your winter skin
It won't be long until we are back on the sunny beaches lathered in oils and sunscreens. But until then, do yourself and especially your tired winter skin a favour by ordering one of the Pampering hampers. The Jurlique Handcream & Moet Hamper, on top of the champagne and nibbles, comes with a high-quality Mulberry Silk mask to help you completely relax whilst enjoying a bath with the also included pink salt Bath Soaks.
The beautiful pampering gifts here at The Hamper Emporium offer a range of choices for him and her, including anything from bathrobes to cosmetic bags, hand creams and wax candles. Spoil yourself or a special someone this winter with a dazzling gift box which includes FREE Australia-wide delivery.