5 Fun Ideas For Seeing In New Year 2020 At Home
Author: Loreena Walsh Date Posted:9 December 2019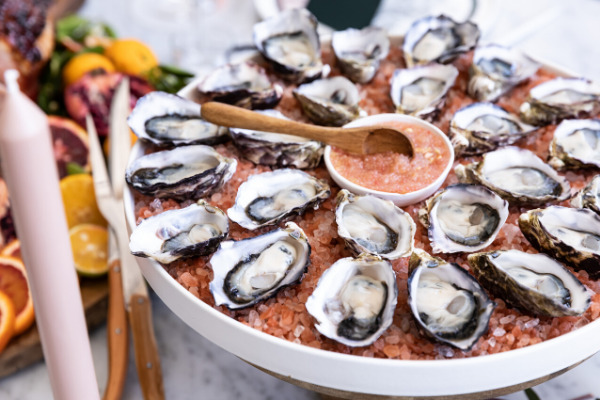 Yes, we know it's not even Christmas yet, but you really need to be coming up with some fun New Year's Eve ideas too!
It's the night of the year with the most hype and one that can bring both happy memories and hope for the future. So, how you will raise your glass at midnight needs a little bit of extra thought.
But here's a fact: there are lots of ways to have a memorable time without going out. It doesn't mean you are being unsociable and you can include family and friends in the cosy celebration. Instead of braving crowds of revellers to get to your champagne glass, you can choose to toast in the New Year in laid-back style.
Don't feel like going out? Then getting a little creative is the answer! Here are five fun New Year's Eve ideas from the team at The Hamper Emporium to help you on your way!
Set The Festive Scene
Whether you're planning fun New Year's Eve ideas for two or twenty, there are some essential ingredients you will need.
Send your invites in good time

Let people know what to expect

Create an inviting ambience

Fix lighting that glimmers & twinkles

Compile a great music track playlist

Put the drinks selection in a handy place

Organise lots of indulgent food & nibbles

Plan the countdown to midnight

Get totally relaxed & festive!

A Sensational Games Night In
This is perfect for a family party, a small gathering, or even an intimate evening for two. You can play after-dinner games or make it a fun theme throughout the whole evening. Interactive options like Taboo or Charades are fabulous and fun at any age. Cosy up with your loved one for a board game marathon or invite people over and ask them each to bring a special game. Or, why not come up with some fun New Year's Eve ideas for inventing some hilarious new ones of your own?
Scatter blankets and cushions on the floor. Serve up a host of easy snacks, finger food and cheeseboards. Let your guests come in their comfiest clothes or even pyjamas.
Dance Party & Sleepover
Just because you choose to stay at home doesn't mean you can't dance the night away! Invite your girlfriends and boogie in the living room or out on the balcony. Find all your top tunes from years gone by and blast them out until midnight. It's cosy to have a sleepover too, so no one has to worry about driving home after midnight is toasted. You can carry on into the early hours and reminisce about old times.
Make a fun teepee tent and cover it with strings of glittering lights. Share your hopes or fun New Year's ideas for next year, while tucking into a feast of tasty dips and nibbles.
Progressive Wine & Dine
It's what we all really enjoy over the festive season. A delicious meal with family or friends that lasts the whole evening; relaxed laughter and fun with our loved ones. Plan a progressive potluck wine and dine where every guest can contribute. Each can bring a full course or some favourite foods, desserts or wines. You can try new recipes, feast on foreign delights or sample 'lucky' dishes as one of your fun New Year's ideas.
For a really memorable evening, throw a 'winter white' themed meal and decorate the room and table. Or open up the barbie and prepare for a chargrilled feast of surprises!
Dress Up & Stay Home Romance
It's so romantic for you and your partner to get dressed up for an intimate night at home. This is a special evening, and one of the most fun New Year's Eve ideas is to avoid the crowds and spend it together. A low-key and relaxed date is fabulous, however long you have been together. Prepare an exquisite dinner, dance, sip bubbly champagne at midnight, and watch the fireworks bring in 2020.
Light candles all around the room and play your signature songs. Have a bonfire in the garden or string up lights outside. Talk, make memories, and romance the night away.
Countdown 'Night In' Hamper
If you've run out of fun New Year's Eve ideas and all you want to do is relax on the sofa, then why not pre-prepare a 'night in' hamper? Fill it full of tempting food, nibbles, treats and pampering items. Absolutely no work or cooking involved! Or make a movie night basket packed with popcorn, nuts, chocolate and your favourite films. All you need is your comfy pyjamas and a handy bottle of sparkling champagne for midnight.
If even this sounds like too much trouble, then spoil yourself and order in one of our magnificent food & wine hampers. Eat your way through the evening and pop the champagne cork whenever you like. Enjoy it alone or share it with your nearest and dearest! Our
Top New Year's Eve Hamper Pick
To help you complete your fun New Year's Eve ideas, we think this is a perfect choice; crammed with gourmet delights. There are cranberry crispbreads, artisan crackers, sticky figs and rich tapenades to munch on. Divine chocolate selections and Byron Bay triple choc fudge will keep you smiling. Toffee popcorn brittle, roasted almonds and honey popcorn are the perfect accompaniment for your New Tear's toast.
For the evening there's a bottle of vibrant Cape Mentelle Margaret River Shiraz to sip. Then, when the hour of midnight approaches, pop open the fruity Moët & Chandon Champagne. What an indulgent night to remember!
Bring In The New
The best part of any New Year's Eve is the countdown to the new year and the promise of a bright future to come. So, whatever fun New Year's Eve ideas you have for this year, the important thing is to enjoy the moment fully. Whether your celebration is big or small, alone or with friends, be sure to make it meaningful.
And one last thing - remember to make your New Year resolutions. One of our fun New Year's eve ideas is to keep them in a jar and open them again next year!
Is it too early to wish you a Happy New Year?