Best Easter Gift Basket Ideas for Adults
Author: Nikki Barnett Date Posted:11 March 2021
Ultimate Easter Gifts For Adults
Who says only kids can have fun at Easter? We never quite grow out of the thrill of receiving gift baskets and joyfully foraging for a treasure trove of hidden Easter eggs. Good Easter gifts for adults make their long weekend special. There are plenty of fun ways adults can enjoy the wonderful traditions of the Easter holidays, even without kids.
Imagine waking up to an Easter basket brimming with all your favourite goodies. From sparkling bottles of rosé, to new pyjamas, or fun and useful hobby tools, treat yourself and loved ones to something really inspiring this year. Whether you plan on organising an Easter egg hunt for adults, or you just want to spoil someone with delicious chocolates, surprising your friends or partner at Easter is a sweet way to enjoy the holiday break.
Here at The Hamper Emporium, we've had some creative ideas for how to make your very own surprise easter gift baskets! We've also rounded up the very best Easter hampers from our luxurious collection, which are guaranteed to please. So, forget filling up with hot cross buns, pancakes and chocolate eggs and try some of these sophisticated treats instead.
Surprise Them By Creating The Best Easter Hampers Ever
When it comes to making Easter hampers for grown-ups, or teenagers who have outgrown their siblings' scavenger hunts, you can let your imagination run riot. It's much more fun than choosing the standard chocolate gift boxes for children. Finding little gifts to pamper, or decadent Easter food gifts adults will love, is all part of the fun challenge. The ideas are boundless! Take Easter to the next level with these heavenly hamper ideas.
Top tips to get you inspired with new Easter gift basket ideas:
1. Think autumn
With autumn in the air, many loved ones would benefit from a reminder of those last days of summer. It's a fun idea to pack an Easter picnic hamper and head out for the day to enjoy the autumn sun.
2. Hobbies and interests
Everyone has a favourite pastime. Whether they adore food and wine, sports, tech, a good book, or gardening, you can't go wrong with an Easter basket themed around their hobbies. Sprinkle in some mini Easter chocolates just for fun!
3. Luxury pyjamas
New pyjamas at Easter doesn't have to be a tradition just for kids. As the weather cools, spoil your other half with snuggly new pyjamas or a plush new robe. Get one for yourself and you can cosy up together.
4. Needs and wants
Most people need or want some small things, even if it's just new socks! Maybe they're craving new headphones or need some random humour in their lives. Whatever it is, get it, and fill a basket with small Easter gifts.
5. Pampering products
Everyone enjoys the chance to relax, so put together an Easter basket to do just that. From candles and bath salts to calming herbal tea and escapist books, everyone will love a relaxing Easter weekend.
6. Personality traits
This is the final factor when choosing items to put in your Easter basket. What makes them tick? Would they love chocolate truffles or tickets to the movies? From sophisticated and arty to downright quirky, pick something perfect for every personality.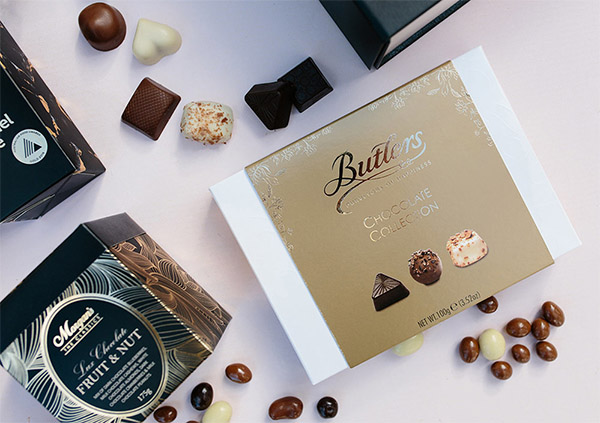 How To Make Your Very Own Easter Gifts For Adults
Once you've decided on the contents, it's time to delve straight into being creative. When making a luxury Easter hamper for adults or teens, you still need a theme so you can obtain an aesthetic and stylish look. A colour scheme is a great idea, and it doesn't have to be classic Easter yellow! Make sure you have paper, packing, ribbons and bows to complete the look.
You can use anything from a wicker basket to pots, bowls and breakfast trays. Pack in your colourful paper, and then play around with arranging your items to achieve the perfect design. Place the tallest or largest gift first, then fill in the gaps with the smaller ones. Pack the gifts firmly with scrunched tissue paper or shredded paper to keep them in position.
Of course, you can also add some of the best adult Easter eggs and treats as the finishing touch. Or why not include some homemade goodies like hot cross buns or bunny biscuits? After all, Easter fun is for everyone. Finally, wrap your fabulous creation with cellophane, attach your ribbons and bows and add a card. Voila!
Our Top 5 Delicious Alternative To Easter Eggs For Adults
If you don't have the time or inspiration to make your own, then we've got some fabulous gift ideas for Easter baskets. One of the benefits of gifting our luxury Easter gift baskets is that we do all the thinking for you. Plus, they are all stunning Easter gifts for adults!
You can choose from gourmet foods and wine, bottles of bubbly, cocktail hampers, craft beer and nibbles, plus a whole lot more. There are even indulgent pamper hampers for those in need of a little Easter recuperation. Of course, if they do have a sweet tooth, they'll need some chocolate too, or it wouldn't be the Easter holidays! Instead of kids chocolate eggs, why not gift them chocolate Easter hampers for adults? With established chocolatiers like Butler's and Ernest Hillier, they're nothing short of decadent with premium quality chocolate for true chocolate lovers.
To guide you on your way, we've chosen our top five favourite new Easter hamper ideas. They're equal parts fabulous and festive!
For anyone who loves champagne or sparkling wine, this hamper is heavenly. Raise a toast with a beautiful bottle of deep rose Chandon Brut Rosé, a sparkling wine with notes of fresh cherries, strawberries and citrus flavours. Indulge her Easter cravings with scorched almonds and berries smothered in smooth, creamy chocolate and delicious treats from Morgan's and Ernest Hillier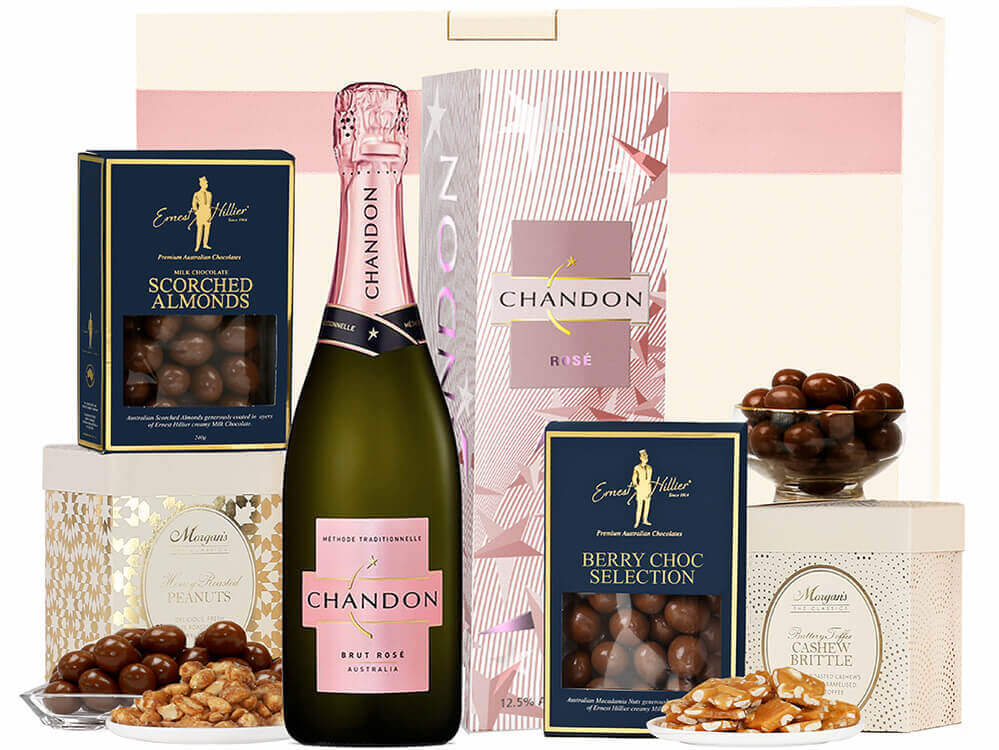 This stunning hamper contains everything decadent to spoil and pamper. It features a moreish dry gin cocktail from Archie Rose, flavoured with hints of hibiscus, strawberries and coconut cream. For relaxation, there's a gorgeous burgundy satin robe, a hand-poured scented candle and a silky mulberry eye mask. Plus, there are some sweet Easter nibbles to savour. A truly pampering Easter hamper.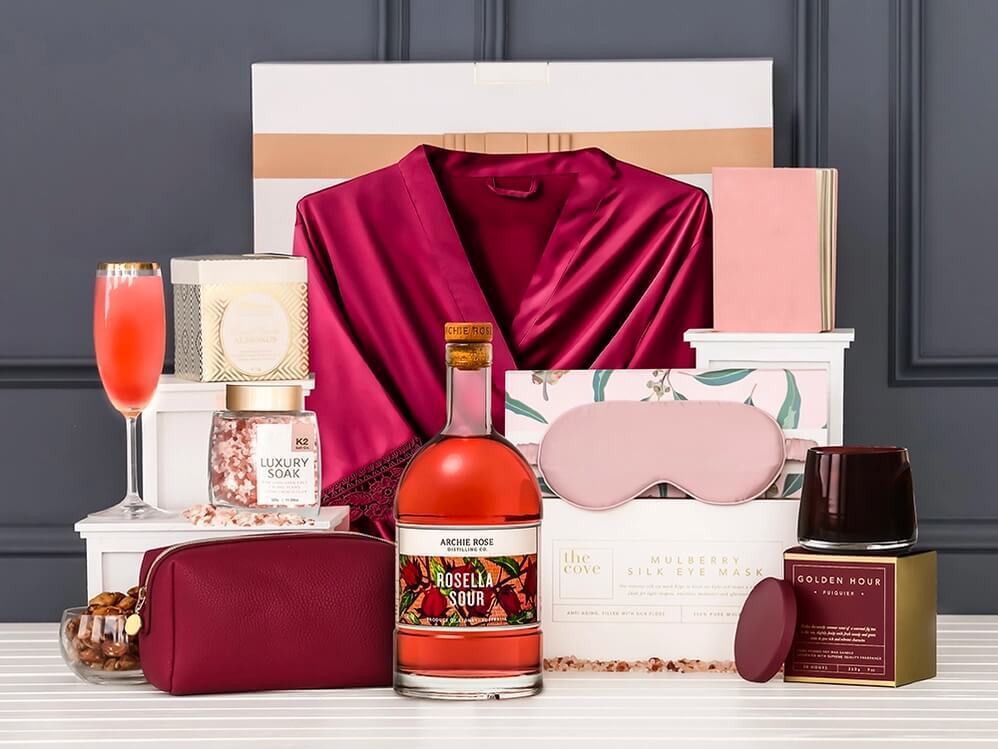 Our Sweet Bites Hamper is a great mini gift basket to surprise a chocolate and sweets lover this Easter. It's overflowing with mouth-watering treats, including a golden chocolate box assortment from Butlers. Every delicious nibble is covered in creamy chocolate from Ernest Hillier, and there are even more sweet delights from crunchy peanut brittle to award-winning salted caramel dessert sauce. Or, for the real chocoholic in your life, give the Sweet Epicure Hamper—this chocolate gift basket with sweet biscuits is the ultimate Easter treat.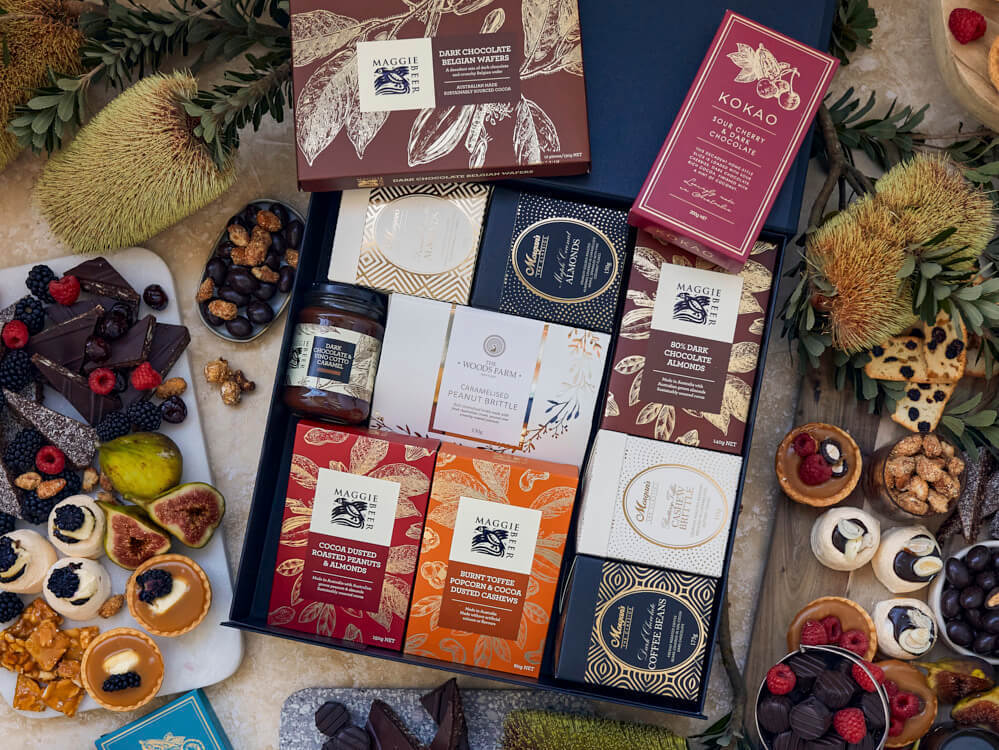 If you want Easter gifts that aren't chocolate for adults, then this pampering gift basket is just gorgeous. Make it a lazy weekend with a bottle of premium Shiraz from Cape Mentelle, a super-soft plush robe, deliciously scented cleansing bar and body wash, a sweet and salty popcorn blend with crunchy roasted peanuts covered in rich buttery toffee, and so much more. This is a gift idea for Easter that's even better than chocolate!