Best Easter Gift Basket Ideas for Adults
Author: Michelle Richards Date Posted:8 March 2022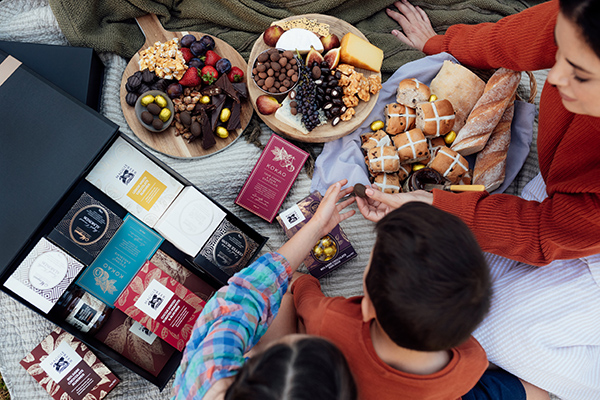 Our best Easter gift basket ideas
We never quite grow out of the thrill of receiving gift baskets and joyfully foraging for a treasure trove of hidden Easter eggs. The best Easter gift basket ideas will make everyone's long weekend really special.
Imagine waking up to an Easter basket brimming with all your favourite goodies. From dark chocolate Easter eggs and sparkling bottles of champagne to new pyjamas or relaxing gifts for a lazy weekend. Treat yourself and your loved ones to something really inspiring this year.
Here at The Hamper Emporium, we've had some creative ideas for making your very own surprise easter gift baskets. We've also rounded up the very best Easter hampers from our luxurious collection – these are guaranteed to please!
So, forget filling up with hot cross buns, chocolate bunnies, pancakes, jelly beans, and chocolate eggs and try some of these sophisticated treats instead.
Top tips to get you inspired with new Easter gift basket ideas:
With these ideas, you can give an Easter gift to everyone in the family – not just the kids!
1. Think Autumn
With Autumn in the air, many loved ones will benefit from a reminder of those last days of summer. It's a fun idea to pack an Easter picnic hamper and head out for the day to enjoy the Autumn sun. Don't forget to bring a few Easter baskets and plan an egg hunt.
2. Hobbies and interests
Everyone has a favourite pastime. Whether they adore food and wine, sports, tech, a good book, or gardening, you can't go wrong with an Easter basket themed around their hobbies. Sprinkle in some mini Easter chocolates just for fun!
3. Luxury pyjamas
New pyjamas at Easter aren't just a tradition just for the kids. As the weather cools, spoil your other half with snuggly new pyjamas or a plush new robe. Get one for yourself, and you can cosy up together.
4. Needs and wants
Most people need or want some small things, even if it's just new socks! Maybe they're craving new headphones or need some random humour in their lives. Whatever it is, get it, and fill a basket with small Easter gifts they'll love.
5. Pampering products
Everyone enjoys the chance to relax, so put together an Easter basket to do just that. From dried flowers and beauty bath bombs to calming herbal tea and escapist books, everyone will love a relaxing Easter weekend.
6. Personality traits
This is the final factor when choosing items to put in your Easter basket. What makes them tick? Would they love chocolate truffles or tickets to the movies? From sophisticated and arty to downright quirky, pick something perfect for every personality.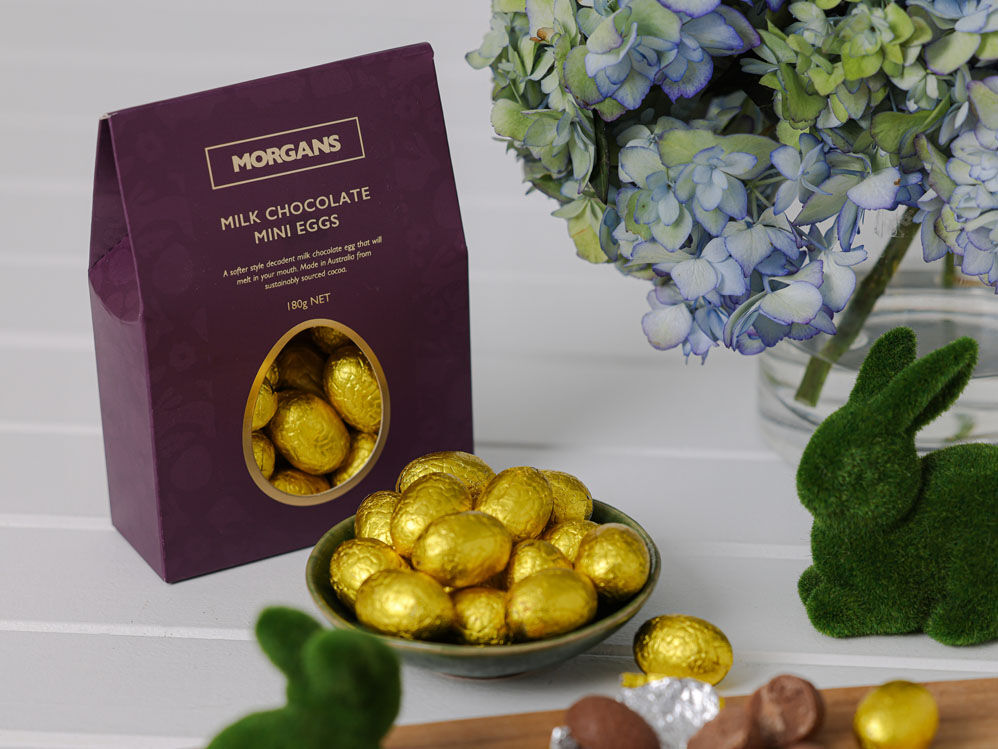 How to make your very own Easter gift baskets
Once you've decided on the contents, it's time to delve straight into being creative. When making a luxury Easter hamper, you need a theme so you can create an aesthetic and stylish experience. A colour scheme is a great idea, and it doesn't have to be classic Easter yellow! Make sure you have paper, packing, ribbons, and bows to complete the look.
You can use anything from a wicker basket to pots, bowls, and breakfast trays. Pack in your colourful paper, and then play around with arranging your items to achieve the perfect design. Place the tallest or largest gift first, then fill in the gaps with the smaller ones. Pack the gifts firmly with scrunched tissue paper or shredded paper to keep them in position.
Of course, you can also add some of the best Easter eggs and treats as the finishing touch. Or why not include some homemade goodies like hot cross buns or chocolate bunny biscuits? After all, Easter fun is for everyone. Finally, wrap your fabulous creation with cellophane, attach your ribbons and bows, and add a card. Voila!
The Hamper Emporium's top 3 Easter basket ideas
If you don't have the time or inspiration to make your own basket, then we've got some fabulous gift ideas for Easter baskets. One of the benefits of gifting our luxury Easter baskets is that we do all the thinking for you. Plus, they are all stunning Easter gifts!
You can choose from gourmet foods and wine, bottles of bubbly, cocktail hampers, craft beer and nibbles, and a whole lot more. There are even indulgent pamper hampers for those in need of a little Easter recuperation. Of course, if they do have a sweet tooth, they'll need some chocolate too, or it wouldn't be the Easter holidays.
To guide you on your way, we've chosen our top three favourite new Easter hamper ideas. They're equal parts fabulous and festive!
If you want an affordable Easter basket that comes complete with Easter eggs, this is for you. Spoil a sweet tooth with the finest gourmet treats, from Maggie Beer's dark chocolate eggs to mouthwatering Vino Cotto Caramel. Plus, there are some sweet Easter nibbles to savour. This is a great mini gift basket to surprise a chocolate and sweets lover this Easter.
Buy the Sweet Bites Easter Hamper today.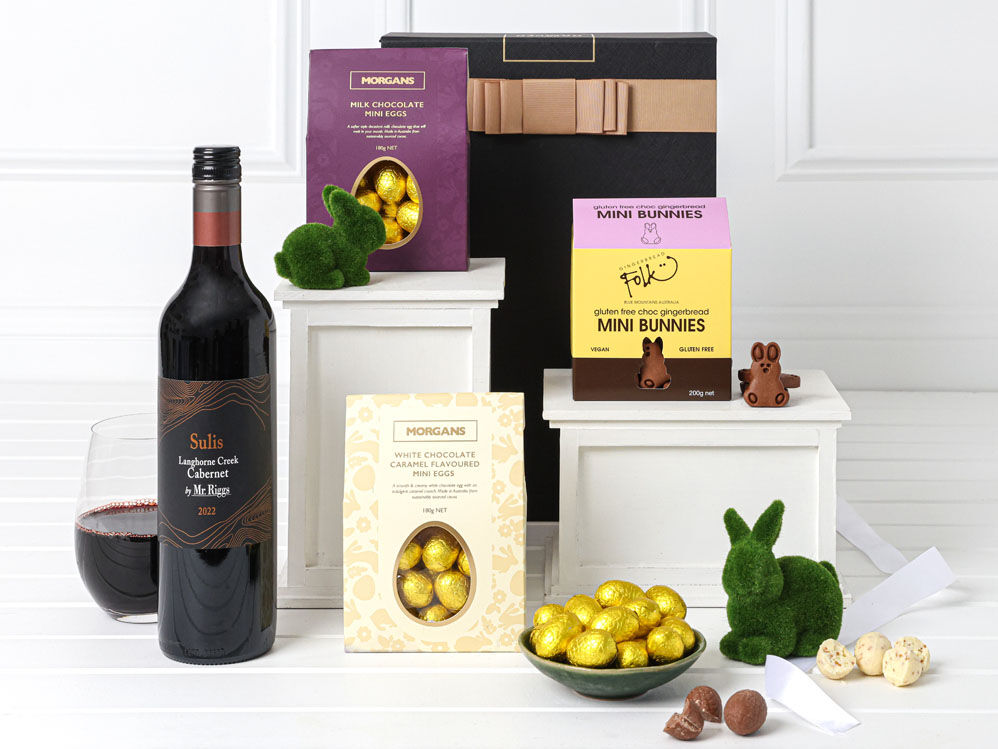 Forget the Easter bunny-themed oven mitt or Easter mug, and treat your giftee to this sumptuous pairing of Australian red wine, dark chocolate Easter eggs, and sweet gourmet treats. It shouldn't only be the younger kids that have all the fun! Give an Easter basket with a bottle of the finest Cabernet by Mr. Riggs – a gorgeous drop with blackcurrant, dark chocolate, and mint flavours. This gift box includes the most divine collection of sweet tooth delicacies, including dark chocolate Easter eggs from Maggie Beer.
Buy the Red Wine and Easter Bites Hamper today.
#3. The Sweet Epicure Hamper – The best Easter basket for those with an insatiable sweet tooth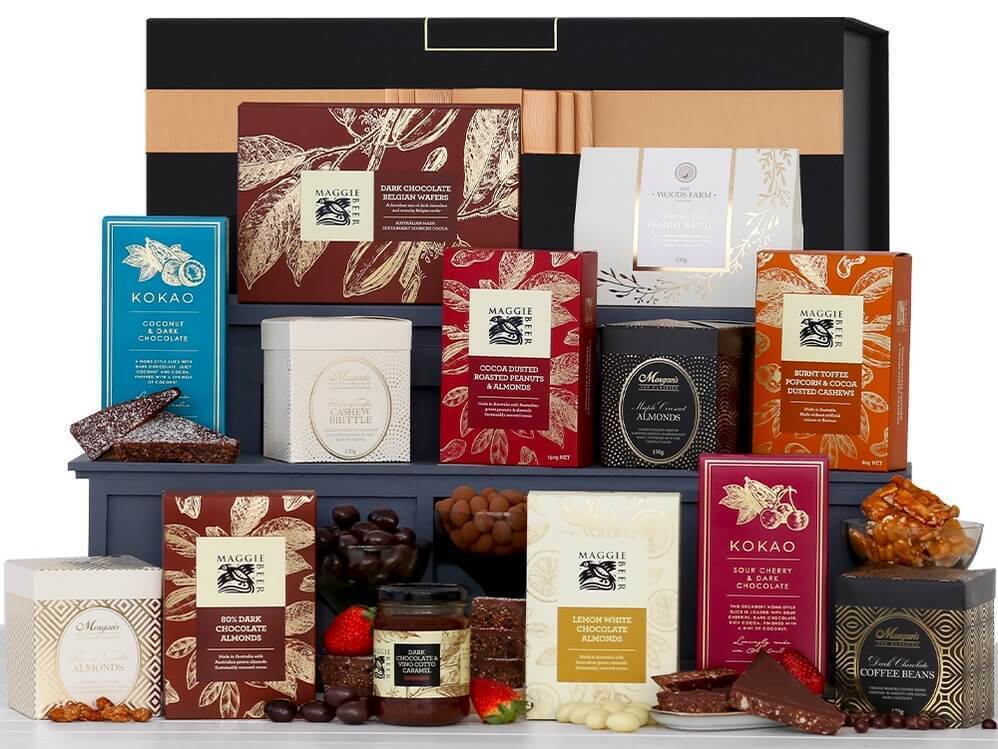 Packed full of delicious goodies, this chocolatey gift set provides everything you need for the ultimate Easter brunch experience. Forget the deviled eggs and avocado on toast, this Easter hamper is the perfect pick for a memorable family meal. It's an awesome gift for a family – give it to your in-laws, sister's family, brother's family, or snap it up for yourself and celebrate Easter with a feast. Everyone will want their own Easter basket, for sure!
Buy the Sweet Epicure Hamper today.
Make this the best Easter Sunday ever with unforgettable Easter gifts
Why not give your loved ones chocolate Easter gift baskets? With gourmet chocolate Easter eggs paired with grown-up treats from established chocolatiers like Maggie Beer, our hampers are nothing short of decadent with premium quality chocolate for true chocolate lovers.
Make this Easter special and give a luxury Easter gift basket that the whole family will enjoy. Shop our all-new range of gourmet Easter gift baskets for something truly special.
For bonus points, all hampers come with free delivery and a customisable card!