Plan A Mother's Day Picnic For A Day To Remember
Date Posted:5 April 2023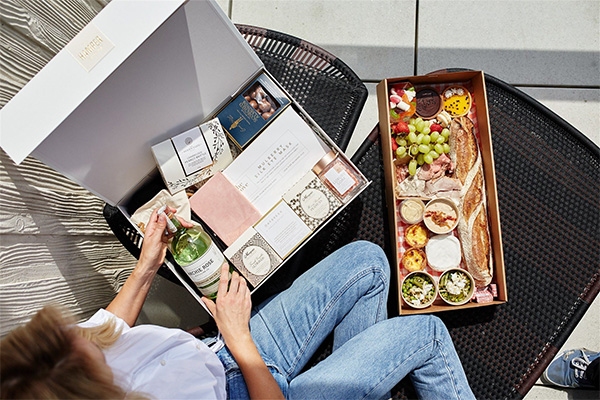 Are you wondering what to do with your Mum to make this Mother's Day special? Well, the day wouldn't be complete without a special Mother's Day picnic lunch or fine dining experience together.
A relaxed Mother's Day picnic (with the help of a Mother's Day hamper, of course) lets you enjoy each other's company and savour each moment without having to do a lot of preparation.
At The Hamper Emporium, we specialise in creating gourmet feasts that feed all the senses. We also love traditional picnics of any kind. Relaxing picnics with family create magical Mother's Day moments. Plus, they're an excellent excuse to get out in the fresh air and explore our beautiful bush.
We especially love the idea of planning a picnic as part of a nice Mothers Day gift. Mother's Day picnic ideas can include a luxury affair for some quiet mother-daughter bonding or a family picnic to share with your kids, Mums, mothers-in-law, and grandmothers.
Here are our thoughts on how to plan a picnic with Mum on Mother's Day. We've included a handy picnic checklist along with our favourite menu ideas for the perfect feast.
Picnic planning checklist for Mother's Day
What more can your Mum want than fresh air, a fabulous picnic spread, and your attention? We've thought of everything you need to celebrate in style and make the day extra special.
Just remember to gather the essentials before the weekend, including a picnic blanket, decorative accessories, and a lovely Mother's Day gift for Mum! Then, day of, pull together:
Fresh flowers

A folding table

Plates and cutlery

Glassware

An ice bucket and an esky

A lantern and some candles

A picnic food hamper full of great food

Bug spray

Some delicious desserts

Drinks or champagne

Chocolates
If you're holding the picnic in your own backyard, make sure you lay out a beautiful tablecloth and use your best champagne glasses. You can even have it in the house if the weather doesn't cooperate.
7 gourmet picnic menu ideas for a heavenly feast
One of the hardest parts of planning amazing experiences for Mum is coming up with the menu. Sandwiches in a sunny spot are great, but gourmet food really elevates Mum's special day to the next level.
So, here are seven gourmet ideas most Mums will love:
#1. Seafood platter
Of course, seafood belongs on the barbie, but it's also delicious served cold. A cold seafood platter is a great picnic staple, especially if it's filled with all her favourite finger foods. From prawns to fresh oysters and smoked salmon, it will be a real treat. Just add side salads, lemons and avocado, and top it off with an assortment of delicious cheeses, dips, and sauces.
#2. Fresh veggies
Packing your hamper with colourful, healthy vegetables is a great idea that's easy to pull off. Raw or roasted veggies, from cucumbers and carrots to radishes and cherry tomatoes, are ideal for picnic salads. Try them in tasty wraps or stuff them in pitta bread.
Alternatively, prepare a selection of delicious skewers with melon, mozzarella, tomato, and pesto potatoes. Or make a selection of tasty pasta, brown rice, or couscous salads topped with cubes of cheese. There's just something magical about a picnic meal packed with veggies.
#3. Dipping delights for dessert
Everyone loves to dip, so a selection of gourmet dips is an easy and fun picnic idea that's perfect for grazing all afternoon. First, choose the foods to be dipped – from vegetable sticks to French bread and slices of cheese. Then, get some yummy dips.
Finally, if your Mum has a sweet tooth, plan a picnic with a fresh fruit platter. She'll appreciate a touch of sweetness with her meal.
#4. A charcuterie board
Does your Mum adore a nice charcuterie board? Then your Mother's Day picnic hamper should indulge her completely. A charcuterie platter is a great alternative to the traditional cheese board, and there's no end to the variations you can do with one. Pile on the sliced meats, salami, and spicy sausages. Dress your platter with quince, figs, sweet pickles, nuts, and colourful slices of fruit. Add crusty bread and crunchy crackers, and prepare to enjoy and overindulge.
#5. Artisan cheese board
Of course, if she's a cheese fanatic, you can't beat a hearty selection of cheese and pate. Order a cheese hamper from The Hamper Emporium, and pile on rustic flavours and varied strengths, textures, colours, and shapes of cheese. Add crunch with nuts, crackers, chips, and breadsticks. Add some sweetness with dried apricots or mango and yoghurt dips. Finish with artisan bread and pastries.
#6. Delicious desserts
No picnic is complete without some scrummy desserts. You might want to stay healthy with watermelon slices, berries, and bananas, but we think the best options for Mother's Day are decadent choices. Get Mum's favourite bakery treats, lush cream cakes, mini cheesecakes, or chocolate fudge brownies. Luxury hampers with chocolates, cake slices, and lush sticky figs are also wonderful.
Or, pack a sweet dessert box like our A Touch of Luxury With Chandon Hamper. It's got sweet treats from Morgan's, The Woods Farm, and Maggie Beer.
#7. Unforgettable drinks
Take your Mother's Day picnic to a new level with some gourmet drinks. Make it a lavish afternoon affair for Mum with a bottle of wine or Mother's Day cocktails. Whether you choose pre-made fruity sangria, gin cocktails, or mocktails, you can bottle them up or mix on location.
Alternatively, treat Mum to our Moët Magic Champagne Hamper. This hamper includes a bottle of Moët and Chandon champagne, plus a gold goblet, a soy wax candle, and some dark chocolate almonds from Maggie Beer.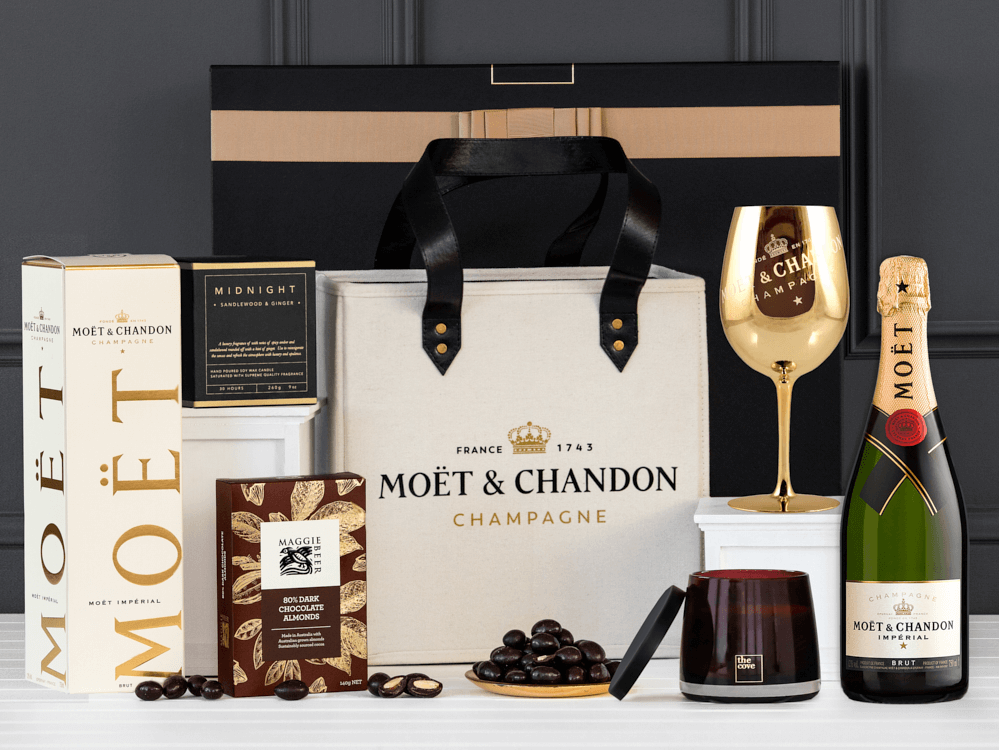 Our top gift idea for Mother's Day picnics
If you're searching for the perfect Mother's Day gift for a picnic, allow us to recommend the More Than Flowers with Chandon Rosé Hamper. This hamper comes with a bottle of Chandon NV Rosé, plus French vanilla almonds, a blush pink robe from The Cove Jervis Bay, and a bunch of preserved flowers.
Mum's sure to appreciate it.
Celebrate Mum with a Mother's Day picnic
We hope that you found plenty of Mother's Day inspiration in this blog post. A Mother's Day picnic is a really special way to celebrate and say "happy Mother's Day" in style, so Mum's sure to remember it.
And, if you love the idea of a picnic for Mum but don't have the time to organise the menu, then browse our collection of appetising gourmet hampers. They're chock-full of flavour-packed ingredients and an invigorating choice of celebratory drinks. Order a gift basket for Mother's Day now.