The Best Hampers For Your Next Summer Picnic
Author: Nikki Barnett Date Posted:6 January 2021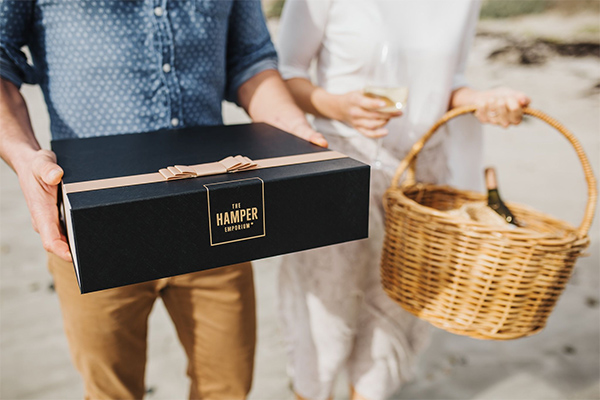 Tasty Treats for Every Outdoor Occasion
It's summer, which means picnic season is already in full swing! Let's be honest—the past year contained a lot more downtime stuck at home than we all bargained for. It's no surprise that Australians are shaking out their plaid rugs, packing their wicker baskets to the brim, and heading out for picnics as a way to enjoy the holiday season while still avoiding the crowds.
There's no better way to spend a balmy afternoon than to get together with your closest friends and family. No matter where you call home, there is bound to be a charming spot nearby that you can use to your advantage. Once you decide on your location, call your loved ones, and lock in a time, only one detail remains … what are you going to eat and drink?
Don't stress over supermarket queues and packing Tupperware! Our gourmet food and wine hampers already come packed full of the best picnic snacks with sweet, savoury, and alcoholic delights. Simply choose the perfect picnic hamper and head out on your marvellous adventure.
The beach picnic
There's nothing quite like lazing by the beach in summer. Salt water with sunshine is a magical combination. To take your holiday beach dates to the next level, bring along some quality goodies in your picnic basket.
While any of our gourmet food and wine hampers would be a welcome addition to your seaside outing, we can't look past the Veuve 'In The Sun' Hamper. It features a bottle of world-renowned Veuve Clicquot Yellow Label NV Champagne. If you've never enjoyed a bottle of bubbles with loved ones as the sun sets over the ocean, you're missing out. We've also included some tasty French Vanilla Almonds from Morgan's to keep you satiated.
What makes this hamper truly unique is the gorgeous branded items from Veuve Clicquot. The tote bag, which boasts the House's signature yellow, is a bold statement that will take you from early morning surfing to the restaurants and bars at night. Talk about elegant! Accompanying it is a hand fan that will help you keep cool no matter what the weather.
Once you're back home, replenish your skin with two indulgent skincare products from French brand L'Occitane. Your summer picnic basket with champagne has never been so luxurious.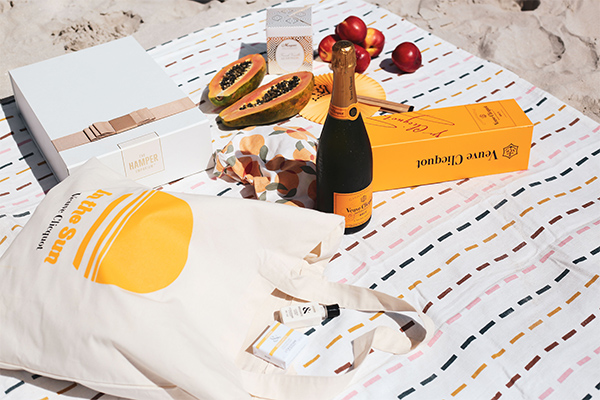 Picnic in the park
Parks aren't just the places your parents brought you as a kid. Anyone who has ever lived in a big city will know them as urban havens full of locals enjoying the outdoors. Once the weather gets warmer, you'll see groups of all ages sunning themselves and taking in the fresh air.
Parks are absolutely ideal for a leisurely picnic. Quiet picnic spots near the city and nature parks make a great location to enjoy the outdoors and gather safely with friends. Why not set up camp and savour the atmosphere?
For a summery day, it doesn't get much better than a bottle of tasty wine paired with top-notch gourmet nibbles. Take our Cape Mentelle Sauvignon Blanc & Savoury Delights hamper for the ultimate experience.
Featuring all-Australian ingredients, it's a tasty nod to amazing producers all around the country. With a crisp summer wine from Margaret River, delectable artisan crackers from Kangaroo Island, and classic nuts from Sydney, you can't go wrong. Toast to the New Year and enjoy the delicious local flavours.

A quiet countryside picnic
What could be more romantic than a date in a breathtaking location? If you're a city-dweller, hop in the car and head to one of the gorgeous areas around you. Whether you find yourself gravitating to the hills or a nearby wine region, we have the perfect alfresco picnic basket to enhance the moment.
If you're looking to sweep a special someone off their feet, surprise them with the Chandon Celebration Hamper. It contains an elegant sparkling wine for you to toast with while you gaze upon the view. It's also the ideal way to win over a sweet tooth—with delectable goodies from Australia's first chocolatier Ernest Hillier and chewy treats from Morgan's, they'll be in sugar heaven.
Chandon hampers are a fantastic option if you're looking for an elegant gift basket. Plus, by buying one you could go into the running to win a trip for five to the Yarra Valley. This would be a brilliant Valentine's Day picnic idea!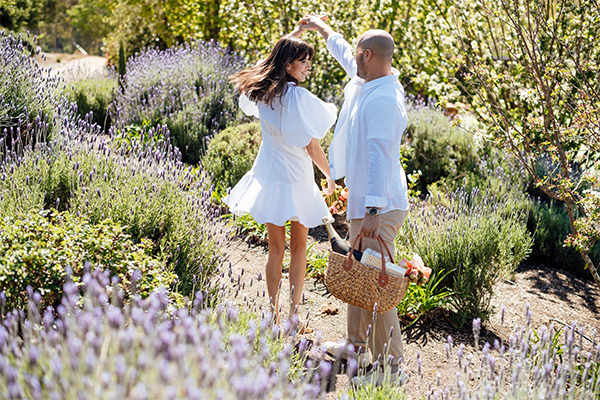 The back garden picnic at home
Why travel far and wide when you have everything you need in your back garden? You don't need to leave the house to have an elegant soirée, you just need a touch of creativity. Set up the world's dreamiest picnic on your back lawn for an event to remember. You can even have it all delivered to your door with picnic hamper delivery Australia wide
Some people are devoted red wine drinkers no matter what the weather. If that's you, you're going to adore our Cape Mentelle Trinders & Sweets hamper. Starring a bottle of the famous 'Trinders' Cabernet Merlot, it's an elegant and understated choice for a get together at home.
Of course, you will also be able to relish a selection of tasty gourmet nibbles on the side. We have selected the Crème Brûlée Roasted Peanuts, Toffee Popcorn Brittle, and Maple Coconut Roasted Almonds from Morgan's. Each displays the impeccable flavour that this Sydney brand is known for.
So what's the hold up? Invite your best friends over for a languorous picnic in the afternoon sun. You can pour out drinks, listen to your favourite playlist, and make plans for the year without having to worry about what's on the menu.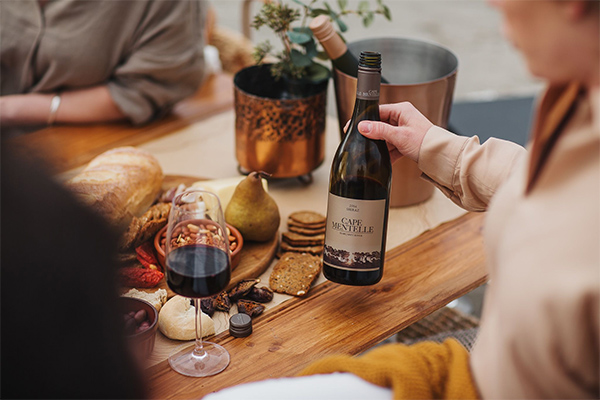 A Memorable Picnic Gift Basket
Summer holiday presents don't have to be complicated. Whether you take them on a whimsical picnic yourself, or simply give them everything they need to have their own experience, you can't go wrong with a gourmet picnic basket. There's no need to decide what to pack for a special picnic when you choose a complete picnic hamper. From sparkling wine to delectable nibbles, we have you covered. Enjoy free delivery Australia-wide for an effortless gifting experience.