How To Get Back On Track With Your New Year's Resolutions
Author: Loreena Walsh Date Posted:31 January 2020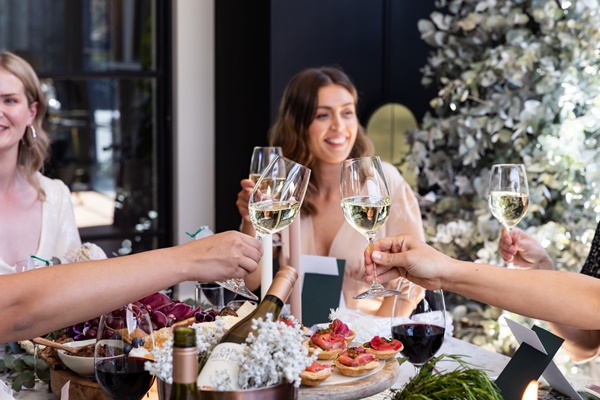 Over the years it has become a trend to make New Year's resolutions on January 1st, but it's also easy to fail fast! Don't start the year feeling defeated, there are simply ways to keep motivated and stay on track to make this your best year ever.
Everyone's resolutions are different, it can be anything from making the bed every morning to a major lifestyle change. A recent survey of 1,103 Australians indicated that 73% had committed to New Year resolutions, but just how many achieve their goals?
The thing is there are not many resolutions that include spoiling yourself; they often tend to be restrictive. In this article, we are going to challenge this view and maybe look at ways to achieve your goals and find some gift ideas to spoil yourself with along the way.
Some goals can be a little ambitious and maybe not that easy to implement or keep the motivation going. If this is happening to you, stop for a minute and take a look at what you want to achieve. You can then make plans for how to get there. These would be smaller goals, milestones in a marathon rather than a sprint, targets with more achievable results.
What Are The Most Popular New Year's Resolutions
Everyone's resolution is different, but there are some that tend to appear rather often. For the Aussies in the survey the top resolutions were:
Improve fitness/lose weight - 53%

Eat better - 46%

Travel/travel more - 35%

Get out of debt - 22%

Sleep more - 19%

Have a better work-life balance - 17%

Find love - 10%

Take more risks - 9%

Quit/ reduce smoking - 9%

Volunteer - 8%

Quit/reduce drinking - 4%
Best Tips For Actually Achieving A New Year's Resolution
These are great resolutions but cannot be achieved in one step; they need planned baby steps, patience and support. When reviewing your goals, it's a good idea to give some time to check out your own expectations of what you wish to achieve.

Ask yourself are they realistic? Can they be achieved? It's no good going in with 'all guns blazing' only to run out of energy. When that happens, you fizzle out, become demotivated and stop.

Have you set too many resolutions or goals? If so, you need to prioritise as multiple goals are not sustainable and motivation can disappear very quickly. Focus on one or two that you want to achieve.

Remember, major changes may take more than a year to meet, so don't set your targets too high and check in on them often, revising as needed. As you make small changes, the bigger goals will get nearer, but keep checking out that the goal hasn't shifted.

Give your resolutions an achievable time-scale and make them fun, not a chore. Maybe sharing them with a partner or friend, you might find you have similar goals. Changing a familiar action or lifestyle is not easy; doing it with someone can provide motivation and support for you both. It also adds a level of accountability that can motivate and keep you on track to reaching those goals.

Once you have set your achievable targets, make sure they are easily visible to you. Enter them in your phone or use something like a diary or journal, where you record your targets and goals and the steps to achieve them. Others have found keeping an Instagram account can help by providing inspiration, support and motivation when you start to flag.

Reward yourself as you achieve one of your goals. Treating yourself helps motivation and we all deserve a pat on the back for what we have achieved. There is no-one better to recognise that than yourself. We think the best way to get your new year resolutions back on track is to reward yourself every time you stick to your goal, or realign your life in order to meet your goals. We love treats and we think you deserve a little pampering!
Remember, resolutions are not prison sentences - they are choices!
Let's Look At Some Gift Ideas To Spoil Yourself When You Succeed
The American talk host, Oprah Winfrey made a good point about treating ourselves:
"Treats may sound like a self-indulgent, frivolous strategy, but they're not. Because forming good habits can be draining, treats can play an important role. When we give ourselves treats, we feel energised, cared for and contented, which boosts our self-command - and self-command helps us maintain our healthy habit."
Making lifestyle changes, we would all agree is not a simple process. Habits are hard to shake, and good intentions can go out the window after a busy day at work or with the kids.
Science Tells Us There Are Two Types Of Reward:
H-rewards or 'hedonia rewards', where the pleasure of the change facilitated is enjoyed, be that feeling good, losing weight or feedback from others. These are often short-lived, and not a treat to maintain the resolutions.

E-rewards or 'Eudaimonia rewards' provide a more satisfying psychological sense of well-being. They give a sense of purpose and meaning to what is being achieved, supporting self-worth and creating the stamina for continuing.
Treating yourself is all about permitting yourself to be pleased with what you are achieving and maintaining the motivation to keep going. If you've done well, why not celebrate!
The Best Gifts To Gift Yourself?
So people, what are good ideas for treating yourself? We all love receiving gifts, but there are no rules that someone has to give them to us. We can treat ourselves! Looking forward to something nice is often the motivating factor in carrying on. So what sort of gift ideas can you spoil yourself with and keep on track?
It is not necessary to give you a list of what constitutes a treat or gift to yourself; we all know what we would like. It becomes difficult if what you treat yourself with is part of the lifestyle change you are initiating. So you must select your treat carefully but let it remain something special.
A picnic somewhere special to you. What better way than to celebrate being the awesome you that you are, than packing a picking with your someone special (or heck, just for yourself) and toasting to your achievements. Consider a gourmet wine hamper of nibbles, not over the top but indulgent and enjoyable.
A spa day. Or how about a day at home pampering yourself with a range of top-class French skincare and some tantalising tasty goodies? Take a look at Hamper Emporium's amazing range of luxury Pamper Hampers to add extra joy to your day. Kick back with luxury skincare, world-class wine and nibbles and a soft plush spa robe, then take time to plan the next stage of your resolutions for a great 2020.
Who knew planning and executing New year's resolutions could be so rewarding?!