Send Them Off In Style With A Honeymoon Hamper Delivery
Author: Michelle Richards Date Posted:28 September 2021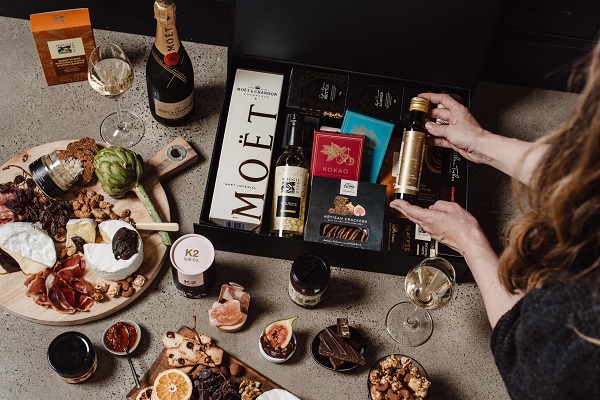 Send Your Love To The Happy Couple With A Romantic Hamper
Be it their honeymoon, wedding night, or a much needed anniversary break, why not make it extra special for your loved ones? Honeymoon hampers allow you to secretly plan a lovely romantic gesture and surprise them when they arrive at their honeymoon destination.
Honeymoon gift hampers are perfect for any newly married couple in the heady excitement of starting their life together. Not only can they be brimming with practical little luxuries and favourite things, but they can also play a role in making their trip personal, carefree and memorable. You might also choose to give a honeymoon basket as an alternative to a wedding gift hamper for something unique and memorable.
At The Hamper Emporium, we also think a wedding night gift basket delivered to the bride and groom, or happy couple, is a wonderful way to end the day. Indulging them with a special and romantic treat will also help them start their honeymoon in a fun way and keep the excitement going. Whenever you choose to deliver their romantic gift, we're sure they will love it!
Handy Tips For Successful Honeymoon Gift Basket Ideas
When you're thinking about sending a honeymoon gift hamper, it's lovely to give a mix of personalised, practical and luxurious gifts. Something romantic they can enjoy and savour together. You can even add in fun and humorous items to make a perfect package.
One of the most important things is where and when you plan to surprise the newlyweds. If you're giving them something on their wedding night to take with them, they may be stuck for luggage space. Also, you will want to make sure it doesn't contain anything restricted on aeroplanes or require them to repack their suitcases. Your choices are much easier if the happy couple is driving to their romantic honeymoon destination.
The best option can often be to choose unique honeymoon gifts with delivery and have them waiting as a sweet welcome on their arrival. If their wedding celebrations have been altered due to Covid restrictions, a couples hamper can help create a romantic vibe no matter where they will be spending their honeymoon.
Destination Honeymoon Gifts To Add A Romantic Touch
Most newlyweds have been so busy with all the planning they may not have thought of those little extras for their first night. So a gorgeous surprise arriving in their hotel room or hidden getaway is something to share and relish on their cosy honeymoon. Your basket can include gourmet goodies, romantic items or a bottle of premium fizz, depending on what they love.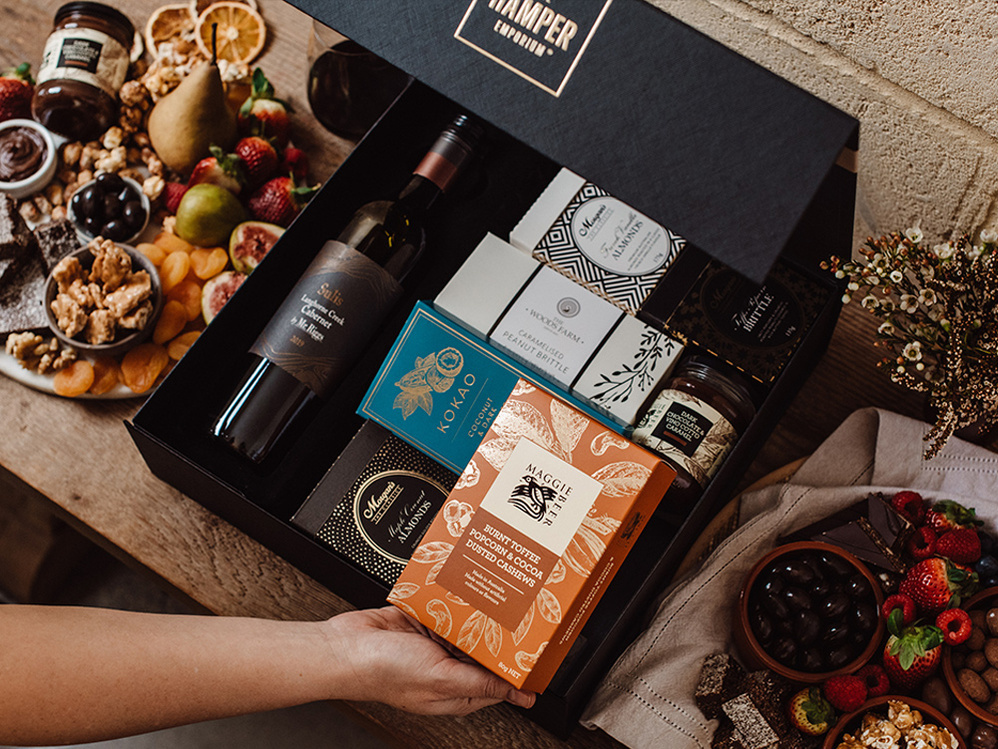 What Goes In A Honeymoon Basket?
The secret is to create a romantic gift basket for a couple to share on their first night married that feels both decadent and celebratory, and is also easy to nibble on. Here are some simple ideas for inspiration:
Practical Nibbles
Of course, there will usually be a nice dinner waiting for them at their honeymoon hotel, but snacks and nibbles never go amiss. Individual chocolates and sugared nuts make the perfect sweet little morsels to share between kisses. They can enjoy them whenever they want and have control over when they eat. Maybe they will arrive jet-lagged or late at night and need a few tasty bites to keep them going. Healthy and delicious titbits are also a great option to take out with them on their first romantic moonlit walk or as decadent midnight snacks.
Honeymoon Night Gifts
Champagne is essential. We all know the first evening must be romantic, so the best gift for honeymoon night has to include a bottle of premium sparkling bubbles. No honeymoon gift basket is complete without something to pop, fizz, and toast to the future. Choose a sweet hamper packed with decadent delights and choccies for the sweet tooth or perfectly paired with savoury flavours. You can be sure it will add yet another perfect moment to the evening's excitement!
In-room Pampering Spa
You may want to treat them to a unique experience like a romantic couples massage, but there's also nothing nicer than relaxing in their room. Honeymoon gifts for couples are all about delicious pampering. Spoil them with indulgent hampers including everything they need to unwind when they arrive. Lush skin products, scented candles and silky robes will help them create their very own spa atmosphere so their holiday can really begin.
Personalised Classic Tipples
For the newly married couple, honeymoon hamper ideas can always be tailored to their individual taste. Choose a bottle of their signature drink as the centrepiece, from smooth whisky or cognac to fresh botanical gin. Make sure there's a rich selection of artisan flavours to accompany the fruity smoothness and tempt their taste buds. It's sure to make their first evening together intimate, snug and a little extra special.
Beach Picnic Supplies
Nothing is designed to charm more than a hamper filled with gourmet lunchtime delights and mouth-watering delicacies. If they're arriving in the day, this is a perfect choice and works well for a post-honeymoon hamper too. The newlywed couple can take off on a romantic picnic for two or head straight to the blue sea and beach. You can add their favourite drinks, too, from lush Australian red wines to cool, summery whites.
Chic Cocktail Supplies
Provide a couples hamper with everything your newlyweds need to mix and shake fabulous cocktails or mocktails in the cosiness of their hotel room. You can choose local flavours and spirits or opt for a honeymoon Chandon pink champagne for a vibrant spritzer. The traditional espresso martini is always a smooth choice too. You can even surprise them with a premium whisky, craft beer, or cider tasting honeymoon hamper for a truly memorable experience!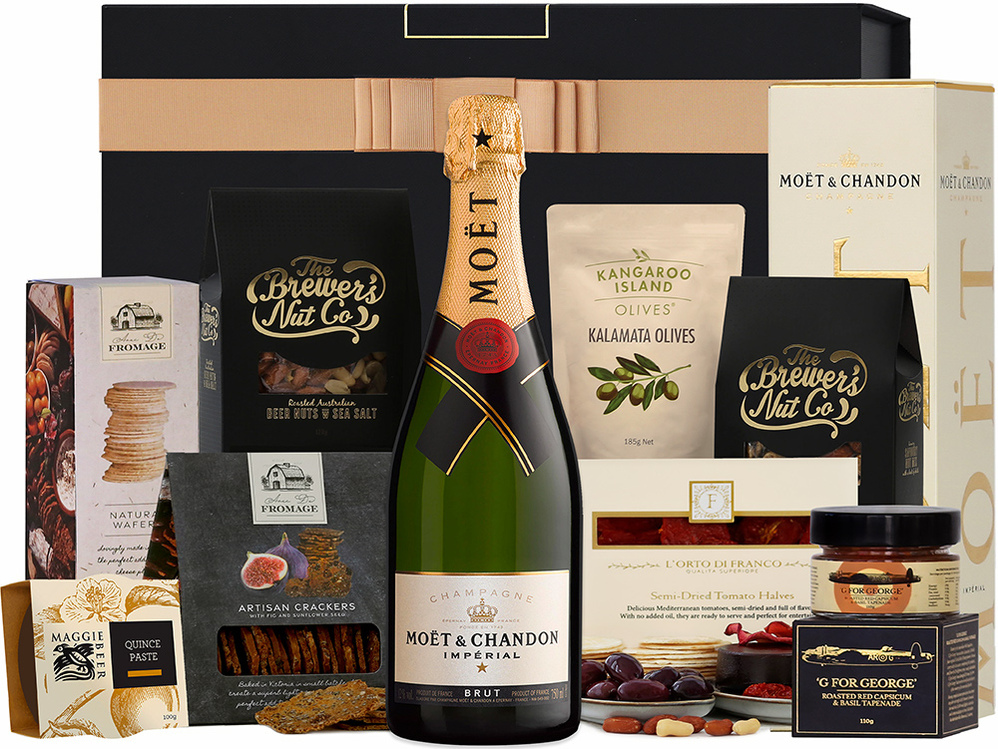 Honeymoon Hampers Delivered To Their Holiday Location!
Honeymoon gift baskets from The Hamper Emporium are fabulous for celebrating at a romantic getaway. They're also the ideal couples gift basket for the bride and groom's wedding night, anniversary or vow renewal. Our hampers add a touch of comfort and luxury guaranteed to make any newlyweds smile and are amongst the most elegant gifts they can receive. What could be more indulgent and romantic than a couples hamper to share?
So, give the happy couple the ultimate royal treatment. Choose from luxury honeymoon gift hampers overflowing with sparkling champagne, delicious food, luxury chocolates and pampering goodies. Arriving in a beautiful gift box lined with embossed paper and tied with delicate ribbons, you can even add your personal message. We can then deliver your heartfelt love and congratulations to their honeymoon retreat completely for free Australia wide!