Warm Up In Winter With Red Wine From Australia
Author: Nikki Barnett Date Posted:8 June 2020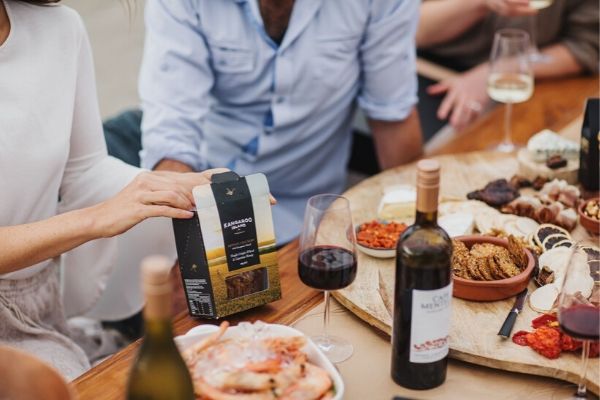 Forget chocolate and cosy up with a velvety-rich red
As winter starts to wrap its cold arms around Australia, it's time to indulge in some warm, cosy evenings. Deliciously smooth, rich red wines are the ideal accompaniment. So stoke up the fire, snuggle under a fleece blanket, and pop open a comforting bottle of red while you relax.
Although a fresh, sharp Chablis, sparkling champagne and delicious rosé all have their place, winter is definitely the season for savouring ravishing reds.
Here's a little inspiration on red wine gifts or personal indulgence from us all at The Hamper Emporium!
Our 10 top Australian winning wineries
Australia is famous for being home to some of the best and most loved wineries in the world. Our vineyards are blessed with warm, sunny climates, fertile soil and the most beautiful settings.
We are the fifth-largest wine exporter in the world. We also consume around 40% of the homegrown ambrosia ourselves and love giving red wine gifts to our nearest and dearest. And why not, when wine is best shared with good company? There are literally hundreds to choose from across a huge number of vineyards that have honed their craft over the years.
So, explore them with us and try some of our very favourite tipples that are guaranteed to warm your heart on cooler evenings.
Penfolds Bin 389 Cabernet Shiraz

Oakridge Hazeldene Pinot Noir

Cullen Wilyabrup Cabernet Sauvignon Merlot

Hardy's VR Shiraz

Cape Mentelle 'Trinders' Cabernet Merlot

Penfolds Grange Shiraz

Yarra Yering Cabernet Sauvignon Blend

Taylors Estate Merlot

Andrew Thomas Kiss Shiraz

Wynns Coonawarra Estate Cabernet Sauvignon
Great grapes and the art of blending
Pinot Noir
The Pinot Noir grape arrived in Australia way back in the 1800s. It needs a temperate climate, flourishing in regions cooled by the sea or with high altitudes. You're making a safe bet with producers from Victoria's Yarra Valley, the Adelaide hills and even Tasmania. There are many great red wine wineries producing fabulous Pinots in so many flavoursome ways.
Pinot Noir has many regional differences, so it can be fun to try them all. It's generally dry and slightly more acidic than most other reds, resplendent with signature notes of strawberry and cherry. They can be spicy, floral, fruity or even medium-bodied and gutsy. Its versatility means Pinot Noir is the perfect accompaniment to both red meat and fish and a great choice for red wine gifts.
Shiraz
Wine lovers the world over will associate Australian red wine with a sultry Shiraz. It's our staple red grape from gloriously warm regions like the Barossa Valley and McLaren Vale. An incredibly popular choice, it's a general crowd-pleaser for red wine gifts or a relaxing tipple. Spicy and sultry it pairs perfectly with red meat and our weekly barbie rituals.
Expect intensely rich and silky flavours, earthy with spices, dark berries and plums. A quality Australian wine to be savoured, the best range from medium-bodied to robust and big. Deep and peppery, it suits any flavourful foods from local favourites to Mediterranean cuisines. However, it can overpower subtle flavours, so be careful with seafood and lighter dishes.
Cabernet Sauvignon
Absolutely the classic 'King of Red Wine', this is one of Australia's finest. Full-bodied, dry and fruity, our mix of climates and soils produce some fabulous Cabernet Sauvignon. Cool areas create a full, savoury flavour and warmer climates a sweet, velvety finish. Watch out for wonderful labels from Coonawarra or Margaret River and think luxury and decadence. It's arguably the ultimate wine to complement your premium juicy steak.
Traditionally, Cabernet Sauvignon is often blended with Shiraz, but it is simply perfect alone. It has a rich, deep flavour, often with traces of mint, menthol and herbs, depending on where the grapes are grown. Undoubtedly one of our best-kept secrets; a harmonious balance of fruity flavour, acidity and tannins. It's not expensive for a really good bottle and makes red wine gifts that everyone will enjoy. It's heady and rich, so be careful if you plan on slurping more than one glass!
Merlot
Australian Merlot is infamous for its soft, round and smooth flavours. A classic staple, it's regarded as slightly less powerful than Cabernet, but appealing for its soft expression. Merlot thrives in clay soil and warm wine growing regions throughout Australia, from McLaren Vale to Wrattonbully. Smooth and velvety, it pairs well with many light meals, roasted vegetables and chicken.
With hints of plum, raspberry and black cherry, the grapes are frequently blended to create some incredible flavours. Cabernet Merlot is favoured the world over for its robust body, velvety smoothness and balance. Resplendent with sweet berry flavours and smooth qualities, Merlot is perfect for red wine gifts or even white wine drinkers.
Blended wines
We Aussies love our diverse range of blended red wines and have great fun creating them. They are often the best ones on offer, melding together to form designer rich tastes and aromas. Unique and mouthwatering, blended wines are incredibly versatile and good value for red wine gifts too. They pair well with a whole range of foods and offer a touch of originality. From the classic Cabernet Merlot to multiple blends, they are also a fabulous way to try new grape varieties from Grenache to Mataro.
Red wine gifts to spread that warm fuzzy feeling
We selected the exquisite Cape Mentelle 'Trinders' Cabernet Merlot for our luxury hampers. Why? Well, sustainable practises and continuity feature highly in Cape Mentelle's winemaking philosophy. It has a wonderful individual fruit character, wine fanatics love it and it tastes sublime.
The very essence of Margaret River is a temperate climate and warm sea breezes from the oceans. There are several vineyards growing a number of different grapes and this blended wine is well rounded and finely balanced. It captures the rich depth of Cabernet Sauvignon with the dark, fruity flavours of Merlot. It's also perfect for any occasion or special red wine gifts because of its well-loved full-bodied, rich flavour.
You can have some indulgent fun trying it out by ordering a fabulous gourmet food and wine hamper today. We guarantee you will not be disappointed and soon be feeling warm and toasty. It's a match made in heaven when teamed with delicious hand-picked treats and snacks too. Just make sure you are alone when you open it!