Veuve Clicquot Yellow Label NV Champagne 750ml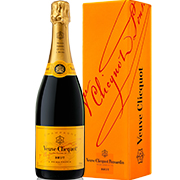 A popular champagne throws homage to Madame Barbe-Nicole Clicquot. Buttery and biscuity, perfect for seafood. Madame Barbe-Nicole Clicquot, an icon that is lived through this bottle of pure buttery and biscuity delight. Length, flavour and notes of butter and biscuit to honour a perfectly cooked seafood dish.
Flavours of buttered toast, brioche and biscuit to complement the ever present fine acidity and flavour length that is trademark Veuve.
Exquisite white champagne with an alcohol content of 12% and bottled with a natural cork to maintain its remarkable palate.
Savour the Taste of a Delicious Veuve Clicquot Yellow Label NV Champagne

Customers who love excellent champagne will not be disappointed when they go for the Veuve Clicquot Yellow Label NV Champagne. Veuve is also a brand that carries a lot of history with her, so each champagne coming from this brand will definitely take you for a journey through time.

Exquisite Taste

The Veuve Clicquot Yellow Label NV Champagne has an exquisite taste and aroma. The champagne delivers a fruity aroma with some toasty notes. The taste experience is also something unique and made up from white fruit flavours, hints of brioche and vanilla.

A Little Bit of History

Veuve was created in early 1772 by Phillippe Clicquot and later run by his wife Madame Clicquot in 1810. This brand created the first vintage champagne and this grew out to be one of the largest and most successful champagne houses in the world.

The Luxury Chocolate & Champagne Hamper

Customers who are looking for the Veuve Clicquot Yellow Label NV Champagne in our gift hampers, will find what they are looking for in our Luxury Chocolate & Champagne Hamper. This hand selected hamper offers various chocolates, biscuits and sweets that work remarkably well with the luxurious Veuve Clicquot Yellow Label NV Champagne.

Discover Our Other Gourmet Gift Hampers

If you like our Luxury Chocolate & Champagne Hamper, it is definitely worthwhile to take a look at the other gift hampers of Hamper Emporium. Our company guarantees the quality of the products we use in our hampers and this will be very noticeable once you get a taste of our delicious foods and wines.

The gift hampers from Hamper Emporium often contain famous brands, including but not limited to Brown Brothers, Elsa's Story, Jules Des Trooper, Fardoulis, Butlers and so much more.

Free Delivery on All Gift Hampers

Hamper Emporium offers a free standard delivery on all gift hampers. The delivery times are quite reasonable as well. A standard delivery can be between 1 and 7 days, depending on your location within Australia.

Our company also offers additional delivery options for people in the Sydney Metro area. The same day delivery option enables customers to get their hamper a lot quicker and on the same day they have placed the order. We do ask our customers to order their gift hamper before 1 pm if they want to use the same day delivery. All gift hampers leave by courier at a specific time. If you have not ordered the gift hamper before the courier arrives, then the hamper will be delivered the next day.

Need Advice on Delivery Options or Gift Choices?

Do you need some help deciding which gift hamper to buy? Or do you have some questions about our corporate gift baskets or delivery options? Do not hesitate to contact our friendly team of professionals and they will surely be able to help you. Hamper Emporium can also be contacted through the live chat function on the website.
Luxurious champagne delivering an initial taste of white fruit, which develops into brioche and vanilla with ageing.
---