Chocolate Will Sweeten Up Your Day! How This Is Possible with Our Chocolate Hampers
Author: Nicole Adler Date Posted:23 March 2016


Sometimes you need a little pick me up and the chocolate hampers on the Hamper Emporium are the perfect way to do that. Chocolate is the best comfort food, so one of our hampers containing a variety of chocolates is going to do the trick. To find out more about our chocolate hampers, and the benefits they can provide you with, be sure to read our information below.
Great Chocolate & Champagne Combos!
One of the reasons why you should get a chocolate hamper from the Hamper Emporium is the great bottle of champagne that could be waiting for you in your preferred hamper. Many chocolate hampers on the Hamper Emporium include a luxurious bottle of champagne, which can provide you with the ultimate pamper experience.
Champagne brands that can be found on the Hamper Emporium are Moet & Chandon, Veuve Clicquot Yellow Label, Bollinger and Piper-Heidsieck. We also offer a range of outstanding sparkling wines, including the famous Brown Brothers King Valley Methode Traditionelle Pinot Noir, Chardonnay and Pinot Meunier!
Customers can also take advantage of a range of champagne hampers on the Hamper Emporium, which could contain additional items from cosmetics to nibbles. Be sure to have a look at our catalogue to discover our champagne hampers as well, considering they can do some serious pampering!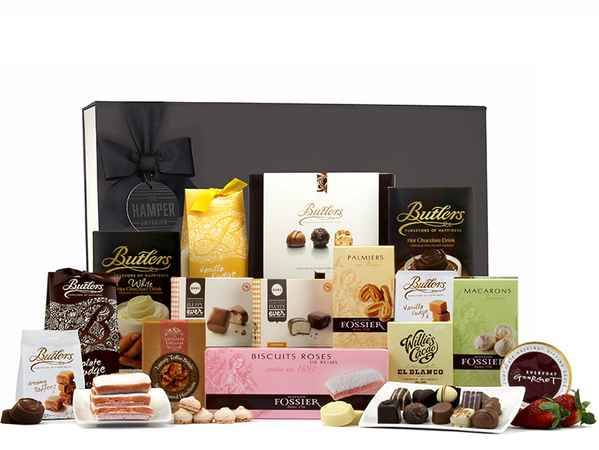 Includes a Delicious Range of Nibbles
Many
chocolate hampers
on the Hamper Emporium will contain a range of nibbles as well, which can be used to sweeten your day even more. Our nibbles come from a variety of brands all across the globe, including France, Italy and Belgium.
The chocolate hampers on the Hamper Emporium contain many nibbles that are covered in chocolate as well. A good example of such a treat is Morgan's box of chocolate covered pretzels. The chocolate covered pretzel provides the perfect combination of saltiness and sweetness, tempting even the harshest gourmet critics.
Great Diversity
When you purchase a chocolate hamper from the Hamper Emporium, you will notice that you get a lot of product diversity in each hamper. By providing a lot of diversity in each chocolate hamper, the recipient in question is bound to find something they like. However, if you buy a chocolate hamper for yourself, you can count on the product diversity to get the pampering experience you deserve.
Free Standard Delivery for All Australia
All hampers on the Hamper Emporium are accompanied by a free standard delivery; this includes our chocolate hampers as well. If you want to provide someone with a gourmet surprise, but do not feel like paying the extra postage, the Hamper Emporium will be the recommended choice.

Always Fresh
Most chocolates included in our hampers are handmade, which means you can always count on the freshness of our chocolate hampers. The same applies to the nibbles, sweets and biscuits available on the Hamper Emporium, because the Hamper Emporium team pays a lot of attention to product quality. In conclusion, if you want to pamper yourself fully, do it with a hamper from the Hamper Emporium!