Penfold's Father 10 Year Old Grand Tawny Port 750ml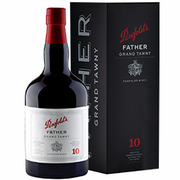 A complex combination of fruit and oak with a blend average of 10 years leave an exquisite lingering finish. A 10 year blend of fruit and oak linger a passionate and complex mark that's purely bliss. With over a 150 years of experience, this oak and fruit combination is lovely to taste and lay eyes on.
A tribute to 169 years of excellence; generous concentration, exceptional balance of fruit & oak age complexity.
Delicious Penfold's port providing a fruity balance and the complexity of the oak maturation process.
Get Something Special with this 10 Year Old Grand Tawny Port

When you take a closer look at our gift hampers, you will often find something special. One of the special items you can find amongst our gift hampers, is a Penfold's Father 10 Year Old Grand Tawny Port. Customers who are looking for a truly unique yet classy gift, cannot go wrong with this Old Grand Tawny Port.

Discover the Classic Port Hamper

You can find the Old Grand Tawny Port in our Classic Port Hamper. Next to the 10 Year Old Grand Tawny Port, you will also find additional delicacies, including Gordon Blue Olive Spread, Baylies Gourmet Crackers, Jules Des Trooper Florentines and so much more. So visit this beautiful hamper and discover everything you can obtain by getting the Classic Port Hamper.

Check out Our Other Gift Hampers

People who like the Classic Port Hamper, should definitely have a look at our range of gourmet gift hampers. Hamper Emporium has a wide range of gift hampers, most of them containing luxurious alcoholic beverages.

Amongst our gift hampers, you will often find wines from Brown Brothers, one of the best Australian and even worldwide wine producers. If you love a good wine every now and then, do check out our gift hampers containing some amazing Brown Brothers wines.

Corporate Branding Options

Any gift hamper on Hamper Emporium can also be used as a corporate gift. Our company offers various possibilities to brand one of our hampers and make it your own. Do you want a corporate gift that leaves a professional impression, then you should definitely choose one of our corporate hampers.

When you order a corporate hamper at Hamper Emporium, you can always count on the services of our in-house graphics designer. The in-house graphics designer can incorporate all types of things on the corporate hamper, including the company logo, colours or even slogans. Our designer can come up with some ideas for you, or you might already have some ideas yourself. Whatever your need, Hamper Emporium will certainly deliver.

Customers can also take advantage of free corporate branding for orders of more than 25 gift hampers. All corporate customers can also take advantage of free delivery for all Australia. It is also possible to send your gift hampers to different addresses.

Delivery Options

All hampers on Hamper Emporium qualify for free standard delivery, no matter the size or the weight of your gift hamper. There is also a same day delivery option for customers who want to receive their gift hamper the same day. However, we do recommend that clients who want to use the same day delivery option order their hamper before 1 pm. Orders that come in later might miss the courier and your gift hamper might be delivered the next day instead. Please note that this service is only available for customers within the Sydney Metro area.

Need More Information?

Do you need any help ordering or picking the perfect gift? Contact our friendly support staff and they will gladly answer any question you may have.
Outstanding port which has been matured in old oak casks and has a minimum age of ten years.
---