What are the Best Christmas Gourmet Hampers for Dad?
Author: Nicole Adler Date Posted:2 November 2016


Christmas is a time for love, festivity, and appreciation. Giving gifts to your loved ones is a sign of how much you care for them and how much you are thankful for their presence. When it comes to finding gifts for your dad, you need to find only the best of gifts. Christmas hampers and gourmet hampers might just be the gifts you are looking for.

Shopping for your dad can be difficult, knowing that he's played so many roles in your life. Perhaps he was your source of inspiration growing up, both as a working professional and as a family man. Maybe your dad taught you everything you need to know. In any case, giving him a gift that would help him relax and unwind this season is quite ideal.

Find out which of these Christmas hampers would be great for him. Whether your dad loves to eat, drink or just relax, there are gourmet hampers that would impress him and make him smile.


What Makes Beer and Cider Christmas Hampers Your Ideal Choices?
For dads who love to have a bottle of beer after work, or who love to host small get-togethers with friends every weekend, these beer and cider Christmas hampers would be the ideal gift.

Start out with simple beers that any guy, especially your dad, would appreciate. The Corona Beer Hamper would be perfect for any fan of the brand, and it includes imported Corona Beers and some snacks.

Your dad will have a good time with Cat Cora's Organic Green Olives, Partridges Artisan Bakehouse Original Gourmet Crackers, and the spicy goodness of La Morena Sliced Jalapenos in La Morena Sauce, among other treats.

Another popular choice for gourmet hampers is the Beers of Australia Hamper. The contents of the hamper are simple and are sure to be appreciated. The hamper contains a quality selection of beers, ales, and lagers. Your dad will appreciate drinks ranging from Monteith's Golden Lager, Balmain Pale Ale and James Squire The Chancer Golden Ale. The snacks like the Morgan & Albert's Premium Nibbles Brewer's Blend selection and Native Australian Chip Company Honey Smoked BBQ Chips would be great companions for your dad while he watches his favourite rugby team on the TV.

For a more varied approach, or if your dad is a beer connoisseur, the United Nations of Beer Hamper might just be the one for him! A bit unique, the hamper includes the taste of Italian beer Peroni Nastro Azzurro and the Dutch Grolsch Premium Lager.

Or you can go one step further and get the Premium United Nations of Beer Hamper, which is a great party gift hamper. It contains beer and cider from around the world, like Netherlands' La Trappe Blond, Italy's Menabrea Birra Lager and Belgium's Chimay White Trappist. Nibbles like Morgan & Albert's Premium Nibbles BBQ Peanuts are perfect for a little snack with a kick. There are even dips like the Gaea Smoked Aubergine Dip and Gaea Sweet Sundried Tomato Tapenade.
Will Dad Like Receiving BBQ Gourmet Hampers?
Definitely! For the dad who loves to grill, these BBQ Christmas hampers would be perfect. These hampers are the ideal complement to an afternoon out grilling in the yard. They contain premium spices, rubs and tasty nibbles.

The Red Wine & BBQ Hamper contains savoury treats like the Morgan and Albert's Premium Brewer's Blend of Nuts as well as BBQ Peanuts. Your dad might appreciate the popular flavours in Jack's Black Label Beef Jerky, coupled with the 2012 Pepperjack Shiraz.

This hamper contains premium rubs that your dad would love to see in his pantry. The Red Wine & BBQ Hamper includes AB Sweet Fire Balsamic Reduction, with fresh chili and lemongrass ingredients, a NoMu BBQ Spice Rub from South Africa, NoMU Steak, and BBQ Grinder to enhance the spice of steaks, burgers, and grilled sausages and Spoonfed Foods Snag Jams.

For a lover of BBQ and grilling, don't go for anything less than the Premium BBQ Australia Hamper. Aside from the excellent red wine, the hamper contains savoury nibbles like Baylies Epicurean Delights Plain Lavash, and Brewer's Nut Co. Brewer's Blend of Smokey BBQ Nuts. Don't let your dad miss out on Lisa's Kettle Cooked Sea Salt Chips.

Another highlight of the Premium BBQ Australia Hamper is the gorgeous Random Harvest Chopping Board, for all of your dad's preparation needs. Other additions to his pantry include the NoMU BBQ Spice Rub, NoMU Lamb Rub with thyme, rosemary and cumin, and Stubb's Mesquite Liquid Smoke perfect for a nice smoky flavour in red meats.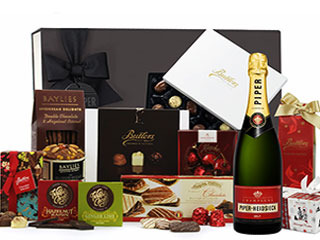 What Makes Up the Perfect Gourmet Hampers to Give to Dad?
If you dad isn't much of a fan of craft beers and BBQ grilling, don't worry. Any dad would appreciate gourmet hampers filled with delectable snacks and premium nibbles.

Give your dad a taste of Christmas cheer and satisfaction with the Indulgence Xmas Hamper. The biscuits in this hamper include the classic taste of Maison Fossier French Galettes St. Remi, and the premium flavour of Baylies Epicurean Delights Traditional Handmade Cakes. Add to the festive mood with Anna's Original Ginger Thins. This gourmet hamper includes sweets, like the seasonal chocolate fudge selection from Byron Bay Cookies Triple Choc Fudge Bon Bon. Pantry additions include the gourmet Regional Produce Cherry Chutney to pair with a Christmas ham, and Brandy Butter to combine with Christmas pudding.

The Sweet Bites Hamper is another popular hamper that's perfect for dads with a sweet tooth. Your dad can pair up the delicious treats with afternoon tea, or enjoy them on their own. This hamper includes shortbread biscuits like the Classic Luken & May Lemon Citrus Butterbursts, shortbread biscuits, Maison Fossier French Gingerbread Fondant, and a selection of sweets. Your dad can snack on the premium taste of Morgan's Honey Roasted Peanuts and Morgan's French Vanilla Almonds.
Getting the Best Christmas Hampers for Dad at The Hamper Emporium
Gourmet hampers perfect for your dad should be on the top of your shopping list this Christmas season. Get the man who taught you everything the perfect gift with the gourmet hampers from The Hamper Emporium.

You can even specialise the gifts with a personalised message, gift card or ribbon. Get your dad the best Christmas gourmet hampers in time for the holiday season.