The Best Christmas Hampers For Your Grandparents
Author: Emily McWaters Date Posted:6 June 2019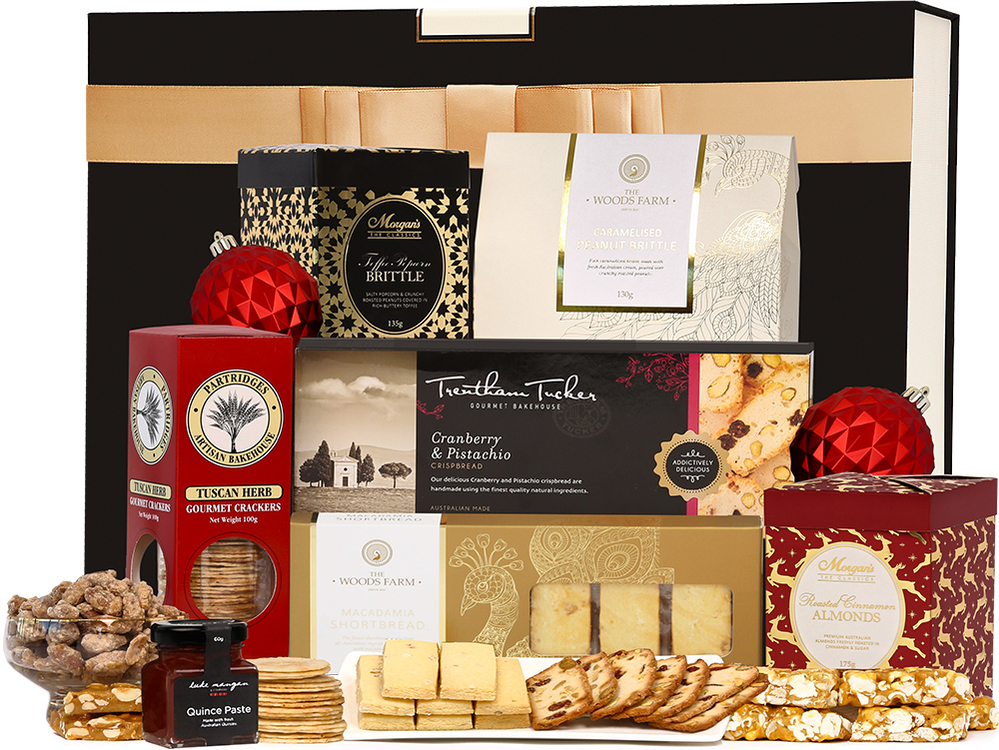 Grandparents are the best bar none. They not only provide unconditional adoration and support, but they are also infinitely bound yet one step removed from the day-to-day duties of parenting responsibilities.
Lavish them with your love and appreciation with the range of Christmas hampers for grandparents that have been custom curated, packaged, delivered and available online at The Hamper Emporium.
There is a wealth of luxurious gift-giving riches to choose from, at always-affordable prices. Every superbly presented gift hamper or gift basket from The Hamper Emporium is filled with gourmet foods, fine wines, sublime Champagnes and spirits, premium accessories and, of course, the spirit of festive love.
With no time to lose and only the joyful expectation of indulgence to gain, jump online today and choose the Christmas hamper that's tailor made for your loving grandparents.
Christmas unites the spirit of family love and there are few more deserving recipients of gift-giving indulgence than your devoted grandparents.
Shower them with the premium quality and abundant quantity of the love and affection they provide in your heart and home with the specialty range of Christmas hampers for grandparents available at The Hamper Emporium.
The supreme selection of gift hampers and gift baskets that have been expertly compiled with the tastes and preferences of the best grandparents everywhere is designed to bring the whole family together in the spirit of festive caring and sharing.
Loving grandchildren of all ages and budgets can choose the huge range of Christmas hampers for grandparents that feature the finest wines, gourmet foods, world-famous Champagnes and spirits, craft beers and ciders, and all the little luxurious extras that make a big impact in the hearts and minds of your cherished grandparents.
What Christmas hampers can be given to grandparents?
The specialty range of Christmas hampers for grandparents is as long as your wish list to Santa and equally dream worthy.
You can choose from the Festive Cheer Christmas Hamper, which not only marks the mood of the occasion, but is also made for sharing.
Arriving in its elegant black keepsake gift box, this smorgasbord of festive love comes complete with an endless selection of traditional Christmas cakes, mince pies, nutty brittles and a wealth of sweet treats. There is also a fine range of gourmet savoury produce from the cream of local and international suppliers, such as L'Orto di Franco semi-dried tomato halves and Luke Mangan Tasmanian quince paste. Perhaps best of all is a feature bottle of Barossa Valley 2016 Shiraz by Hentley Farm for your grandparents to sip and savour.
The Sweet Bites Hamper is another handpicked winner that offers a tempting array of artisan chocolates in premium truffles and chocolate-covered nuts and berries. There are also sweet, nutty brittles and a feature bottle of Black St. salted caramel sauce to enhance and flavour all of your family-favourite festive desserts this Christmas.
How do I choose the right Christmas hampers for grandparents from your huge range?
The range of Christmas hampers is impressive and also extensive. If you can't decide which expertly curated and beautifully packaged Christmas hamper is perfect for your grandparents, The Hamper Emporium provides prompt and professional online customer service for one-on-one guidance from the dedicated gift-giving team.
Whatever gift idea you have in mind, whether for the lasting impression of personalised gifts or Christmas hampers brimful of traditional produce such as Christmas puddings and cakes, mince pies and buttery shortbreads, or gourmet chocolate hampers for the sweetest of the sweet, the expert staff at The Hamper Emporium become Santa's little helpers, shining a light on Christmas gift-giving perfection and for all special occasions throughout the year.
When is the best time to order Christmas hampers for grandparents at The Hamper Emporium?
You can jump online today and order your Christmas hampers for grandparents at The Hamper Emporium. Delivery is provided free of charge throughout Australia and is designated to arrive between one and eight business days, depending on your metropolitan or regional zone and state of residence. Gift givers can also choose to purchase same-day or express delivery, if time is of the essence.
Beat the retail rush, avoid the Christmas crowds and secure all your gift hamper purchases online any time at The Hamper Emporium.
Great gifts and grandparents go hand in hand at Christmas, with expert assistance from The Hamper Emporium.
Do you offer free delivery, Australia wide?
The Hamper Emporium not only offers free Australia-wide delivery on all of its Christmas hamper and gift purchases, but also provides complimentary gift-wrapping and a free gift card for you to personalise. This is one small but unforgettable gesture of gratitude to The Hamper Emporium's valued customers (more than 200,000 of them) at Christmas, for birthdays, anniversaries, and graduation, corporate and all special-occasion gift giving.