The Best Christmas Hampers For Your Grandparents
Author: Nicole Adler Date Posted:30 November 2015


Do you want to surprise your grandparents with a beautiful Christmas hamper? Look no further, because Hamper Emporium has amazing Christmas hampers perfect for your grandparents. To help you with your decision, Hamper Emporium has recommended some Christmas hampers for your grandparents below.





What Christmas Hamper Would You Recommend For Grandparents Who Love Traditional Flavours?

Grandparents who love traditional flavours will appreciate our "Best of all Christmas Gift Hamper" the most. The "Best of all Christmas Gift Hamper" is considered the best choice for traditional flavour lovers amongst our Christmas hampers, since it contains authentic foods such as shortbread, panforte, cake, biscuits and chocolates.

The shortbread, panforte and handmade cake in the "Best of all Christmas Gift Hamper" were made by Baylies Epicurean Delights. Baylies Epicurean Delights was founded in 1995 by Robert and Angela Bell. The couple had a passion for traditional flavours and authentic Australian products. They started their journey in a small kitchen, but their company soon grew into one of the largest suppliers of gourmet products in Australia.

Baylies Epicurean Delights' traditional shortbread, panforte and handmade cake will definitely be appreciated by your grandparents. They are all made with fresh, local ingredients and baked according to an authentic recipe.

To celebrate Christmas, Hamper Emporium also needed to select a good Shiraz that could accompany the traditional products in this hamper. Hamper Emporium eventually chose the 2010 Brown Brothers Cellar Release Shiraz, a limited edition Shiraz from the Brown Brothers wine house.

Brown Brothers 2010 Cellar Release Shiraz has an aroma of blackberries and spices, which can be considered as a traditional aroma. The actual palate of the Shiraz provides the consumer with clear hints of dark fruits and plum. These flavours complement the shortbread and the handmade cake from Baylies Epicurean Delights perfectly, so your grandparents are bound to enjoy this Brown Brothers release.

In addition to the products we already described, there are more traditional flavours to discover in this hamper. Other products to be found in the "Best of all Christmas Gift Hamper" are Comtesse du Barry Terrine De Gascogne, Valley Seed Crisps Cranberry & Hazelnut, Maison Fossier French Galettes, Belgian Butters Finest Chocolate Butter Biscuits, Maison Fossier Feuilletes Chocolate Chip Puff Pastries, Butlers Handmade Chocolates, a selection of Willie's Cacao Chocolate Squares, Butlers Milk Chocolate and Pudding Truffles, Butlers Red Floral Ballotin Chocolate Selection and a Butlers Mini Cracker with Milk Chocolate Truffles.

Which Christmas Hampers Would You Recommend For Grandparents With A Sweet Tooth?

The best Christmas hamper for grandparents with a sweet tooth is our "Sweetest of Gift Hampers". Inside the "Sweetest of Gift Hampers", customers can find an excellent mix of traditional and modern brands.

Grandparents that love sweet treats will definitely appreciate one of the finest biscuits this world has to offer – Maison Fossier Biscuit Roses. The Maison Fossier Biscuit Roses were invented in 1690 and have even caught the attention of French royalty. Biscuit Roses are usually dipped in a glass of French champagne, a very luxurious combination that cannot be missing from the Christmas treat table.

The "Sweetest of Gift Hampers" contains additional releases from Maison Fossier as well. These releases are French Palmier Pastries and French Almond Macarons. Both releases are delightfully sweet and made with fresh, French ingredients.

Our "Sweetest of Gift Hampers" also has a modern twist, since we also included a box of cupcakes from Great Temptations. Great Temptations is a relatively new company, but has made a big impact on the Australian dessert market. Great Temptations delivers their sweet cupcakes to various supermarkets all across the country and the cakes themselves have become a favourite for many consumers with a sweet tooth.

Recipients who like their sweet desserts and treats will also love the large selection of chocolate in this hamper. To complement the existing desserts in this hamper, we chose an excellent combination of fudge and chocolate from Butlers Chocolate and Willie's Cacao.

To finish the hamper, Hamper Emporium also added a nice selection of tea. The tea is meant to clear the taste palate of your grandparents once they have tried some of the delicious treats in the hamper, so it is the perfect product to finish the "Sweetest of Gift Hampers".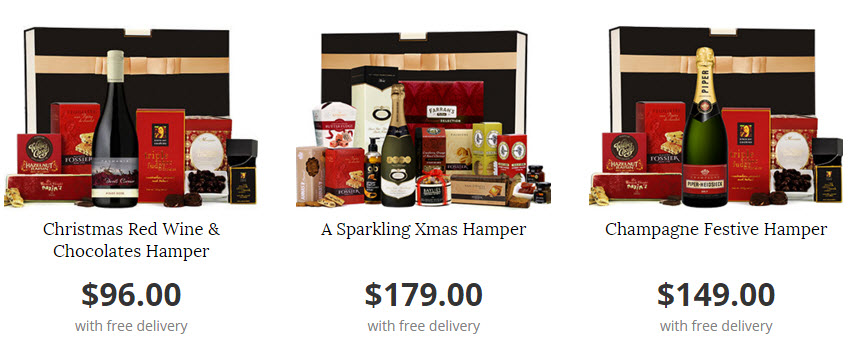 Which Christmas Hampers Would You Recommend For Grandparents Who Like Fine Wine?

Do your grandparents appreciate a good glass of wine? If this is the case, we can recommend our Brown Brothers Limited Release Gift Pack for your grandparents. Inside the hamper, your grandparents will find a Brown Brothers 2010 Heathcote Shiraz and the Brown Brothers Prosecco.

The Brown Brothers Prosecco is made with grapes from the King Valley vineyard. These grapes make the Brown Brothers Prosecco an approachable wine with a fruity palate. The Prosecco is also suitable for vegans and vegetarians, so the ideal choice for grandparents that do not eat meat.

Our Brown Brothers Limited Release Gift Pack also contains a bottle of Brown Brothers 2010 Heathcote Shiraz, an excellent choice for avid wine lovers. The Brown Brothers 2010 Heathcote Shiraz is a limited release from the Brown Brothers cellar, so it is a unique gift for your wine-loving grandparents.

The grapes used in the Brown Brothers 2010 Heathcote Shiraz were harvested from the Brown Brothers vineyards in King Valley and Central Victoria. The grapes from these vineyards provide the Shiraz with a powerful flavour of plum and dark fruit.

Customers could also go for a combination of fine wine and gourmet foods, depending on the personal preferences of your grandparents. If you loved the idea of a limited edition Brown Brothers Shiraz, we can recommend the Chocolates & Red Hamper.

The Chocolates & Red Hamper contains chocolates from Butlers, chocolates from Willie's Cacao, chocolates from Fardoulis and biscuits from Maison Fossier. The combination of gourmet treats will certainly be appreciated by your grandparents, considering these are the finest chocolates and biscuits this world has to offer. Add to that the limited release Shiraz from Brown Brothers and you get the perfect gift hamper for your grandparents!