What to Include in a Christmas Hamper?
Author: Nicole Adler Date Posted:13 September 2017


Are you considering making your own Christmas hampers for friends and relatives this year? Be sure to read on, because Australia's experts in Christmas hampers – the Hamper Emporium – will reveal their secrets on how to create the perfect Christmas hampers for the holiday season!
What Should I Include in Christmas Hampers for Cheese Lovers?
One type of recipient you could need a Christmas hamper for is the cheese lover. Of course, creating a beautiful hamper with the finest cheeses can be somewhat difficult, because you might be dealing with expiry dates and a strong cheese smell inside your gift basket.
To avoid cheese smells becoming overwhelming in a Christmas gift basket, it can be a good idea to keep the amount of cheese in your hamper limited. If you do decide to include cheese, make sure the cheese is properly wrapped. For example, you could include a Camembert kit or a cheese wheel in a special wrap.
So, how do you make a cheese hamper special this holiday season, especially when you cannot add huge amounts of cheese? Simple! You just add loads of homemade accompaniments for your recipient's favourite cheese selection!
There are several accompaniments that are easy to make and that present beautifully in a Christmas hamper. One good example is chutney. You can make several flavours and present it in a traditional glass jar with a label of your own design!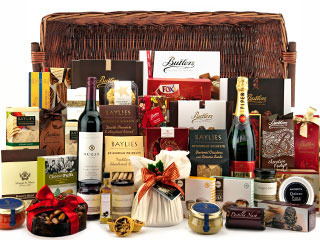 What Should I Include in Christmas Hampers for Chocolate Lovers?
Anyone who is creating a Christmas hamper for a chocolate lover will have no problems creating their chocolate Xmas hamper. Chocolate is not something that tends to expire quickly, so you can add a lot of chocolate goodness to your hamper from the start.
Of course, presentation is everything, so don't just add the chocolates to the hamper and be done with it. Instead, you can create some custom gifts or add a couple of ribbons around the individual chocolate boxes. You can even wrap a box of chocolates to make it seem a little more festive.
One thing you must consider when you choose chocolate for your Xmas hamper: chocolate can melt! Therefore, be sure to store the hamper in a cool and ventilated location after you create it. Ideally, it is best to store the chocolate in the fridge until the day before you gift your hamper. However, if you must create your hamper earlier, simply store the entire hamper in a cool room until you gift it to your recipient.
What Should I Include in Christmas Hampers for Recipients Who Like Alcohol?
There are many bottles of wine, whisky, shiraz and even champagne you could be gifting for Christmas. You can easily rely on these popular options; however, you could choose something a little more original for your Christmas hampers too.
Some alcoholic beverages are associated with Christmas. Some even have unique flavours that are quite uncommon; for example, a Turkish delight vodka. So, before you choose a traditional bottle of alcohol, check some of the more unusual options available at your local supermarket.
How Do I Make a Homemade Christmas Hamper Look Professional?
There are many tips and tricks for Australians who intend to create their own hamper during the holiday season. Even if you do not necessarily have the best products for your hamper because of budget limits, you can make the hamper look extra special through good presentation.
One thing you could use to make your hamper look extra special is coloured cellophane. Coloured cellophane is not that expensive, and it gives your Christmas hamper a more polished look. It also causes less hassle than paper shredding.
Still, if you decide to use some shredded paper instead, you do not necessarily have to buy it from an arts store. Stores tend to ask a higher price for shredded paper, so you can do it yourself too. Simply buy some coloured paper and pull it through the shredder for the same effect.
Want to make your hamper filling a little more festive? Why not experiment with other materials such as glitter and sequins? While these materials might be a little messier to work with, they can create an unforgettable effect.
To add a bit more elegance to the Christmas hamper, you can also add a ribbon to your hamper. Christmas ribbons are available in almost every store in the holiday season and they won't cost you that much.
There are also several gift boxes and baskets you can use to store and present the products you have selected for the holiday season. You could choose a traditional Christmas gift box, but also a wicker basket.
Wicker baskets can easily be obtained online, but you will also find them in many garden centres around Australia. You might even find good options in your local charity shop, while you can save some money and donate to charity at the same time.

Should I Choose a Christmas Hamper from the Hamper Emporium Instead?
If creating your own hamper is a little too much work during the holiday season, you can always count on the Christmas hamper catalogue of the Hamper Emporium. The Hamper Emporium is Australia's leading supplier of quality gift baskets, so in addition to Christmas gift baskets, you can count on us for gift baskets for other occasions too. To discover your options, simply check out our range!
At the Hamper Emporium, we also provide customisation options for businesses who want to add their brand to a hamper for advertising purposes. To discover all the corporate branding options for gift baskets, please head over to the corporate hampers range at the Hamper Emporium.
Do you have a question about the products in our hampers? Or do you want to make sure you choose the right Christmas gift basket from the Hamper Emporium for your recipient this holiday season? Do not hesitate to contact the Hamper Emporium team for more information. Customers can contact us via email, telephone, or live chat!