Uncover the Best Liquor in our Australian Christmas Hampers!
Author: Nicole Adler Date Posted:15 May 2017


Customers who want to obtain one of our Australian Christmas hampers for their recipient this holiday season should certainly go through our overview below! By reading on, you can discover the best liquor releases inside our collection of Australian Christmas hampers, so this enables customers to make the right gift decision!
The Glenmorangie Taster Pack
The Glenmorangie Taster Pack is one of the liquor-related gifts customers can find in our collection of Australian Christmas hampers. The Glenmorangie Taster Pack from our Australian Christmas hampers collection contains four of the finest Scottish whiskies, so this gift could delight even the most critical whisky connoisseur.
Glenmorangie Original, Lasanta, Nectar D'Or and Quinta Ruban, these are the Glenmorangie whiskies customers can find inside the Glenmorangie Taster Pack. Therefore, this pack does not only contain the classic Glenmorangie whisky, but also some exotic whiskies with a great variety of flavours and finishes. Therefore, we can certainly recommend a hamper containing this taster pack as a gift during the holiday season.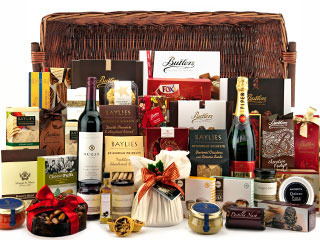 The Moet & Chandon Brut Imperial NV Champagne
Another option from our collection of hampers is a bottle of Moet & Chandon Brut Imperial NV Champagne, the classic bottle of bubbly from the Moet & Chandon champagne house. The Moet & Chandon Brut Imperial NV Champagnes displays the house style of the champagne house perfectly, more specifically a crisp & clean champagne that keeps on giving.
The Moet & Chandon Brut Imperial NV Champagne is made from more than a hundred different grape varieties; this ensures a champagne with a lovely complexity and drinkability. It features plentiful aromas of citrus, but also has some biscuit flavours that lie just underneath the surface.
Even though Moet & Chandon is a great aperitif, our hampers containing a bottle of Moet & Chandon usually include some delicious gourmet treats too. Our hamper designer selects those treats to match the Moet & Chandon Champagne, so if you do not know what to have with a glass of Moet & Chandon, be sure to try any of the treats found in the gift hamper.
Aussie Beers
Customers can also acquire hampers jam-packed with Aussie beers. One of these hampers is the Beers of Australia hamper, which contains some of the best beers in Australia.
When you choose the Beers of Australia hamper for your recipient, you can count on beers such as Monteith's Golden Later, Balmain Pale Ale, Little Creatures Pale Ale, Mildura Brewery Mallee Bull Beer and James Squire the Chancer Golden Ale. Therefore, this is the perfect hamper to please an avid beer drinker.
Of course, there are many other hampers that contain Australian beers; this includes our James Squire Hamper and MicroBreweries of Australia Hamper. Each of these hampers contains some of Australia's finest craft beers. Therefore, these hampers are recommended for anyone with a love for craft beers opposed to commercial beers.
International Beers
The Hamper Emporium collection of gift hampers also contain a selection of international beers; this could include popular beers that are already being sold worldwide, but also unique beers from Belgium and Germany that are otherwise hard to obtain.
When a customer needs a present for a recipient who could be described as a beer connoisseur, the customer in question should certainly choose one of our international beer hampers; this includes the Premium United Nations of Beer Hamper. Of course, there are many other international beer hampers that may delight your recipient too.
Cape Mentelle Shiraz
One of the new additions to our range last year was the Cape Mentelle Shiraz. This shiraz has become a sturdy favourite of our customers, so it is no surprise that many hampers containing this shiraz are now some of our bestsellers.
There are many things that make the Cape Mentelle Shiraz special, but the main thing is undoubtedly the unique combination of French and Australian winemaking techniques. The use of those techniques makes Cape Mentelle Shiraz a recommendation for regular shiraz drinkers, but also a recommendation for wine connoisseurs who like more interesting wines!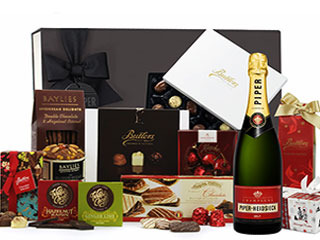 Corona Beer
Some great beers come from the most surprising places; this includes Corona Beer. Even though Mexico is better known for their food than for their beer, most of our customers do not want to pass on Mexican Corona Beer.
The beauty of Corona Beer is that it delivers something completely different than most beers on the market today, while providing the easy drinking quality most beer drinkers appreciate. Our hamper designer has also added spicy treats to the Corona Hamper, so when choosing a Corona Beer Hamper from our range, customers can count on more than a unique tasting experience from the Corona Beer alone!
Robert Oatley Sauvignon Blanc
A new addition to our collection of hampers this year is the Robert Oatley Sauvignon Blanc, which is again a recommendation for wine connoisseurs out there. The Robert Oatley Sauvignon Blanc in our collection of gift hampers is characterised by its clean and crisp nature, but also by a lingering aftertaste that makes this wine one of the best Australian sauvignon blanc wines out there.
In addition to the Robert Oatley Sauvignon Blanc, there are other Robert Oatley wines available at the Hamper Emporium. So, if you have your heart set on pampering a wine lover, be sure to have a look at the other gift hampers on the Hamper Emporium that contain such a Robert Oatley wine.
Other Liquors Available at the Hamper Emporium!
The liquors mentioned above are just some of your options when you shop with us, because our hamper designer has added many other bottles of liquor to the range. Aside from the brands already mentioned, you can also pick one of our hampers with brands such as Jameson, Glenmorangie, Brown Brothers and more!
Do you have a question about any of the liquors included in our gift hampers? Or do you need to select the right wine for a friend or relative? Contact the Hamper Emporium today for some assistance.