Premium Christmas Hampers with Premium Products
Author: Nicole Adler Date Posted:13 October 2015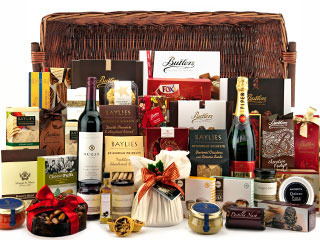 When you think about the Hamper Emporium, you think about beautiful Christmas hampers with some of the finest products the world has to offer. When you are looking for suitable Christmas presents this year, you will not be disappointed when you look at our selection of Christmas hampers. Our Christmas hampers this year contain some exquisite products from brands such as Maison Fossier, Jules Destrooper, Moet & Chandon and more!
Why Does Hamper Emporium Use Maison Fossier?
Maison Fossier is a French biscuit brand that is used quite often in our selection of Christmas hampers. The reason for that is quite obvious, because the quality of Maison Fossier biscuits is undeniable.
The first Maison Fossier biscuits date back to 1690. A French baker created the biscuits in order to get the most out of the heat from his ovens after he baked his bread. These biscuits got the name "Biscuit Roses" and became incredibly popular all over France.
Maison Fossier Biscuit Roses were also served at the French royal court, more specifically for the coronation of the French king Louis XVI. After that, Maison Fossier became the official supplier of biscuits to the French royal court and is still the royal biscuit supplier until this day.
Biscuit Roses are not the only biscuits from Maison Fossier that are worth trying, because they released a large number of lip-smacking biscuits that are unlike any other biscuit you have ever tasted. When you take a closer look at our selection of Christmas hampers, you will be able to discover a great variety of these biscuits, including their palmier pastries and macarons.
Why Does Hamper Emporium Use Jules Destrooper?
Anyone who loves Belgian pastry and desserts will adore Jules Destrooper. The company itself was founded in 1886 and they became world-famous thanks to their first release, the small butter waffles better known under their original name "Lukken".
Since the invention of the small butter waffle, Jules Destrooper has been exporting their gorgeous biscuits to approximately 75 countries. They also released other biscuits, including a virtuoso selection covered in real Belgian chocolate. If you are someone who has trouble deciding between biscuits and chocolates, you have to try the Jules Destrooper Virtuoso Biscuits, since the gorgeous Belgian chocolate and the traditional Jules Destrooper base will be the ultimate treat for you.
The range of Christmas hampers on the Hamper Emporium offers a variety of Jules Destrooper biscuits, including their original butter waffles and the chocolate virtuoso biscuits. If you want to spend Christmas discovering new delicacies, we can certainly recommend going for a hamper containing gorgeous Jules Destrooper biscuits.
Why Does Hamper Emporium Use Moet & Chandon?
Moet & Chandon is a French champagne house that is mainly known for their Moet & Chandon Brut Imperial Champagne, which you can also find in our selection of Christmas hampers. Moet & Chandon is also one of the largest champagne producers in the world, so the chance that you have not come across some Moet & Chandon champagne is very small.
The Moet & Chandon champagne house has been around since 1743 and has grown out to a large estate with more than 2800 acres of vineyards. They produce approximately 28 million bottles of champagne per year, which should give you a better idea of the popularity of this brand.
Moet & Chandon has booked great successes with their entire range of champagnes, although the Moet & Chandon Brut Imperial is the most memorable one. The Moet & Chandon Brut Imperial has also been named the most popular and most loved champagne in the world, so if you do not know which champagne to go for, you cannot go wrong with this champagne.
Why Does Hamper Emporium Use MOR Cosmetics?
Gourmet products are not the only products you can find in our Christmas hampers, because we also offer hampers containing cosmetics. For our cosmetics hampers, Hamper Emporium chose MOR Cosmetics.
MOR Cosmetics was founded in 2001 and has been creating luxury bath, body and lifestyle products ever since. They have a very distinctive range, which is popular with individual consumers as well as professionals in the cosmetics industry.
For the creation of their cosmetics, MOR only uses ingredients with proven benefits, so if you get a moisturising or anti-ageing product from MOR you can be sure it is going to work like a charm. MOR cosmetics is also famous for their unique fragrances, especially their marshmallow fragrance with is very popular throughout Australia.
Why Does Hamper Emporium Use Baylies Epicurean Delights?
Baylies Epicurean Delights is a brand that focuses on creating handmade products with fresh Australian ingredients. When you want handmade Christmas treats, you cannot go wrong by choosing something from the range of Christmas hampers containing Baylies Epicurean Delights products. Many of the Christmas hampers on Hamper Emporium also contain other handmade foods from Baylies Epicurean Delights.
The Baylies Epicurean Delights brand was founded in 1995. All the handmade delights that came from Baylies Epicurean Delights were made in a country kitchen in Strathalbyn, South Australia. For the creation of their foods, Baylies Epicurean Delights only uses fresh Australian ingredients, this is definitely noticeable in the taste of each handmade product they deliver.
Why Does Hamper Emporium Use Butlers Chocolates?
The Hamper Emporium uses various high-quality chocolates brands and one of these chocolate brands is Butlers. The company was founded by Marion Butler in 1932 and taken over by the Sorensen family in 1959.
Butlers always stood for exquisite chocolate made according to traditional recipes. However, the company is also known for their handmade
quality. In addition to making the chocolate itself by hand, Butlers also creates handmade decorations on their chocolates, which ensures that every piece of chocolate coming from Butlers is truly original.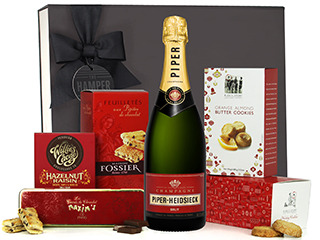 Can I Contact Hamper Emporium If I Have A Question About A Certain Brand?
All the brands used by the Hamper Emporium are described in detail on the product pages or on one of the information pages. However, if you have an additional question about one of the brands, feel free to contact the Hamper Emporium on 1300 459 452 or at sales@thehamperemporium.com.au.