What Gift Hampers Can You Recommend to Make Our Christmas Special?
Author: Nicole Adler Date Posted:23 March 2019


Our customers will have many options when shopping at the Hamper Emporium this year, because our hamper designer created some amazing Christmas gift hampers. We have new hampers packed with champagne and wine, but also new hampers with delicious gourmet nibbles.
Of course, choosing from a large selection of gourmet hampers can be tricky, so to help you decide on the gift hampers you can get for your friends and relatives, we have created an overview of the Christmas gift hampers that can make your Christmas special! Check out the list below to get some amazing suggestions!
Why Should I Choose the Christmas Delights Hamper to Make Christmas Special?
One of our finest gift hampers this holiday season is the Christmas Delights Hampers. The Christmas Delights Hamper is also one of the most popular chocolate hampers in our range, so let us take a closer look at its contents to find out why!
Inside our Christmas Delights chocolate hampers, customers can find chocolates from our two favourite brands – Butlers Irish Chocolates and Willie's Cacao. One of these brands is always present in our most chocolate hampers, and Butlers Irish Chocolates even has a dedicated Christmas hamper in our range, which could be worth checking out!
The presence of Butlers Irish Chocolates and Willie's Cacao inside these chocolate hampers certainly make these chocolate hampers incredibly popular. However, there are additional Christmas treats that put this hamper on the top of your Christmas list; this includes Belgian Butters Finest Chocolate Biscuits, which are delicious biscuits topped with genuine Belgian chocolate.

Why Should I Choose the Mini Delight Christmas hamper to Make Christmas Special?
Naturally, there are many affordable gourmet gift baskets in our range this year as well and one of these gift baskets is the Mini Delight Christmas Hamper. Inside this affordable gift basket, you can find one of the latest brands added to our range of gift baskets – Trentham Tucker.
Trentham Tucker is an Australian gourmet bakery known for their handmade treats. Naturally, they have numerous gourmet treats with a Christmas theme this holiday season, which includes their crispbread, handmade cake, panforte and other delicious products that can be found in our range of gift baskets.
Inside our Mini Delight Gift Baskets, customers can find the Cranberry Pistachio Crispbread from the Trentham Tucker brand. This crispbread is made with the finest natural ingredients, which means this delicious crispbread does not contain added preservatives.
Why Should I Choose the Festive Bubbles & Chocolate Hamper to Make Christmas Special?
Another popular gift choice during the holiday season is the Festive Bubbles & Chocolate Hamper, which contains an amazing selection of Christmas-themed treats. These treats are counted amongst the most popular in our Christmas range; this includes treats from Morgan's, Butlers Irish Chocolates, and even Willie's Cacao.
Our Festive Bubbles & Chocolate Hamper also includes a bottle of Moet & Chandon Brut Imperial NV Champagne. With this popular bottle of bubbly, your recipient can celebrate Christmas in style and luxury.
Moet & Chandon Brut Imperial NV is the flagship champagne from the Moet & Chandon champagne house. It is made from more than a hundred different wines, which includes a certain percentage of reserve wines to add more complexity and maturity to the champagne. While the complexity and maturity of this champagne makes it an ideal choice as an aperitif, this champagne accompanies many seafood dishes seamlessly.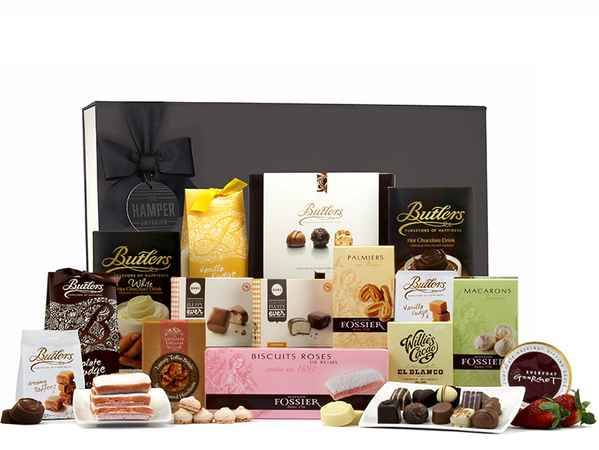 Why Should I Choose the Champagne Festive Hamper to Make Christmas Special?
If you cannot get enough of our excellent champagnes, then you will find other options in our gift baskets range that will meet your requirements perfectly. One of these champagne hampers is the Champagne Festive Hamper, where you will find a bottle of Moet & Chandon Brut Imperial NV Champagne complementing a range of fine gourmet nibbles.
Moet & Chandon is one of the most awarded champagnes in the world and can certainly compete with other classics such as the Piper-Heidsieck. The champagne is mainly fruit-driven, but still delivers a full body and a classic structure thanks to the use of grapes from more than a hundred different growing areas.
Why Should I Choose the Christmas Bites Hamper to Make Christmas Special?
Our Christmas Bites Hamper is also a great choice for the holiday season, since this hamper contains some of the essentials your recipient will need this festive season. Inside our Christmas Bites Xmas Hamper, your recipient will be able to enjoy Morgan's nibbles, fruit mince tarts, shortbread, and other typical Christmas treats.
Naturally, our range of gourmet treats needed to be accompanied by a bottle of genuine Australian shiraz, because what would the holidays be like without a good glass of wine on the Christmas table? For our Christmas Bites Hamper, we selected the Island Estate 'Bark Hut Road' Shiraz, a wine that will ensure your Christmas celebrations run perfectly.
The Islander Estate 'Bark Hut Road' Shiraz has a distinctive colour that matches its characteristic aroma of spices. The aroma also features some classic pepper notes, which ensure that this shiraz goes perfectly with your Christmas dinner.
Naturally, the palate of a shiraz is equally as important as its appearance and aroma. Fortunately, the Islander Estate 'Bark Hut Road' Shiraz delivers on all these aspects. The wine has a generous fruity palate with a fine tannin structure. It drinks well immediately but can still be cellared for a couple of years to add a little extra complexity to its palate. Therefore, this bottle of shiraz could also be a great gift for Australian wine collectors.
Where Can I Find More Christmas Gift Baskets to Make Christmas Extra Special?
Do you need more gift hampers for the holiday season? Head over to our extensive range of hampers now and pick an amazing gourmet, champagne, whiskey or wine hamper for your recipient. Whether you are an individual or a business, the Hamper Emporium has a suitable gift hamper for everyone!
During the holiday season, all our customers can enjoy a free standard delivery on all Christmas hampers as well. So, be sure to grab your Christmas-themed hamper today and enjoy this amazing offer provided to you by the Hamper Emporium team. Happy Christmas!