What Makes Hamper Emporium's Christmas Hampers Stand Out from the Rest?
Author: Nicole Adler Date Posted:11 September 2015


The Hamper Emporium team has worked hard to stay on top of the Christmas hampers industry. Our hampers are top of the line thanks to the large selection of quality brands and the dedication of the staff putting the hampers together. Let us take a closer look at our Christmas hampers and discover why they are so unique compared to other Christmas hampers on the market.
What Top Brands Does Hamper Emporium Use In Their Christmas Hampers?
Even though Hamper Emporium offers a selection of high quality brands from all over the world, there are a few brands that keep on returning. Some brands have what it takes to be called an all-time favourite, which is definitely the case for the brands we are about to discuss.
The first high-quality brand you will often find in our selection of Christmas hampers is Maison Fossier. Maison Fossier is a French biscuit manufacturer that has been around since the 17th century. The first invention of this famous biscuit manufacturer was biscuit roses. They were created by a French baker who wanted to make the most out of his ovens once the bread had finished baking. Biscuit roses became a worldwide success and were even served to French king Louis XVI during his coronation in 1775. Biscuit roses are also popular today, because you can still find them in our selection of luxury gift hampers.
Another brand that has made it to the favourite list of Hamper Emporium is Jules Destrooper, a Belgian biscuit manufacturer with plenty of history. Jules Destrooper was founded in 1886 and is most famous for its unique butter waffles. Ever since the founding of the company, Jules Destrooper has released some amazing tasting biscuits, making them the perfect addition to our gift hamper range.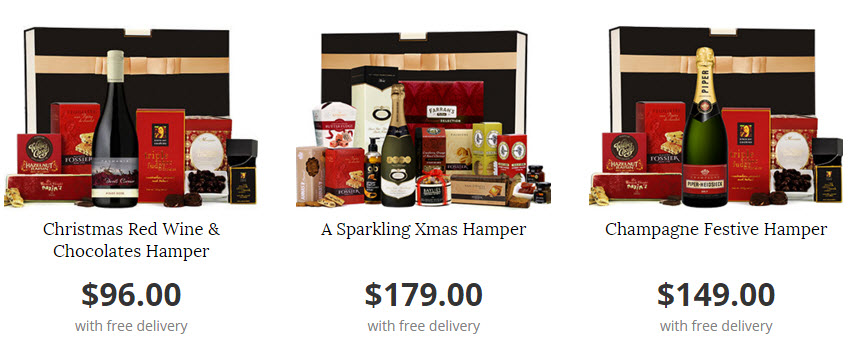 Hamper Emporium has also selected a number of chocolate brands for their hampers. These chocolate brands all needed to meet the strict quality and taste requirements Hamper Emporium stands by. The first chocolate brand to meet these requirements was Butlers Chocolates, a chocolate manufacturer with roots dating back to the 1930's. The company's founder, Marion Butler, hit worldwide fame with her first batch of chocolates, called "Chez Nous Chocolates". Ever since that day, Butlers Chocolates has been on the very top of the international chocolate industry.
Of course, when we mention chocolate we cannot forget to mention Fardoulis either. Fardoulis is an Australian company which has not been around as long as its competitor Butlers. However, the flavour and creaminess of Fardoulis chocolates are certainly not inferior to Butlers, so they rightfully deserved their own spot in our range of hampers.
Hamper Emporium also keeps an eye on the world of sparkling wines and champagnes. When you check our current range, you will find a number of champagnes that frequently return and make their way into our hampers. One of these champagnes is the Moet & Chandon Brut Imperial, the most loved champagne all over the world!
What Can You Tell Me About Hamper Variety?
Hamper Emporium does not focus on one particular type of hamper, because we have various categories for all types of occasions. For example, at Hamper Emporium you are able to get hampers for a birthday, Christmas, Valentine's Day, an anniversary, a birth, bachelor party and so much more.
Customers who are finding it hard to select the right gift hamper can always contact Hamper Emporium for some additional help. Our team of experts has been in the hamper business for years, so we can easily provide you with the perfect gift, even with very little information to go on. So if you need help choosing a hamper, feel free to give us a call!
How Are The Delivery Costs At Hamper Emporium?
At Hamper Emporium, we understand that delivery can take a serious amount of money out of your budget. For that reason, we offer a standard free delivery on all gift hampers available on Hamper Emporium. So no matter which gift hamper you choose from our Christmas hamper range this year, the delivery is always going to be free!
Naturally, we also offer some additional delivery options for customers who want to obtain their hamper quicker, for example the same day delivery option, express option and next day delivery option. The same day delivery option is currently only available to customers in Sydney Metro due to the location of Hamper Emporium. However, by using our express and next day delivery options, you can still get your hamper faster than with other gift hamper sellers.
Does Hamper Emporium Also Provide Services For Businesses?
Businesses who want to use one of our hampers as a business relation gift can also count on Hamper Emporium. Not only do we provide hampers containing the finest products in Australia, we also provide additional corporate branding services to anyone who wishes to take advantage of it.
With our corporate branding options, you can create the ultimate corporate gift. The customer simply selects one of our gift hampers from our range and then contacts Hamper Emporium for corporate branding options. Our in-house graphics designer will then add your company's brand onto beautiful gift cards, tags and even ribbons to make the entire corporate hamper complete.
Hamper Emporium also provides special discounts to businesses who order multiple hampers. For example, businesses who place an order for more than 25 gift hampers can take advantage of free corporate branding. Businesses do not have to pay for the delivery of their corporate hampers either, because our corporate hampers are also eligible for free standard delivery.
To take advantage of our corporate branding options, please head over to the corporate hampers page. Customers can easily fill in an enquiry form, but can also contact us over the telephone.
How Do I Contact Hamper Emporium For Assistance?
Do you need some help deciding which Christmas hamper to get? Or are you interested in our corporate branding options? Contact Hamper Emporium at 1300-459-452 and talk to one of our representatives.