How To Reduce Shopping Stress This Christmas
Author: Nicole Adler Date Posted:25 October 2017


Christmas shopping. Two words with the power to evoke many emotions. For some those words bring about a sense of dread, for others excitement. Whether you are a pedantic pre-planner or an eleventh-hour gift-grabber, your festive season shopping spree can be fun or frustrating – depending on your approach.
Shopping lists vs browsing – which is more effective?
That's a bit like asking how long is a string of Christmas lights. If you're just shopping for Mum, Dad and your little brother browsing may be fine. But if your list of gift recipients is longer than your string of Christmas lights, then shopping for that many gifts may require a degree of organisation.
It also comes down to personal skill set. If you enjoy shopping and have a knack for wandering through a department store and finding the perfect gift for that special someone, you should stick with the browse and buy approach. But if you are like many Australians who wander aimlessly through your local shopping centre hoping to see a suitably priced gift beneath a big neon sign saying 'buy this for Uncle Gordon – he doesn't already have one and he'd love it,' then a pre-prepared list is probably the best way to avoid leaving the shopping centre disappointed, empty-handed and with sore feet.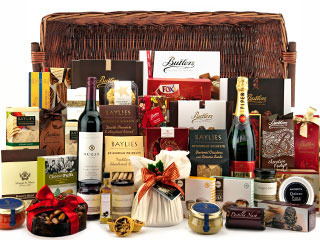 Should I shop online or hit the local shops?
Are you someone who begins planning which glaze to use on the turkey in October or do you reluctantly drag the Christmas tree out of its box a week before Christmas? Whether you should shop online or in the bustling stores can be determined by how much time you have to shop. If you're a last minute kind of person, online won't work for you, unless you know where to find gift tags which say "Merry Belated Christmas." But if you're busy and just don't have time to visit the shops with everyone else, online shopping is ideal, as long as you start early.
Online shopping can give you access to gifts you wouldn't find in your local shops and things that can be delivered directly to interstate friends and family, like Christmas hampers from The Hamper Emporium.
Where can I find ideas for gifts?
If you are shopping for children, asking for a list of things they would like and then picking an item from that list is a great way to ensure you buy a gift that will earn you a smile, not tears.
A google search of 'most popular gift ideas for Christmas' will take you to a range of sites with suggestions and lists of trending gifts for all ages. For those difficult-to-buy-for adults or friends and family you would describe as 'foodies' a delightful Christmas hamper will bring festive cheer right to their door. Purchasing a Christmas hamper online,like the Ultimate Foodies Christmas Hamper available from The Hamper Emporium, is an easy way to buy a gift which appeals to many.
What could be included in a hamper for Christmas?
There are no rules about what a Christmas hamper should include, but items commonly indulged in during the festive season such as those contained in The Hamper Emporium's Indulgence Xmas Hamper are a good idea. Of course that doesn't just have to be foodstuffs, you could even create a hamper filled with Christmas themed books, magazines, recipes, trinkets, ornaments, tree decorations, body products or music if you wanted to make your own.
When you purchase a Christmas hamper online they usually contain an assortment of fine, premium quality foods not frequently consumed throughout the year, making them all the more special to include in a hamper at Christmas. Top shelf champagne, wine and even boutique beers are popular inclusions, along with gourmet style fruit cakes, the finest shortbread, fruit mince tarts, jams, chutneys, pastes, sweet and savoury sauces, a variety of nuts, finely crafted chocolates, dried fruit, sweet biscuits, savoury crackers, tasty tapenades, and to-die-for fudges and truffles.
Christmas hampers are commonly made out of baskets but can also be handcrafted wooden boxes. Items in decorative tins, jars or bottles also make good inclusions and add to the festive presentation.
Some Christmas hampers are predominantly one main foodstuff in many different specialty forms. They may be based around a theme such as chocolate, along with additional complementary products like champagne. The Hamper Emporium's Luxury Chocolate and Veuve hamper is a fine example.

Are Christmas hampers affordable?
One of the best things about ordering a Christmas hamper from The Hamper Emporium is that they have one to suit every budget. You can choose from over forty different gourmet, corporate or chocolate Christmas hampers in a wide variety of sizes and prices. With delivery anywhere in Australia included for free, this represents exceptional value.
How can I keep my Christmas gift shopping within budget?
Firstly, determine the maximum amount per person you are able to spend. Then decide if you are going to plan what gifts you will buy and then go shopping, or if you are going to browse until you find something within budget.
Use the internet to help you find what you need for the best possible price before you shop. If you are buying online, don't forget to factor delivery costs into your budget – or better still, choose free delivery gift options such as Christmas hampers from The Hamper Emporium to reduce your shopping stress this year.