What Are Some Unique Corporate Christmas Gifts?
Author: Emily McWaters Date Posted:6 December 2018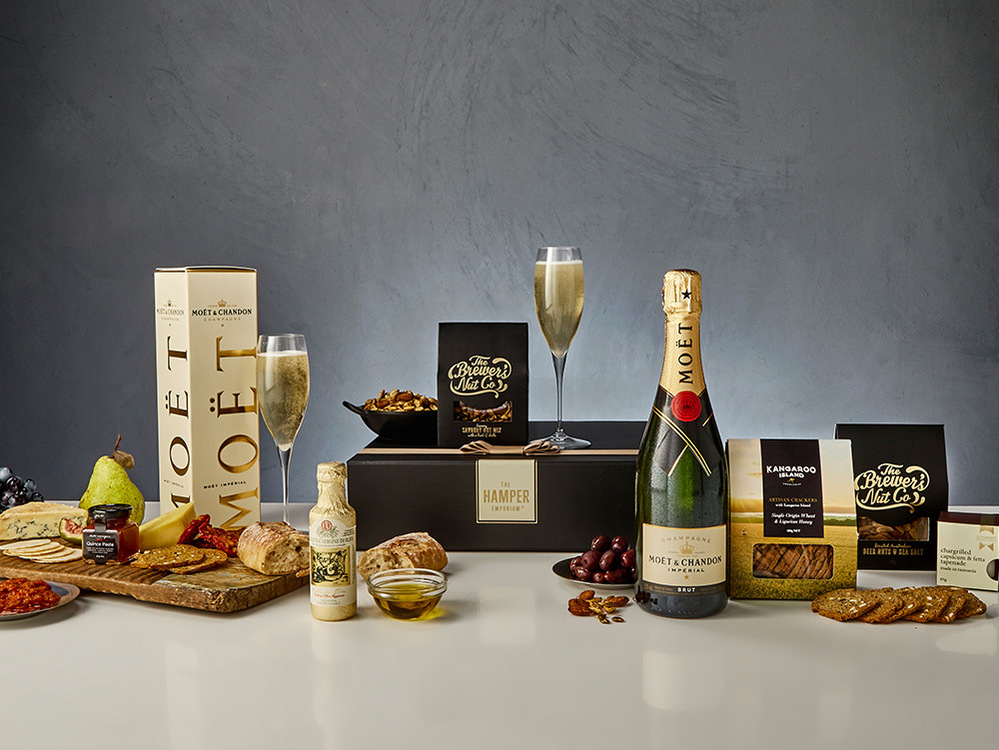 Are you browsing our range of corporate gifts to find the perfect gift for an important business relation, but do you want your gift to stand out from everyone else's? To get some gift ideas, be sure to read our overview below, which contains our most unique corporate gifts for the holiday season!
What Is Your First Recommendation from the Corporate Christmas Gifts Catalogue?
If you are looking to truly impress, then the biggest corporate hamper at the Hamper Emporium might do the trick. The biggest corporate hamper for Christmas at the Hamper Emporium is the exquisite Deluxe Christmas Hamper, which will undoubtedly stun the recipient.
The Deluxe Christmas Hamper at the Hamper Emporium is simply packed with luxurious Christmas goodies! It contains an endless selection of nibbles, chocolates, and Christmas treats, but also some excellent bottles of wine that will leave a lasting impression with the person you are trying to impress!
What Is Your Second Recommendation from the Corporate Christmas Gifts Catalogue?
Our second recommendation is quite exquisite too, because it is another large Christmas hamper from the Hamper Emporium: The Celebration of Christmas Hamper.
As the name already gives away, the Celebration of Christmas Hamper was specifically designed for the holiday season. To ensure the festive theme of this hamper is the first thing recipients notice, our hamper designer added dozens of Christmas treats, each with their own festive packaging. The Celebration of Christmas Hamper also includes a bottle of champagne and a good red wine, which makes this Christmas hamper quite suitable for wine lovers and collectors too.
What Is Your Third Recommendation from the Corporate Christmas Gifts Catalogue?
There are more large Christmas hampers at the Hamper Emporium to impress that important business relation, because our next suggestion is the Classic Celebration Hamper. Our Classic Celebration Hamper is characterised by several classic Christmas treats, but also a bottle of champagne and wine that set the right note for the holiday season.
Like the large Christmas hampers mentioned earlier, the Classic Celebration Hamper is not only suitable for the individual recipient. Many businesses obtain one of these large hampers for their employees, since it contains enough nibbles and wine for an entire office. Let's face it, this is a good way to earn yourself some brownie points as the boss.
What Is Your Fourth Recommendation from the Corporate Christmas Gifts Catalogue?
The fourth recommendation for the holiday season looks as festive as ever: The Luxury Christmas Icons Hamper. Our Luxury Christmas Icons Hamper is an accumulation of everything that represents Christmas; this includes shortbread, handmade Christmas cake, and award-winning Salted caramel sauce.
In addition to countless other Christmas nibbles, the Luxury Christmas Icons Hamper also includes a limited-edition champagne, more specifically the 2008 Moet & Chandon Grand Vintage. Since each Grand Vintage is unique, there is only a limited time to obtain the 2008 Grand Vintage! If your recipient is somewhat of a champagne collector, the 2008 Grand Vintage cannot be missing from his collection.
What Is Your Fifth Recommendation from the Corporate Christmas Gifts Catalogue?
We continue this overview of most unique corporate Christmas gifts with a gold-themed hamper: The Pure Gold Luxury Foodies Hamper. As the name of this corporate hamper suggests, this corporate gift is perfect for the gourmet lover.
To ensure the gourmet lover is fully provided for with this hamper, our hamper designer did not limit himself to a selection of Christmas-themed nibbles. In addition to typical Christmas treats, he also included a bottle of Moet & Chandon Champagne, Cape Mentelle Shiraz, and several pantry items. So, with this hamper from the Hamper Emporium collection, your recipient will have gourmet treats long after the festive season.
What Is Your Sixth Recommendation from the Corporate Christmas Gifts Catalogue?
Customers who like their corporate Christmas gift to have an exceptionally festive theme could choose our next recommendation from our corporate Christmas hamper collection: The Traditional Christmas Epicure Hamper. To make the Traditional Christmas Epicure Hamper as festive as possible, our hamper designer chose Christmas treats with festive packaging. So, as soon as your recipient opens this hamper, Christmas will be the only thing to think about.
Of course, the festive packaging was not the only criteria the products inside this hamper had to meet. Our hamper designer also made sure that each of the gourmet treats provided superior quality and flavour. Therefore, our sixth recommendation is another suitable option for the gourmet lover or foodie.
What Is the Seventh Recommendation from the Corporate Gifts Catalogue?
Gifting a selection of nibbles and treats that could be consumed on Christmas Eve is a lovely way to ensure you will be remembered. One hamper that contains several treats and products that could be used on Christmas Eve is the Everything but the Ham Festive Hamper; this has also been one of our most popular hampers for many years.
When you choose the Everything but the Ham Festive Hamper, you are bound to put a smile on your recipient's face! The hamper contains Hamper Emporium classics such as Woods Farm shortbread, Baylies Epicurean Delights handmade cake, and Gourmet Regional accompaniments to add some flavour to your recipient's Christmas meal. There is also some award-winning dessert sauce in this hamper, because our hamper designer also included the Black St. Gourmet Salted Caramel Sauce. It does not get more memorable than that!
Where Can I Find More Unique Corporate Gifts for the Holiday Season?
Businesses who want some additional suggestions for their recipient this holiday season can always head over to our main range of Christmas hampers. Our hamper designer has outdone himself this year, and added many new hampers that could be the perfect present for your recipient.
Do you want to add corporate branding to one of our suggested hampers? Or have you found another corporate hamper you want to obtain corporate branding for? Check out the possibilities on our corporate hampers page, or contact the Hamper Emporium team via telephone, email, or instant messaging.