5 Reasons Pamper Hampers Make Great Corporate Gifts
Author: Nikki Barnett Date Posted:24 July 2020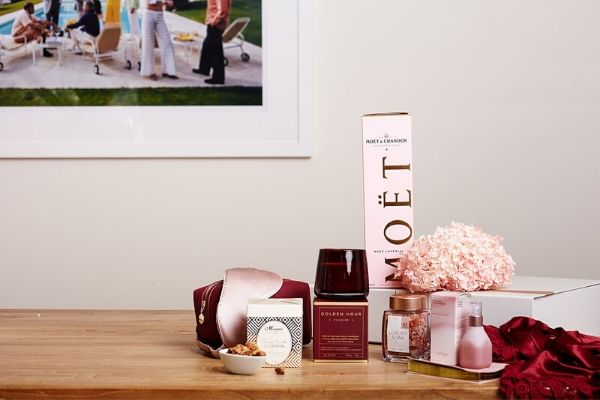 Successful client relationships are built in partnership
We all know that corporate gifting is not only a wonderful gesture but also serves as a valuable touchpoint. It has a host of benefits, not least of which is that it reiterates your business value to those all-important customers and business colleagues.
Here at The Hamper Emporium, we understand the true value of branded corporate gifts. In fact, gifting is something we pride ourselves on and strive to excel at. The fabulous opportunity to improve engagement and forge stronger bonds with clients is just too valuable to miss.
So, read on to find out what we have up our sleeve today about divine pamper gifts!
Why corporate gifts for clients makes sense
We've written many blogs on the subject of Australian corporate gifts and how beneficial their use is. In case you haven't had time to read them all or need a memory refresh, here are the top reasons why corporate gifts for clients makes complete business sense:
Personalised gifts bridge the divide or distance. Wherever you are, you can send gifts that make them feel close and keep you at the forefront of their minds.

Corporate gifts reinforce your company culture and brand. Showcase your brand with thoughtfulness and caring, using subtle branding to send an important message.

Staying regularly in touch reinforces the relationship. Opening up contact channels and the opportunity to discuss future business needs, ideas and solutions.

Pamper gifts differentiate you from the competition, making your company unforgettable, and distinguishing your business, hopefully as a preferred partner.
Hampers and gift baskets reign supreme for most businesses when they think about corporate gift ideas. They offer a really indulgent way to say thank you, congratulations or welcome, and also make fabulous rewards for employees to share around. Brimming with delicious gourmet food and drink, they are everyone's favourite.
For a completely new take on unique corporate gift ideas and employee gift ideas, what about sending indulgent pamper hampers? They are an extravagant and sumptuous alternative, designed with care for leisure time and relaxation.
Here are 5 reasons why we love them for corporate gifting:
1. Pamper hampers contain something for everyone
You are sure to know your clients business well and how your partnership adds value. But do you really know about their personal likes and dislikes? A gorgeous and thoughtful pamper gift includes items that everyone loves and uses every day. With unique ideas like plush bathrobes and luxurious products from Jurlique and L'Occitane, they are designed to impress.
2. Pamper hampers are guaranteed to be discussed
Corporate thank you gifts are made to be shared, either in the workplace or at home. The seductive power of a pamper hamper is that it's completely different from the norm and everyone will want to take a close look. You are guaranteed it will be a conversation starter, and people will want to know who sent it. They stand out in so many ways and are sure to be remembered.
3. Pamper hampers are substantial and made to keep
Many businesses send gifts to clients during the year, so you want yours to stand out in the crowd. Fabulous pamper hampers are specifically designed to be a superior option, a safe choice, and an impressive gift. The contents are hand-picked to reflect complete relaxation and indulgence. They are beautifully packed in keepsake boxes that can be treasured forever. What stressed businessman could not appreciate the thoughtfulness?
4. Pamper hampers tastefully incorporate your brand
Personalised corporate gifts are the ideal way to raise brand awareness and share your company values. When this is done tastefully and minimally, it doesn't detract from the gift itself but speaks volumes about you. Pamper hampers are ideal in that the contents are already luxurious or you can get creative and include personalised items. Then add finishing touches from coloured ribbons or wrapping to company logos and gift cards.
5. Pamper hampers provide endless opportunities
What an opportunity to keep your business gifting fresh and unique! There are so many different ways to make pamper hampers exciting and fun for every special occasion. Changing the focus of the contents from food to luxury 'you time' is a superb way to deliver variety. Clients and employees alike will be delighted. What's more, they offer fabulous presentation value, high perceived value, and suit any budget.
Buying extraordinary gifts for clients is straightforward fun
So, if you're ready to inspire and thrill clients and workmates this year, take a long look at what's available at The Hamper Emporium. You won't get any better inspiration. We have hundreds of corporate gifts Australia to browse, and a simply stunning range of luxury pamper gifts and hampers to choose from.
We handle all the work for you, down to bulk buying and sophisticated corporate branding, so you just need to add personal messages. It couldn't be easier or faster. Products included are expertly selected to make the most impact, from French skincare and sublime toiletries to sensational nibbles and the very best sparkling champagne.