A Christmas Gift Hamper For All The December Festivities
Author: Loreena Walsh Date Posted:2 October 2019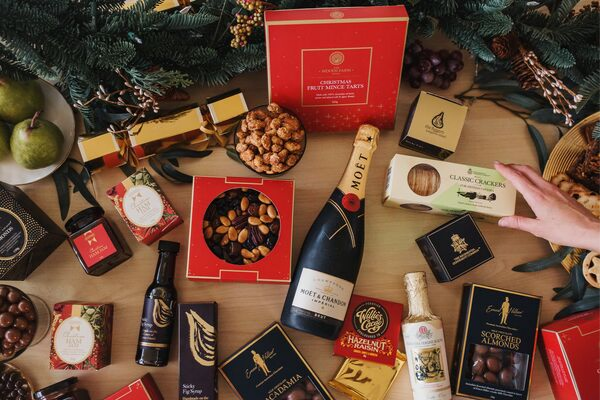 A Christmas Gift Hamper is all you Need to Celebrate in Style This Festive Season
Updated: 10th December 2020
Selecting a gift for someone can be fraught with difficulties, remember Sheldon's difficulties in the Saturnalia Miracle episode of The Big Bang Theory? The one where he bought a host of Christmas hampers so he could reciprocate whatever gift Penny gave him? He ended up giving her them all, and a hug, as the DNA of Leonard Nimoy, could not be surpassed!
Gifts should not just be about reciprocity; they express far more than that and should be a joy to give and to receive. All too often we struggle with what would be the perfect gift, be that Hanukkah, Christmas or the Saturnalia Festival. Struggle no more; we have some suggestions for you. Whatever festival you support our hamper range, delivered Australia-wide, are a delight to receive, at any time of year!
Christmas Hampers For A Gourmet Christmas
When did Christmas and gift-giving become synonymous? The origin of gift-giving at Christmas has its roots in pagan rites, that was folded into Christian ritual. Historically, up to the 1800s, a present was exchanged on New Year's Day - not the mass of gifts that have only been around for about two or three hundred years. An idea supported by retailers the world over and expected by most of us.
It can be a time of great fun and great experiences, but shopping for those Christmas gifts can be stressful and frustrating. Here's an idea, for this Christmas gift shopping season.
Stop panicking!

Put your Christmas list next to your laptop or mobile phone.

Open the Hamper Emporium website and start shopping!
Explore the high-quality personalised gifts for him and her that range in price from $89 - $249, take a look at the fabulous Personalised Moët Rosé & L'Occitane Hamper for her or the Cape Mentelle and Personalised Leather Hamper for him. You will find something for everyone with Hamper Emporium, even the most difficult, (er particular), of friends and family and the best part is that you can bulk order all of your gourmet gifts in one place.
A relatively new trend that has been emerging over the last few years is the idea of giving corporate gifts to clients during the holiday season. At The Hamper Emporium, this is something that we have been striving to make more manageable and less stressful during the already crowded holiday season.
Our range of corporate Christmas hampers, with free delivery Australia wide, offer gift boxes that will suit any business sentiment, and to make the job a little more relaxed our hampers are beautifully gift wrapped and can include your corporate branding to ensure the feeling is carried into the new year.
Saturnalia - A Christmas Hamper Would Work!
This pagan Roman festival celebrating the God Saturn was once celebrated on December 17th, it then was extended to three, then seven days. The date coincides with the winter sowing season. It was a time of celebration, merrymaking and gift-giving. This festival was a time when Romans decorated their homes with vines and ivy, often hanging metal ornaments depicting Saturn or the house deity from them and in the trees in the gardens. So, Christmas tree tradition does not stem from Nordic and snowy roots!
One famous Roman, Martial the poet, is known to have said, "I grow tired of the whole wearisome calculated game of giving presents!" Something I guess we can all relate to during the holiday season?
While not actively celebrated anymore, it bears consideration that this was the festival that was taken up by Christianity and became the date of Christ's birth.
It is not known if anyone celebrates Saturnalia anymore, but if they did what would be the ideal hamper for them? One full of delicious food and alcohol, from a range that includes deluxe ciders, beers from Australian microbreweries, excellent wines from Cape Mentelle or even an excellent Moët Chandon.
A Christmas hamper would also be perfect, given the festivals where nearly one and the same and they really are packed full of gourmet food deliciousness.
Saturnalia was time for indulgence, and at Hamper Emporium we know all about that.
Hanukkah Festival - A Christmas Hamper For All!!
The eight-day festival of Chanukah or Festival of Lights starts on the evening of the first day of Hanukkah, which for 2019 will be December 23rd with the celebrations going on until December 30th.
This Jewish festival is a celebration of triumph over adversity in the struggle for religious freedom. Although not a public holiday, Hanukkah is observed throughout Australia. It is a festival full of traditions, that includes eating of special fried bread and latkes. Playing with the dreidel, and lighting the menorah - the nine-branch candelabra.
Hanukkah is a time for families, eating and shared memories.
It could be difficult to gift a hamper at this time due to kosher requirements. But, never fear if invited you could quite happily take along the James Squire Beer Hamper, where all but one of the beers, the Hop Thief, is kosher. That's the one for you!
If you are entertaining some Jewish friends over this period, we can certainly help with hor d' oeuvres, if not the brisket or potato cakes.
Not all of the Christmas Hampers contain Kosher food, but the Entertainer Gourmet Hamper is one to consider. Kosher food should not be shellfish or pork, and the table should not have both meat and dairy at the same time. The Entertainer Hamper includes no alcohol, no meat or diary just classic nuts and olive oils that are acceptable at this time. Contents include;
Brewer Nut Co - Classic beer nuts & Savoury Nut Mix

L'Orto Di Franco Semi-Dried Tomato Halves

Kangaroo Island Olives Kalamata Olives

Kangaroo Island Produce Co Artisan Crackers

Valley Produce Cracker Thins Cracked Pepper

'Most Oro' Cold-Pressed Olive Oil

Gourmet Regional Produce Capsicum & Feta Tapenade (not a problem if no meat is served as well!)

Luke Mangan Quince Paste
Christmas Hampers To Make Your December Festival Easy
No matter what you celebrate, December in Australia is a time for families; parties, beach get-togethers and BBQs. Food and drink play a huge part in every celebration, and our Christmas Hampers offer the best gourmet treats to ring in the festive spirit. Alongside, saving you,
Time, you do not have to gift wrap our hampers as they come in beautifully crafted boxes.
Money - as all our deliveries are free throughout Australia.
Stress - clear your Christmas list with our Christmas Hampers and the rest is easy.
Now all you have to do is relax and enjoy yourself with one of beautifully presented Christmas gift baskets!