Bubbles For Mum: Buy Her Champagne This Mother's Day
Author: Michelle Richards Date Posted:29 March 2022
Our Complete Guide To Choosing Champagne For Mum
Nothing evokes the excitement of a celebration more than the pop of a champagne cork and the fizz of bubbles. Champagne is also one of the most luxurious and prestigious sparkling wines and a dream to sip.
Whatever the special occasion, everyone loves champagne and the clink of glasses. When it comes to celebrating Mother's Day, nothing can quite beat the gift of champagne. But why stop there? Our decadent champagne hampers also add dreamy chocolates, mouth-watering gourmet foods, or pampering treats to accompany this little luxury.
Here at The Hamper Emporium, we love selecting the very best Mother's Day champagne. From classic white to glittering rose, celebrate with your mum in style and make her day. Wondering which champagne to buy mum for Mother's Day? Here's everything you need to know before you choose!
Happy Mother's Day Champagne - From Grape To Glass
Champagne is actually a wine but is exceptional because it follows unique and time honoured methods to develop its sparkling bubbles. The grapes can only be grown in the Champagne region of France to be legally called champagne. If you didn't realise, it's made with the red grapes Pinot Noir and Pinot Meunier, as well as white Chardonnay grapes. Many champagnes blend grapes to produce unique flavours, and unlike any other wine, they can even blend years.
Making premium champagne following the méthode traditionelle entails two fermentation processes. Champagne can be blended by using different pressings to achieve the desired taste and aroma. The winemakers first create a premium cuvée blend and the grapes' natural sugars ferment into a dry wine. The second fermentation occurs in the bottle when a mixture of yeast and sugars, called the liqueur de tirage, is added. This creates the delicious bubbles of carbon dioxide that champagne is famous for. It will then age 'sur lie' (or resting on its lees) for at least twelve months, with prestigious vintage champagne continuing to age a further two or three years to develop complexity and aroma. The lees have to be removed from the bottle with a careful process of riddling. The cork is quickly popped to remove the aged yeast, and then the champagne is topped up with the winemakers' secret liqueur d'expédition, a mixture of wine and sugar carefully balanced to suit the style of champagne from brut to dry.
The Art Of Serving Your Mother's Day Champagne
The best temperature for serving your champagne is 8-10°C. Placing the bottle on ice for thirty minutes or on its side in your fridge for around four hours is ideal. Unlike red wine, champagne doesn't need to 'breathe' before pouring and can be kept fresh for up to a day by adding a champagne stopper. You're supposed to quietly twist out the champagne cork, but we think the loud 'pop' is just too satisfying to miss!
There is a science to drinking champagne, and knowing your glasses will maximise the drinking experience. Tulip glasses are tall enough to add oomph, increase the bubbles and retain the fizz. Vintage style coupe glasses allow the aromas to fully evolve, and nothing says style more than crystal cut glasses. The shape you choose will affect bubble retention, but really, anything goes.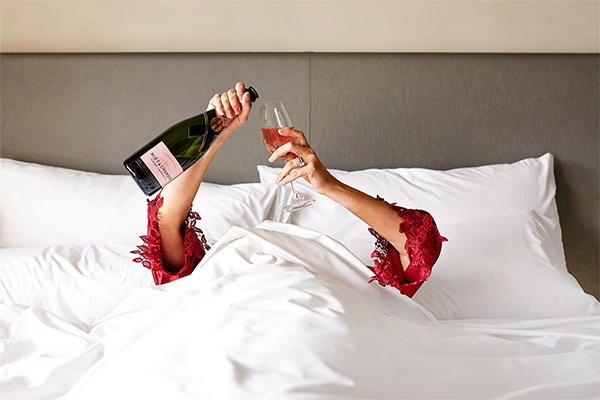 8 Fun Facts To Impress Your Mum About Champagne
As you've chosen the best champagne for Mother's Day, why not surprise her with some fun and interesting champagne knowledge?
A standard 750ml bottle of champagne contains over 49 million bubbles

Each bottle needs to be sturdy as the pressure is over 3x that of a car tyre

The largest champagne bottle is the Melchizedek, 40x a standard bottle size!

Staff twist the champagne bottles 1/8 of a turn every single day during aging

Popping a champagne cork well can mean it reaches speeds of up to 40 km/h

The furthest flight ever recorded for a champagne cork is an incredible 54 metres

The most expensive champagne is Goût de Diamants - with a gold-covered bottle and 19-carat diamond, it sold for £1.2million in 2013.

If you place a raisin in bubbling champagne it will continue to move up and down the glass. A great Mother's Day celebration trick!
Exquisite French Champagne Hampers Packed With Style
We select only the best rose champagnes and sparkling white champagnes from world-class names like Moet & Chandon and Veuve Clicquot. They are renowned for producing luxury champagnes. Each one is seductive, fresh and crisp, with a magical balance of flavours.
The best champagnes are wonderfully drinkable and pair well with a whole range of foods and nibbles. They are not just a luxurious treat but a fabulous excuse for some tasty gourmet foods, sweet flavours and luscious chocolates.
Here are three of our top Mother's Day champagne gift baskets from The Hamper Emporium. All you have to do is choose which extra treats will brighten up her day!
Our first choice is a hamper sure to please any champagne-loving mum. Veuve Clicquot Yellow Label NV is their signature champagne known for its symphony of fruity flavours and lingering aromas. It delivers freshness and strength, making it ideal as an aperitif or with a meal.
In this Mother's Day champagne hamper, it comes paired with a mouth-watering selection of sumptuous chocolates and sweet treats from Maggie Beer, Morgan's, Kokao, and other top Australian gourmet providores. This hamper is brimming with sweet goodies to delight a foodie mum like maple coconut roasted almonds, bite sized dark chocolate Belgian wafers, and indulgent cake slices. Perfection!
This is a unique champagne gift for Mother's Days that will delight even the fussiest mum. Moët & Chandon Brut Imperial NV Champagne is a beautiful blend of pinot noir, chardonnay, and pinot meunier known world-wide as the premier champagne. To pair perfectly with its flavour, in this gift hamper it is paired with a selection of truly luxe gourmet treats.
Your mum will enjoy delicate charcoal wafers with Maggie Beer's fabulous truffle triple cream brie cheese, quince & champagne paste, gourmet Tasmanian black truffle paste, and dark chocolate coated coffee beans. Mum can savour their delights as she sits back with a glass of her favourite Champagne on Mothers Day.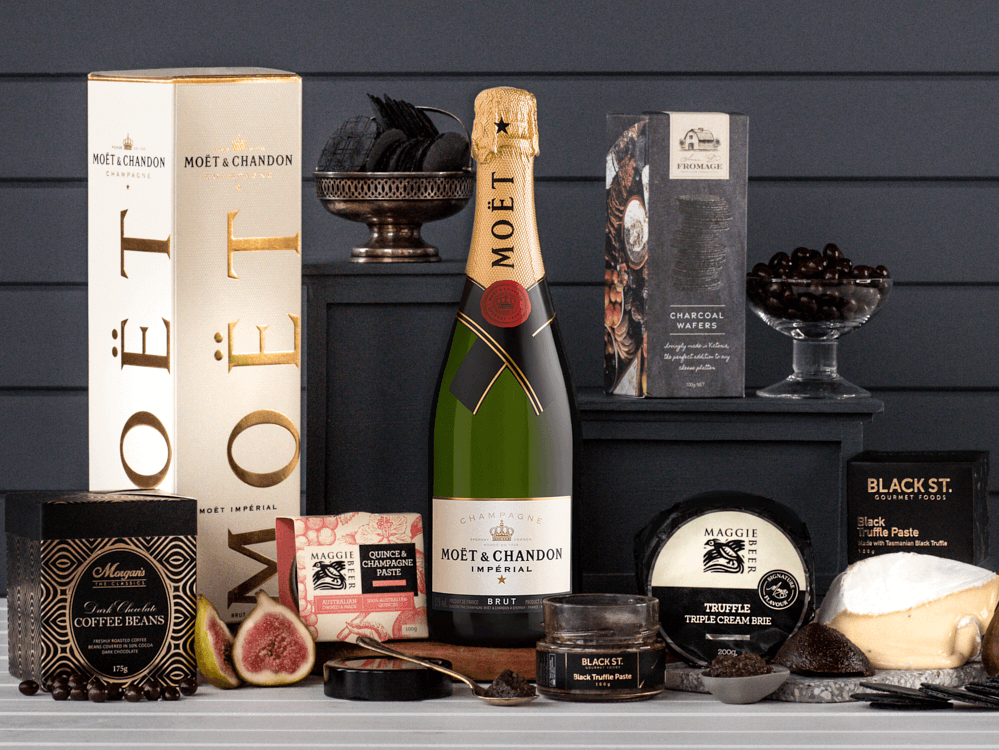 A bottle of the infamous Moët & Chandon Rosé Imperial champagne is the centrepiece of this luxurious hamper. It's a radiant, romantic choice packed with red berry and pink grapefruit flavours. Fresh and crisp, it's elegantly matured and goes perfectly with fresh seafood.
Teamed with indulgent and pampering skincare products, there are relaxing bathtime products. For complete relaxation, there's a luxury burgundy satin robe, cosmetic bag and silk eye mask. She can also light an aromatic candle and feast on almonds roasted in French vanilla.
For a luxury gift to really spoil mum, champagne and flowers on Mother's Day is the ultimate treat. Our brand new range of flower hampers includes a gorgeous preserved floral arrangement in pretty pink hues created especially for mums whose aesthetic is pure sophistication. This luxury Mother's Day flowers and gifts hamper includes 24 carat gold rimmed stemless champagne flutes, gold rimmed marble coasters, a bottle of Moët champagne, and tempting sweet morsels for mum to enjoy. This is a Mother's Day champagne and flowers delivery worth bragging about.
All our different premium champagnes come with a choice of sweet treats, savoury flavours and pampering products (or all of them!). You're sure to find the perfect selection of champagne gifts and Mother's Day hampers to spoil her with. If you need more inspiration, then browse our full range of exquisite choices!