Food Gift Ideas To Celebrate Valentine's Day
Author: Nikki Barnett Date Posted:4 February 2021
How To Celebrate Valentine's Day
While chocolate gift boxes are popular, there is no reason to stick with commercialised gifts if you know your Valentine would prefer something different. Many couples choose not to do anything special to mark the occasion, preferring instead to give a gift on more personal days like their anniversary. If you want ideas for things to do when you don't usually celebrate Valentine's Day, or you want a gift that's not chocolate or flowers, there's plenty of great ideas for ways to show your love.
Surprise Your Valentine With An Unexpected Gift
If you and your other half regularly take the time to tell each other how much you love and appreciate them, then you probably already know that quality time and shared experiences are the best things to give on Valentine's Day. But, if your special someone deserves a little extra TLC this year, or you'd like to surprise them with something a little out of the ordinary, then you need a Valentine's gift that's way better than chocolate.
An at-home date night is a great way to make a special Valentine's evening for your husband or wife, even if you don't usually celebrate Valentine's Day. Surprising them with a romantic food gift can be a great way to make the day fun without being too cliché. If your partner isn't expecting a Valentine's Day gift from you, then arranging a food gift delivery or a food wine gift basket is a wonderful way to surprise and delight them.
There's no one-size-fits-all gift idea for Valentine's Day. While it's become a day when lovers express their feelings of affection or appreciation with gifts, the true origins of Valentine's Day are quite different.
The History Of Valentine's Day
The ancient Romans celebrated fertility and the coming of spring in mid-February with the festival of Lupercalia. At the end of the 5th century, this festival was replaced with Saint Valentine's Day by Pope Gelasius I to honour two Christian martyrs, Valentine of Rome and Valentine of Terni. While it continued as a feast day of Saint Valentine, there was no connection with romantic love until the 15th century. Stories of lost love, clandestine Christian weddings, and anonymous love letters have since become linked with the history of St. Valentine's Day.
The tradition of sending fancy Valentine's Day cards with sentimental verses and decorated with lace and ribbons began in England in the 1700s. The custom spread to the U.S. where Valentine's Day was commercialised with mass-produced cards. In 1868, Cadbury chocolates created the first decorated box of chocolates in the shape of a heart for Valentine's Day, called 'Fancy Boxes'. And the world fell in love with the romance of Valentine's Day.
Saint Valentine's Day remains a day of love with many churches offering special services to renew marriage vows and couples around the world taking advantage of one this special day to show their affection and love. Not everyone celebrates Valentine's Day with hearts and flowers. Although a Valentine's card and food remain at the centre of the tradition, your present to your Valentine can be as simple or as lavish as you both like.
Inspiration For Planning Your Perfect Valentine's Date Night
Creating your perfect Valentine's Day to spend together is more meaningful than that ever-present heart-shaped box of chocolates. You'll sweep them off their feet all over again with a romantic gesture they're not expecting. If you need ideas for how to create a special romantic picnic or plan a fun date night at home with your husband or wife, or your boyfriend or girlfriend, you'll love our easy step by step guide to planning a date night for him or her.
Choose your mood. What sort of atmosphere will you both enjoy most for Valentine's Day? While this might be different for those in the honeymoon stage of their relationship compared to couples who are married with kids, it also depends on personality. Will your other half enjoy pampering and romance, or would they rather do something fun, or adventurous?


Come up with a good date night idea. You don't need to make Valentine's Day all about romance if you would both prefer to spend the day surfing, wandering the local markets, or watching Netflix together. Choose something you both enjoy and build on that idea to create a day to remember.

If you like to spend your Sundays at the beach, turn it into an evening picnic on the beach with champagne.




If you love movies, turn your loungeroom into a blanket-fort with cosy cushions or a mattress on the floor and start movie night early.




If you love cooking, then plan a fun meal you can cook together complete with dessert and a good bottle of wine.



Plan ahead with logistics. If you're planning an outdoor occasion, check the weather forecast. Have a back-up plan in case of rain. If you have kids, don't leave it until the last minute to organise a babysitter on Valentine's Day

—

all your friends might have the same idea! If you're planning to cook, check the pantry and go shopping for ingredients.



Ask your partner to be your Valentine. Even if you want your special plans to be a surprise, clue them in to keep their day or evening free, especially if you don't usually make a fuss on Valentine's Day. They might also be planning something for you or, even worse, they might have offered to babysit a friend's kids all evening.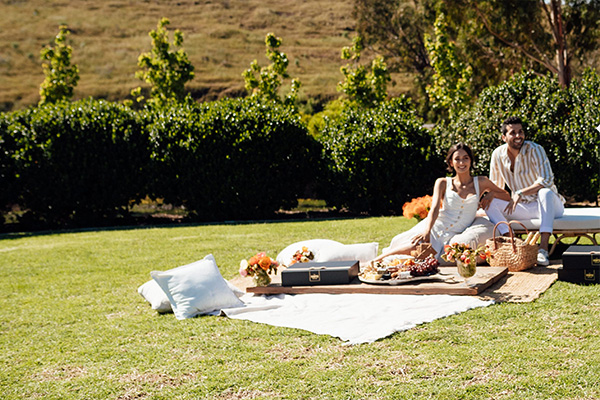 How To Create Your Perfect Valentine's Day Occasion
If you're planning a fun date night at home for Valentine's Day, there are a few essentials you will need to set the mood. From a romantic backyard picnic for stargazing to a cosy meal in front of the TV, these are the essential things you need to create an occasion for Valentine's Day.
Location
Dress up the area to set the scene. This might be as simple as clearing the clutter out of the loungeroom, or you might like to re-arrange the furniture to create a more intimate space. If you're outdoors, set everything up in advance.
Somewhere to sit
Will you be picnicing or dining at a table? Either way, choose the perfect rug or picnic blanket to define your space. Choose multiple layers if you're sitting outdoors and want a soft, cosy place to laze around. Pillows or mini bean-bags to lean against make a long and leisurely picnic more comfortable.
Lighting
If you're outdoors, hang fairy lights or set up some tiki torches (spare a thought for dealing with mozzies). If you're planning an indoor picnic, dim the house lights and light a few candles around the room.
Flowers
If you're aiming for the ultimate in romance, you'll need flowers. You don't need to give a gift of flowers. Instead, use them to set the mood with floral arrangements. Keep in mind that a scattering of flower petals and a single bloom can be more romantic than a large bouquet.
Music
The right soundtrack will help set the mood. From romantic songs to your favourite dance tracks, putting together a personalised playlist for Valentine's Day is a lot of fun. You can choose simple background tracks, or add in a few slow-dancing favourites for an excuse to ask them to dance later in the evening.
Food
No matter what you're planning for Valentine's Day, your date needs food! You might choose homemade Valentine food gifts to tempt them, or a romantic food hamper with wine or champagne, a chocolate gift box, or chocolate coated strawberries. If you're planning to cook a meal together, then choose the perfect bottle of wine to accompany the meal. Have your dessert pre-made so your after-dinner time is more relaxed.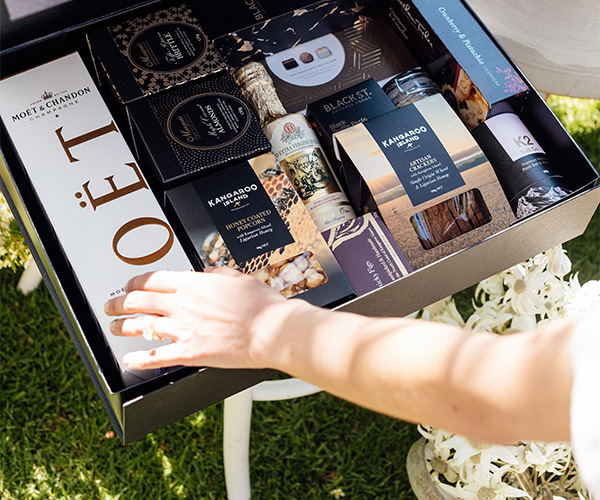 The Best Valentine's Day Food Gift Ideas 2021
Food gift boxes make a wonderful gift to share. Your choice of food gifts can create the perfect mood for whatever you have in mind for Valentine's Day. From a fun and playful picnic, to a gourmet feast, or a romantic atmosphere perfect for a marriage proposal, let your imagination run wild and create a day to remember. Make your Valentine's food gift part of your special picnic or date-night by presenting your lover with a Valentine's Day hamper to share.
Our Cape Mentelle Rosé and Nibbles Hamper includes a gorgeous rose wine and a selection of gourmet treats perfect for a summer picnic. Or if you need a bottle of bubbly for your Valentine to toast to your special occasion, choose A Little Luxury with Moët Hamper with sweet treats, champagne, and a candle.
Food gift baskets for Valentine's Day make a wonderful surprise. Choosing a hamper with wine, snacks, and chocolate makes it easy to create a fun and memorable occasion. Add some candles and a cosy place to snuggle and your evening is all set. Browse our full range of Valentine's Day food gift baskets to choose the perfect hamper for your occasion. Arrange for your romantic food gift basket to be delivered Australia wide.