How to Make Your Corporate Christmas Gift Cards Memorable
Author: Nikki Barnett Date Posted:2 November 2020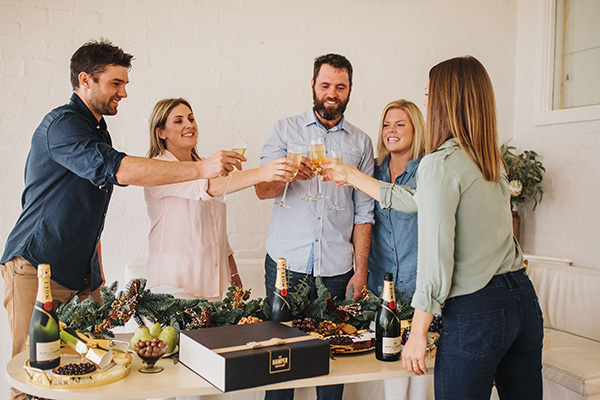 Perfect Office Christmas Cards
There's only 7 weekends left until Christmas! It is often a mad dash in the last few weeks before the holiday season begins to get all the jobs on your Christmas to-do list ticked off.
Apart from sorting out your recipient list and finding impressive holiday gifts for every important and deserving associate, client and staff member, getting the right corporate Christmas card should be top of your list, too.
What's the best Christmas present for work colleagues?
Try gratitude.
Christmas is a wonderful time of year to thank all those who have worked with you as a team to achieve your company's annual goals. Share a few words of appreciation with those who supported your business during a tough 2020 with its many ups and downs. Sending a genuine acknowledgement to those involved in helping your business adapt to a changing business world is crucial.
Here at The Hamper Emporium, we are the online gift experts when it comes to supporting Australian companies and delivering direct to their door. We offer unique company branded embossed gifts, premium corporate gift wrapping, exclusive branded gift cards and so much more. Let us give you some helpful advice on how to impress those important to you and show gratitude along the way—with a simple gift card.
Here are some ideas for how to make corporate Christmas gift cards more memorable.
1. Choose an eye-catching and unique design
Remember your brand and stick with your colour palette. Include your logo at the bottom but remember that the best company Christmas card designs are not overly fussy. Simple goes a long way and, especially at Christmas time, it's all about the message you want to share.
There are hundreds of free Christmas gift card templates available online for inspiration. Brainstorm with your team and get some design ideas to build upon, but make sure to personalise it with your very own twist. An online Christmas gift card printable can easily be tweaked to make a unique card to suit your company.
A minimalistic gift card cover design can highlight your personal Christmas card message. You can find examples online for the best cover words and Christmas greetings to suit your company's corporate branded gift card style.
Here are some gift card message ideas to get you started:
It has been an honour and pleasure to work with you this year. We wish you a relaxing holiday and a busy new year.

It is simply a joy doing business with you.

May the beauty of the holiday season fill you with joy and love. Merry Christmas.

Thank you so much for a productive year! We hope to continue our shared success into the New Year.

Happy holidays from the team at (enter logo here)

Sending the warmest Christmas greetings from our company to yours.

Our team wishes you a wonderful holiday and a prosperous new year. Merry Christmas!
Your Christmas gift card saying can be simple, but still express how much you value your business relationship.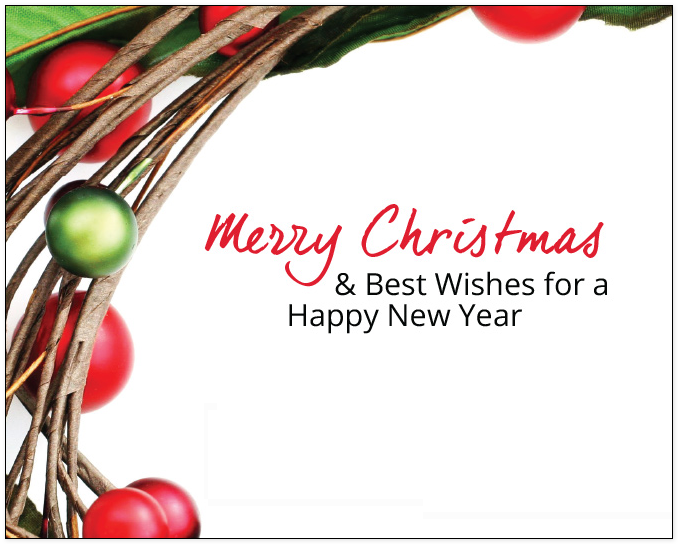 2. Personalise your Christmas message with empowering affirmations
The personal touch of a unique and heartfelt message in each Christmas gift card can add so much more value to your staff Christmas gifts. Every person loves to feel appreciated. A personal Christmas gift card message ensures they feel noticed and acknowledged. Thank your employees with a Christmas message such as, "Your work this year has been amazing! Enjoy your well-earned Christmas break."
We know it's a busy time of year. An adaptable and relevant business Christmas card message makes your corporate gifting easier. It is important to find the right message that you can use on all your corporate gift cards that will make every single one of your employees and clients feel special. The best gift card messages will sound as though you are talking directly to each recipient. For a classic Christmas card message that is simple and meaningful, try, "This holiday season, we would like to express our sincere appreciation for your support. We wish you every happiness for the holidays."
A simple, formal business Christmas card message like, "We wish you and your loved ones happiness and peace this festive season" goes a long way. You can add an extra appreciative note inside your gift card. For example, "We offer our sincere thanks for your loyalty and goodwill throughout 2020." It might be appropriate to include a message acknowledging your ongoing business relationship, such as, "We look forward to continuing our partnership in the New Year."
A casual Christmas message to thank customers for their loyalty throughout a difficult year might include a more personal greeting, such as, "As Christmas approaches, we want to say thank you from the bottom of our hearts for your support throughout the year. We wish you and your family a wonderful festive season."
3. Go for Corporate branding on gift cards
Winning a premiership with a team rather than as a solo player often feels so much better when it is time to celebrate. Knowing you've achieved big things in 2020 and have met your milestone goals as a business team feels wonderful, especially when you can clink your glasses together and have a celebratory Christmas drink as a group.
Receiving a Christmas card that's personalised with your employer's logo, colours and a personal message always enhances the feeling of satisfaction for a job well done. When it comes to the end of year staff party, it's great to know you are part of team of like-minded, hard-working, goal-driven people that enjoys every challenge along the way.
If your regular end of year party has had to be cancelled due to travel restrictions or social distancing, you can still celebrate with a virtual office party. Organise to have gourmet food and wine hampers delivered direct to your staff and clients with personalised gift cards. Then schedule an evening to connect via Zoom to celebrate together as a team. If you want help planning the ultimate virtual Christmas party, register for a chance to Win 15 Hampers to kick start your office virtual Christmas party!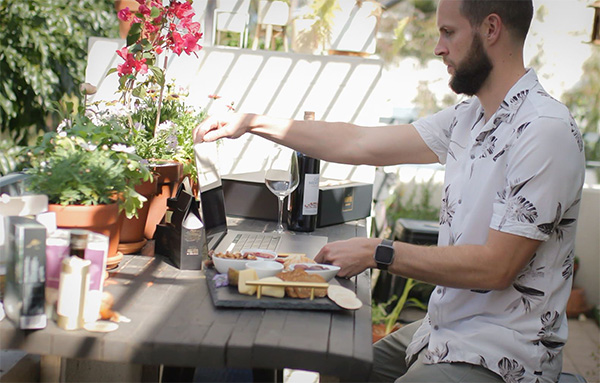 We are here to make your Corporate gift branding dreams come true. Browse our exclusive luxury hampers and explore our corporate gift-wrapping options. Get started with your office Christmas plans so you'll be ready for the Christmas party without added time pressure and hassle.
With just a few clicks, you can shop online at The Hamper Emporium and have your Christmas gifting to-do's ticked off. We can help you with personalised gifts, corporate branded ribbons, packaging, gift cards—the lot. Staff, clients and business associates will appreciate how much thought would have gone into creating those Christmas gifts for them, without you actually having to spend a large amount of your time choosing individual presents.
For a small surcharge, we have Christmas gift card designs available, ready for you to add your logo and personal message for all. Follow in the footsteps of Australian brands such as Qantas, Westpac, and Channel 9—just to name a few—who put their trust in us for their corporate Christmas gifting
Your choices, your branding, your joy.
Planning a bulk Christmas order?
Don't forget to register for our Corporate Christmas Early Bird Special for 10% off your corporate orders of 6 or more hampers. Closes 13th of November 2020