The Best Business Plans For Growth
Author: Michelle Richards Date Posted:4 January 2021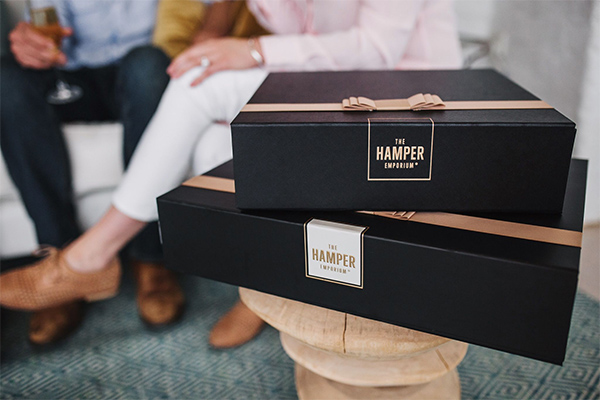 Do You Need Ideas to Boost Your Business?
The beginning of January is always an interesting time for small businesses. As the public holidays come to an end and we drag ourselves back to work, there's always a feeling of optimism about what the new year holds. The break from work to refresh and recharge often provides an opportunity to gain some perspective and fresh ideas. With feedback from staff and customers, management teams have had a chance to evaluate what worked over the previous year and look at ways to improve what hasn't worked for your company.
A new calendar year has a very different vibe to the budgetary planning that is generally the focus of the end of financial year evaluation. Instead, a new year is a chance to look at ways to improve processes within your company, to relook at your business goals, marketing opportunities, and seek avenues for growth. Encouraging staff to make their own business New Year's resolutions can help improve individual performance but, for greater success, the new year is the perfect time to reevaluate your business strategies.
The Best Business Strategies To Focus On For 2021
Staff and clients are always the most receptive to change in the new year, and come back to work ready to try something new. While having a solid plan helps, brainstorming with your team and being willing to test new business ideas is equally valid. Clearly, what has worked for businesses in the past may not apply this year, and an innovative 2021 business strategy might be what takes your company to the next level.
When looking for ideas for your business plan for the new year there are a few simple strategies that will have the biggest impact on business success.
Reconsider your marketing strategy to embrace online or remote opportunities
Rethinking the way your business connects with potential new customers is essential. Digitising sales channels, especially in a B2B market, and exploring online outreach to promote awareness will benefit your business—even in a post-Covid world. Marketing ideas that don't rely on face-to-face meetings will have a greater chance of success.
Find new ways to engage personally with clients to deepen your relationships
Getting to know your clients personally helps you to better understand what they need from your company and encourages open lines of communication. If client lunches and conference meetings remain uncertain going into 2021, look for new ways to share interests. Small gestures that encourage relaxed conversation are a nice way to strengthen your business relationships and can lead to genuine friendship.
Look sideways for new networking connections and opportunities for diversification
Your business plan going into 2020 may not have been a raging success. Rather than double-down on an old plan and push forward, determined to make 2021 a better year, look around and see what new opportunities a changed business world presents. It's a great time to collaborate with other companies and work jointly to grow your businesses. Informal, mutually beneficial business partnerships and local networking could be a great source of motivation and open up a whole new market for your company.
Ensure your customers' experience is worth talking about—in a good way!
Word of mouth referrals and recommendations continue to be the best way to win new clients and maintain customer loyalty. Go beyond anticipating what your clients may need from your business and surprise them with exceptional service. Make it clear to your customers that you value your business relationship with them. Offering your customers or top clients an experience that goes beyond their expectations is the best way to encourage them to share their positive experiences within their broader business networks.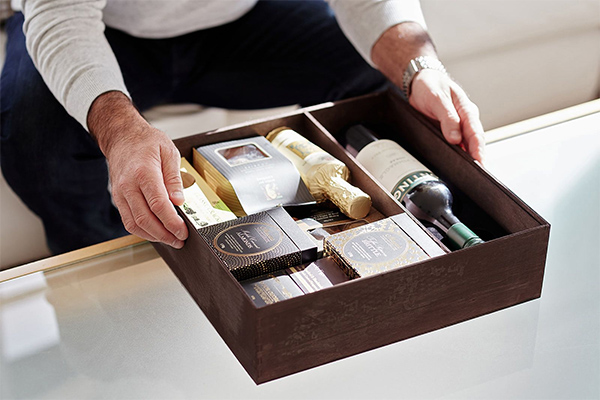 Putting your 2021 business plan into action
Sending a corporate gift hamper to clients and business associates to kick off the new year is a great way to open a fresh line of communication. If you plan on sending out updates to your work processes or make changes to how you interact with business clients, do it with a little style! Sending new contracts or policy changes in the mail can be considered too formal and leave little room for honest feedback. But having a corporate hamper delivered to the office with a note thanking them for their business, introducing the new changes, and encouraging feedback makes the process much more friendly.
The first couple of weeks back after the holidays can be uncertain as businesses reevaluate their own priorities. Make sure your company is top of mind when your business associates start making their new year plans. Rather than start the year off with a new year welcome email to customers, send your top clients a welcome gift hamper instead, and then follow-up with a phone call to discuss business.
Setting up a corporate account with The Hamper Emporium
If part of your 2021 business plan is about forging new relationships with your clients and improving customer experience, then corporate gifting is essential. Thank you gifts for staff, settlement gift hampers for customers, and corporate hampers for business colleagues are all easy and affordable ways to encourage ongoing partnerships and new joint ventures.
The Hamper Emporium has the best range of gift baskets suitable for corporate gifts to meet a range of budgets and gift styles, including gourmet food hampers both with and without alcohol. When placing a corporate hamper order online, just add your chosen gift hamper to your cart and click checkout. You'll then have the option to include a gift card. Add your recipient's name and your personal message, and then click 'Yes' to add a corporate branded ribbon or gift card. A range of personalised corporate gift hamper branding options will be displayed so you can select the colour and style that best suits your company. You can also order hampers with your own custom business gift card and ribbon design with a corporate account.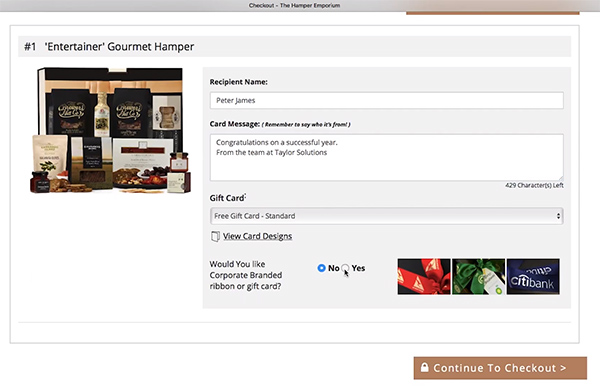 By setting up a corporate account for gift hampers, the graphic design team at The Hamper Emporium will work with you to create your own corporate branded gifts. You can choose from twelve existing design templates or have your custom designed gift cards and branded ribbons created to really make an impact with your corporate gift baskets. We also have options for branded gifts including a keyring engraved with your logo and premium wooden chopping boards.
It's easy to create a corporate account. Just fill in your company information and contact details on the simple online details form. For your first order, you'll need to upload your company logo and choose your preferred corporate branding options. You can always speak to our design team to approve your artwork and make custom changes. You can also add any regularly used delivery addresses to your account information to make future orders fast and easy. And, corporate discounts apply for bulk hamper orders, so arranging a bulk delivery makes it more affordable.
Start The New Year Right For Your Business
If your business New Year's resolutions focus on finding new ways to connect with clients and customers to grow your company, the corporate team at The Hamper Emporium look forward to making that happen for you. We're determined to make 2021 a fantastic year for your business.