Planning An Engagement Party To Remember
Author: Michelle Richards Date Posted:23 February 2021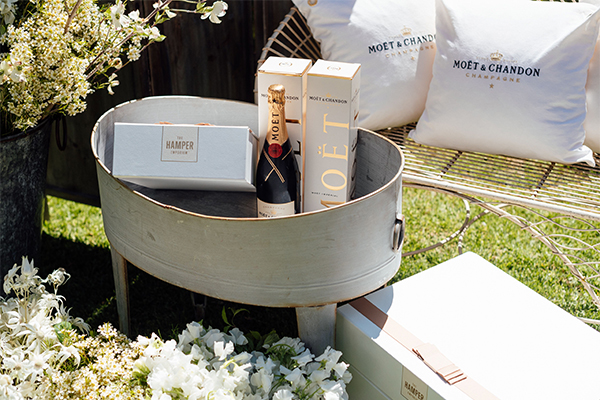 Host An Event That Sparkles Like The Ring On Your Finger
If you want to announce to the world that your special someone has proposed and you're getting married, you're going to want to plan the best ever engagement party. At The Hamper Emporium, we think that if you've finally netted your dream partner, it's definitely time to pop open some bubbly and let your hair down. While a stylish, classic engagement party is fabulous, we think you might be looking for ways to make your day exciting and unique.
Or, if you're planning something special for your son's or daughter's engagement party, we have tips and original ideas for a fun engagement party at home that they'll love. An engagement party, large or small, is a fabulous way of getting everyone together and celebrating the exciting news. It's not a requirement, but if you love hosting parties, there are lots of inexpensive and fun ideas for an engagement party to explore.
If friend has a beautiful sparkler on their finger, and you have been tasked with organising an event, you want to plan a memorable engagement party that will have everyone talking. Here are our ideas for everything you need to pull off the ultimate celebration. Priority number one when planning an engagement party for a friend, or for yourself, is to make it a day or evening of unbridled fun!
10 Simple Steps To Planning An Engagement Party
As you have a wedding on the horizon, this is an excellent opportunity to find out how to plan an engagement party that pops. With this practice, you can learn and develop useful event management skills to help with the big day. You don't need to stick to any formal rules, including the tradition of the bride's family hosting the engagement party. It's totally your gig!

Choose the host

Set a diary date

Make your guest list

Arrange a venue

Plan the theme

Post out invitations

Compile a menu

Buy yourself a fab outfit

Accessorise the space

Get celebrating!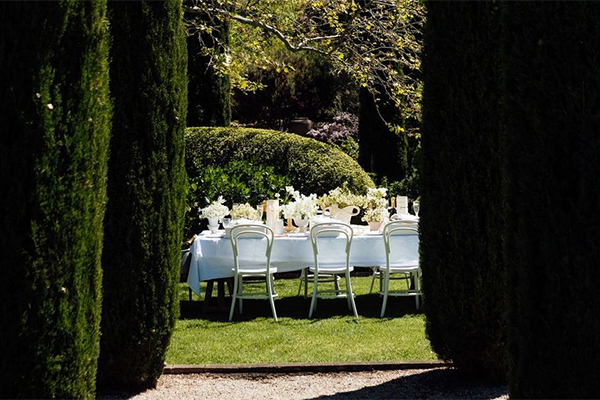 8 Ideas On How To Plan An Awesome Engagement Party
Between bachelorette parties, bridal shower, rehearsals and the fabulous day itself, there can be a sizeable cost in the lead-up to a wedding if you also want to have an engagement party. That's why we've put our heads together for creative ideas on how to plan an inexpensive engagement party. Don't worry; it will still be a knockout!
What you choose to do for your celebration can be as simple or as complex as you want. It can just be planning an outdoor engagement party at home, dropping in for afternoon drinks, or a cosy engagement brunch. But if you want a fun activity, then take a look at these awesome ideas for inspiration.
Screen Your Couple's Story
Rent a retro projector and hold a movie night, indoors or out, and turn your engagement party into a fun photo session. Relive your favourite memories together, how you met, and how you fell in love. Include your friends and family in the screen action. You can choose a dress theme and give all your guests luxury care packages, including cinema treats of popcorn, gourmet bites and drinks.
Informal Engagement Party Australia Style
Planning an outdoor engagement party BBQ is the perfect backyard shindig and a relaxed way to celebrate. Decorate the space with stylish balloons and streamers, make themed table centrepieces and invite guests to dress for the occasion. Put condiments in coloured picnic baskets and lay on all the classics from Australian craft beers to side salads and sweets.
Cheese And Wine Engagement Party Food
Everyone loves wine and cheese, so if you're planning a gourmet engagement party, it's a perfect option. Decorate your tables with beautiful flowers and let guests sample a whole range of cheeses paired with the best Australian wines. Think a smooth brie and the tingle of celebratory bubbles with the with our decadent Black Truffle, Cheese & Champagne Hamper or go bold with red or white wine and a selection of cheeses in our wine and cheese hampers range. You can't go wrong with a totally relaxed, classy atmosphere with a cheese and wine grazing made to share.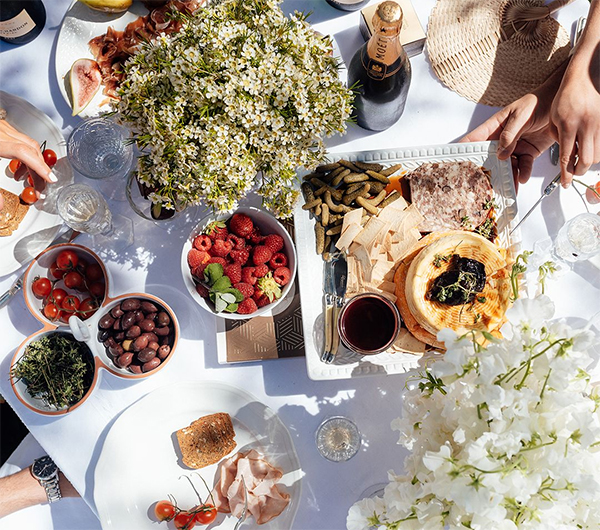 Icecream Pool Party
If it's summer, then why not kick off celebrations with a spectacular engagement pool party? Provide guests with fun floats, add a playlist of feel-good tunes, and serve up tropical drinks and ice-cold beer. Or supply gin and tonics on ice with refreshing citrus garnishes. Gin hampers are great for creating a whole range of summer drinks. Set up an ice cream sundae bar with flavours and toppings everyone will adore.
Winter Wonderland Engagement Party
If you need help planning an engagement party in colder seasons, celebrate with a winter theme. Decorate your home with white accessories, sparkly lights and snow-frosted windows. Serve warming punches and spicy apple cider. If you can get outside, then cosy guests around a roaring bonfire in fleecy blankets and enjoy lush chocolates and hot toddies together.
Vintage Jazz Cocktail Party
A lunchtime soirée is perfect, especially if you're wondering how to plan an outdoor party that's sophisticated and fun. Plus, a daytime engagement party can be less expensive than an evening event. By combining stylish jazz music with cocktails and brunch, you will really add a wow factor. Wear pearls! Let guests dig into breakfast delights from waffles to omelettes and enjoy the upbeat music. Host a cocktail bar and let them shake and stir their own favourite drinks. Or, keep it simple by ordering fabulous champagne cocktail hampers as a treat.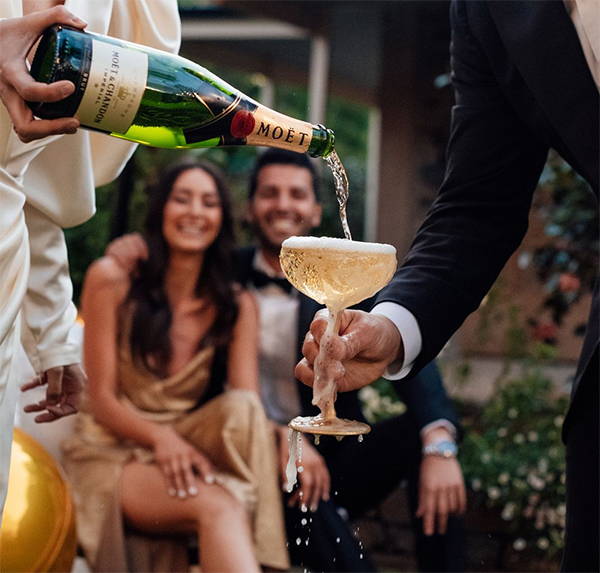 Fun Casino Event
If you're wondering what to do at an engagement party at home, an entertaining cards or games event is superb. Keep those good times rolling and lay on a casino evening with all the glamorous accessories. Give guests pretend couples themed money to play with, lay on drinks and snacks, and the winner gets a luxurious hamper prize. You can even rent roulette and blackjack tables!
Elegant Masquerade Ball
If you want to go all out to impress on your engagement, then throw an awesome masquerade party. Dress to the nines and supply your guests with beautiful and extravagant Venetian masks. Decorate in silver and gold, and light your space with romantic flickering candles. Serve gourmet food and wine, put on the music and dance away until midnight strikes.
Add The Final Finishing Touches To A Perfect Day
We hope these cool ideas for ways to celebrate an engagement has given you some inspiration to help you throw a party to remember. Since it's such a special occasion, it's a great idea to add in some activities as ice-breakers and to get your guests mingling. Small mementoes, gift bags and keepsakes are a lovely idea for your family and friends too. You could even have a guest book station with cameras available so they can add photos to your book with a message for you both—something heart-warming to treasure forever.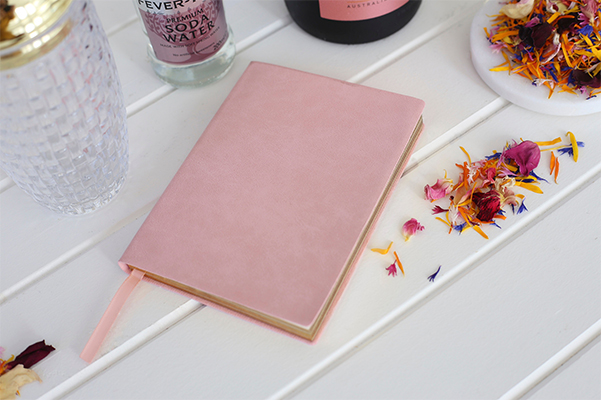 If you're looking for luxury hampers to add an extra touch or to give as special gifts, you can browse our full collection here. An engagement party is the perfect time to give a gift to your bridesmaids, groomsmen, or anyone else in the bridal party. And, don't forget the all-important engagement party speech. If it's all getting too much, you can always turn it into a engagement party surprise wedding and truly get the champagne flowing! Have fun!