Spotlight On: A Cape Mentelle Christmas Hamper
Author: Nikki Barnett Date Posted:11 December 2020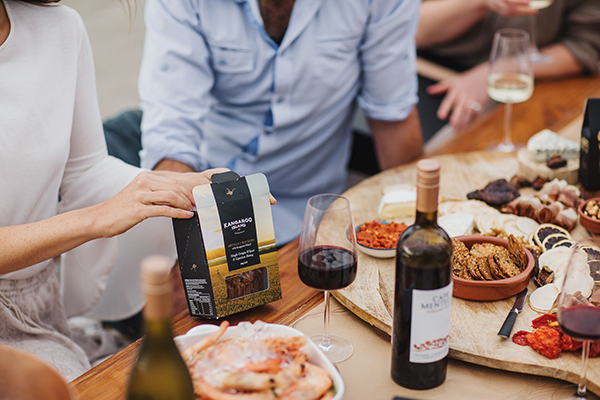 A Gourmet Christmas Hamper With Red and White Wine
At The Hamper Emporium, we pride ourselves on creating the most luxurious and most beautiful gift hampers in Australia. We delight in offering you only the very best gourmet treats and award-winning Australian wines.
We love finding the best quality produce for you from regional Australian producers and from around the world to create gourmet gift baskets your whole family will love. Our partnerships with Margaret River's Cape Mentelle vineyard, Kangaroo Island Produce Co, Byron Bay Cookie Company, and other fine food producers lets us support local businesses around the country and create exclusive artisan gourmet baskets for you. Delivering the perfect gourmet gift box allows you to create the very best family memories and celebrate your business relationships.
We absolutely love knowing how much cheer and laughter our nibbles and wine baskets bring to any office, household or backyard. Bringing one of our exclusive Christmas hampers to a family Christmas lunch will bring extra joy to the festive season. Let's take a closer look at one of our favourite delicious hampers: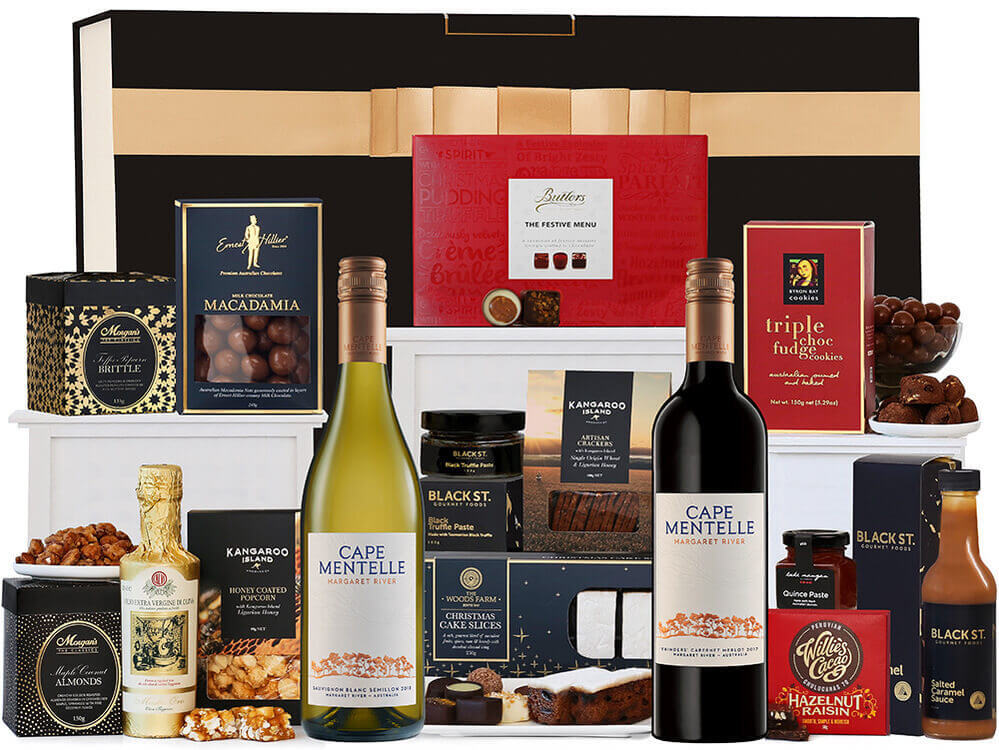 This stunning food gift box includes a delicious range of chocolates and savoury treats paired with a vibrant and festive red wine with the Trinders Cabernet Merlot and a fresh, aromatic Sauvignon Blanc Semillon white wine. The well-selected artisan nibbles and snacks have been sourced from some of Australia's finest gourmet producers to create a hamper packed full of Australian delights.
Every premium product in the Cape Mentelle Christmas Hamper is designed to pair perfectly and make it easy to create a luxury cheese board. Kangaroo Island's Ligurian honey popcorn and artisan crackers are the perfect balance of sweet and savoury to complement any cheese. The rich finish of the Calvi 'Mosto Oro' olive oil makes it perfect to serve alongside a crusty ciabatta. For a real treat, there is also gourmet black truffle paste from Tasmania and Luke Mangan's signature 100% Australian quince paste made from fresh seasonal produce.
For the sweet tooth, choc fudge Byron Bay cookies are a fine addition to this gourmet festive hamper. The much-loved iced Christmas cake slices from The Woods Farm in Jervis Bay is a treat worth waiting all year for. And the delicious sweet nuts and nibbles from Morgan's in Sydney offer delicious buttery toffee and crunchy peanuts plus maple and coconut roasted almonds just perfect for the Christmas season. We've chosen a festive selection of luxurious chocolates from Butlers that includes spiced berry parfait and Christmas pudding truffle, along with Willie's Cacao rich dark chocolate studded with juicy raisins and freshly roasted hazelnuts. If you need even more chocolate, you'll love Ernest Hillier's milk chocolate coated Australian macadamias. Or try the salted caramel sauce drizzled over sliced apple or for dipping salted pretzels.
But as the name gives away, this gem of a gift box features two of the best and most drinkable wines in Australia. We've created this hamper with a bottle of red and white wine to please all tastes. The Cape Mentelle Sauvignon Blanc Semillon 2019 has a lively lemon sorbet richness with citrus notes and a dash of lemongrass. The wine is medium in length with yellow peach and nectarine, and hints of Muscat flower and cypress pine sap revealing the coastal origin of the wine. The winemakers recommend pairing this fresh and juicy wine with seafood.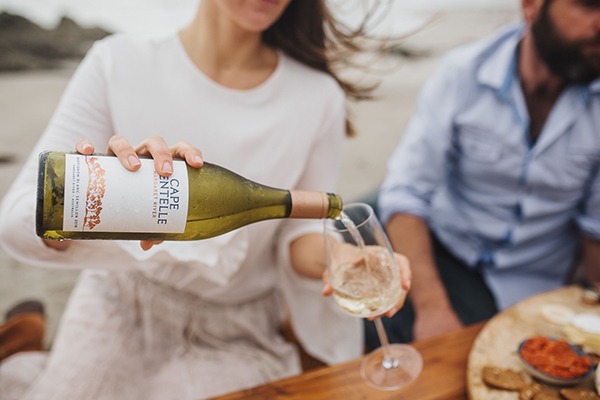 The beautifully balanced Cape Mentelle 'Trinders' Cabernet Merlot 2017 offers deep fruitiness with forest berry fruits, a full and fleshy mouthfeel, and wonderful savoury notes of cedar. This wine blend captures the depth and structure of cabernet sauvignon, the dark fruit and the plush flavours of merlot, with small amounts of shiraz and cabernet franc creating a well-rounded, bold, rich red. It can be cellared up to twelve years, however we recommend serving this Christmas with kangaroo fillet, a rich tomato pasta sauce, or flavoursome cheeses.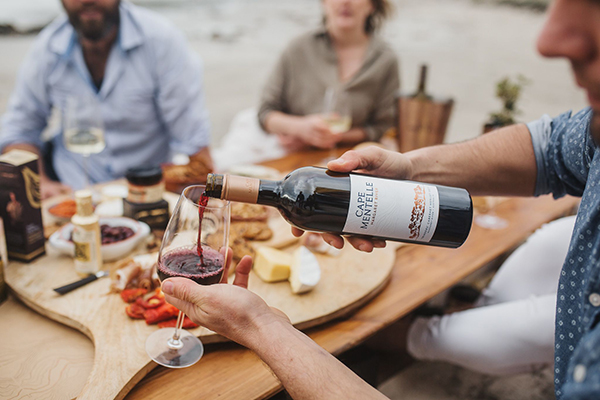 Cape Mentelle – A family winery from where oceans meet
Founded in 1970, this family winery from Margaret River started off on a small 16-hectare property and has now become one of Australia's finest wine producers. This year, Cape Mentelle celebrates its 50th anniversary and a journey from a small regional label to one of the most famous wine producers in Australia. Located on a peninsula surrounded by three sides of ocean, there is something special in the soil according to the local winemakers.
Wine industry pioneer David Hohnen and his brothers established the vineyard in the 1970s, but David isn't your conventional winemaker. Winning the coveted Jimmy Watson award at 35 years of age was an outstanding achievement and put Cape Mentelle and the Margaret River region on the map. The following decade saw expansion and experimentation to improve wine quality and to understand the full potential of each grape variety from their vineyards. Today, their distinctive house style is recognised in the way each wine captures the special attributes of the regional terroir.
From a unique place that is beautiful, raw and untouched comes a wine so unique and full of potential. Cape Mentelle has established its reputation in the Australian market and keeps on delivering. The team at Cape Mentelle recognise the importance of their environment and share a deep commitment to sustainability. Cape Mentelle is a member of Sustainable Winegrowing Australia and, in 2020, achieved 100% herbicide free under-vine weed control, a 100% water recycling system with precision irrigation, and make their own enriched grape marc compost to continue to improve soil structure.
A winning gift combo for family or corporate Christmas parties
You simply can't go wrong with this beautiful Christmas hamper. It is the gift of celebration, cheer and laughter during this festive season and a special treat for any recipient. This beautiful luxury gift basket comes in a stunning keepsake box and features embossed paper inside and gold ribbon accents to finish.
Whether you are looking for a special staff gift or an unforgettable way to say 'I love you', our gift baskets are suitable for all budgets and all recipients. The Hamper Emporium is Australia's leading corporate Christmas hamper supplier for a reason. Year after year, we provide our happy customers with luxury gift baskets at affordable prices. Our hampers will be enjoyed by people from the age of 18 years to 99 years, men and women alike.
Enjoy FREE delivery Australia-wide with express upgrade options. The Christmas cut-off date is fast approaching, so plan your Christmas gift or New Year's hamper so you don't miss out. Gift those who are important to you no matter how far away they are.