Valentine's Day Gift Ideas Your Partner Will Love
Author: Nikki Barnett Date Posted:28 January 2021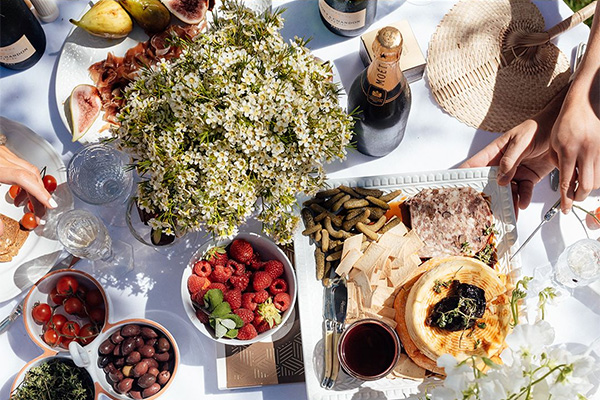 How Romantic Hampers Add A Finishing Touch To The Day
Valentine's Day should always be chock full of romantic gestures, lots of fun, and the right amount of delicious chocolates and treats. It's the one day each year when we can all be as corny or passionate as we want. It's all in the name of love!
This year, here at The Hamper Emporium, we've decided to pull out all the stops and take full advantage of the day. We love planning beautiful Valentine's Day hampers for February 14, so why not plan the most over-the-top Valentine's Day ever? If you're searching for romantic ways to spoil him or her, you'll love our food gift baskets for Valentine's Day and ideas for how to spend your day together.
2021 is the perfect year to reflect on life and relationships and enjoy the time spent together in a memorable way. Valentine's Day should be full to the brim with laughter and special thoughts for all your loved ones! So here are our ideas for DIY romantic gifts which are, in equal parts, fabulous and fun! Valentine's Day date ideas are all about ways to show your love.
10 Romantic Surprises Filled With Hearts And Happiness
Regardless of how long you've been together, Valentine's Day is the perfect opportunity to do what makes you feel happy. It falls on a weekend this year, so why not plan a holiday filled with hearts, balloons and one of our unique Valentine's gift baskets? Lend yourself to the spirit of the occasion and involve your family and friends too. Vow to have some total, all-out fun!
Hold A Valentine's Picnic Indoors
As a romantic change from barbies spread the living room floor with a gourmet picnic feast. Set the scene with cosy cushions, a colourful picnic blanket and a romantic hamper for two. You can keep it simple, or dine on lobster and caviar, or order one of our scrumptious gourmet food hampers. Remember to add your favourite fresh white wine or cool summer spritzers.
Plan A Valentine's Day Treasure Hunt
Treasure hunts are always fun and a sure-fire way to spoil your partner on Valentine's Day. Treat them to lots of small Valentine's Day romantic gift ideas, chocolates, love notes and surprises. Hide these inside and out, giving your other half clever cryptic clues to take them on a journey of discovery. Keep them well hidden, and you will have hours of romantic fun.
Go Wine Or Beer Tasting
This year, plan a virtual tasting and have delicious wines delivered to your home so you can recreate the experience. Wrap the bottles in red coloured paper and have fun tasting and trying to guess which wine is which. You can organise a craft beer tasting event too if you prefer. Pick up a cool assortment of bottles or order one of our Australian craft cider couples hampers to explore.
Host A Romantic Movie Night
Nothing beats a romantic movie on Valentine's Day, so create your own private theatre in the comfort of your home. Use a projector for a touch of realism and arrange the sofa, blankets and cushions ready for a snuggle. Stock up on romantic gourmet food and wine from our spectacular range of hampers or order in a wine and chocolate hamper. Add popcorn, candy and two pairs of fun, cosy socks!
Enjoy A Couples Chocolate Fest
The nicest and most romantic way to share chocolate is by hosting a fondue evening. Melt that mouth-watering chocolate and prepare a feast of peanut brittle, marshmallows and pretzels. Don't forget the strawberries, then dip away! You can always make it a marathon event by gifting a Valentine's Day chocolate hamper. They come overflowing with an assortment of lush, smooth chocolate box selections to savour.
Cook It Up Together
Preparing a fancy dinner together with sizzling steak and chocolate dessert is almost a Valentine's Day tradition for many couples. Dress up elegantly for the occasion and decorate the room and table with fairy lights or flickering candles. Choose courses that you both adore and serve at least four to make the meal long, leisurely and relaxing. Make sure you've also got a selection of premium wines to open with each different course like true aficionados!
Mix It Up With Cocktails
For those who love the fresh flavours and sophistication of cocktails, an evening of shaking and pouring is perfect. Pick up a chocolate gift basket and all the ingredients for classic Valentine's Day recipes like strawberry daiquiris or raspberry mojitos. Get ready to create and taste romantic cocktails or mocktails. If you really want to show your love, then you can add a stunning Chandon cocktail hamper with everything you need to set their heart on fire.
Serve Breakfast In Bed
If you want to make it a full day of sweet romance, then start by preparing their favourite breakfast treats. Make a huge tray of hot, fresh options and think heart-shaped food ideas. Pancakes and waffles, eggs, avocado and toast, can all be cut to show your love. A simple Valentine's Day gesture like this is perfect. If you want to take it to the next level, or cooking isn't your strong point, then choose a beautiful Champagne and chocolate hamper. It's Valentine's Day, so start the day in bed!
Spa Day Romance
If you want to end the day with a Valentine's glow, then organise a spa day and pamper yourselves. Set the scene with candles, gorgeous scents and romantic music. Spend the day in fluffy bathrobes and take turns to give each other beauty treatments. Face masks, bubble baths and aromatherapy massages are not just for the girls; they're an ideal Valentine's day gift for men too. Treat yourself to the ultimate romantic pamper gifts for him and her and relax.
Plan A Romantic Date
For those who can, take a night's romantic getaway locally; order room service, soak in the hot tub, sleep late and eat chocolate bouquets in bed. You could even recreate your very first date together! If you can't have a romantic escape together this Valentine's Day, then do the next best thing. Pop open some Chandon sparkling wine, plan your next holiday or adventure, and take a virtual tour of your dream date together. Whatever you choose, you're sure to kindle romance and have some cosy fun.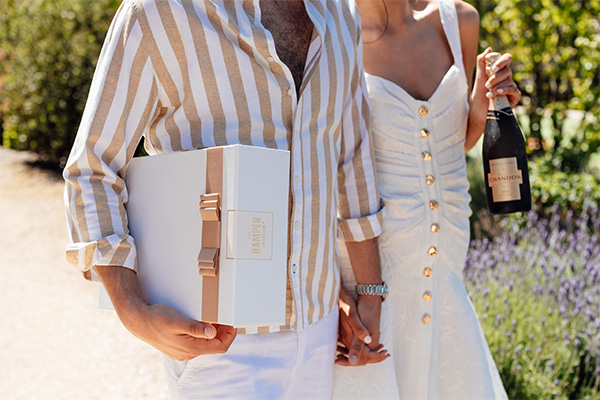 Happy Valentine's Day From The Hamper Emporium!
February 14 is just one day, but it's a chance to fill your life with joy and laughter. Resolve to make it extra special this year and be as romantic and frivolous as you want. Even if you order a Valentine's Day gift basket or chocolate box delivery and go to the beach for stargazing, your other half will have no doubt how lucky you are to be together.