Why You Should Celebrate NYE 2020 with Champagne
Author: Nikki Barnett Date Posted:28 December 2020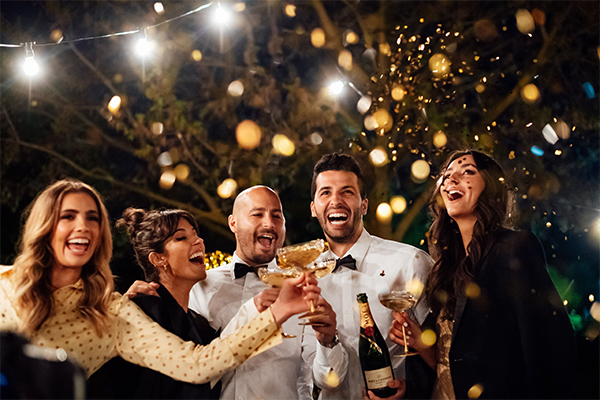 Embrace Bubbly and Make Memories This New Year's Eve
New Year's Eve 2020 marks the start of a beautiful new year, and for many, a new journey in their lives. Most people go to great lengths to make sure they usher the new year in with as much pomp and celebration as possible. From gathering to watch firework displays, visiting beaches for a view of the year's last sunset or attending music festivals, Aussies give New Year's Eve the seriousness it commands.
Say goodbye to 2020 and say hello 2021. No one could have predicted such a year of immense change for people on a global scale. Things we've grown accustomed to, like visiting friends and family over the holidays, have now been forced to take a back seat. Since many will be planning to stay home, The Hamper Emporium team have been looking into activities that will keep you in great spirits. After all, what's a new year without the festivities that mark a new beginning?
Top of the suggestions in our list of New Year's Eve party ideas is adding some sparkling champagne to the evening's list of headlining drinks. There's nothing we love better than choosing luxurious ideas for champagne lovers and they're guaranteed to make your celebrations go with a pop!
Champagne Hampers With The Perfect Bottle Of Bubbly
Since Champagne was invented in the 17th century, it's been known for adding just the right amount of class and fizz to any special occasion. An immense amount of work goes into the production of premium bubbly, which is why you'll find the very best in our hampers. We usually associate sparkling champagne with luxury and celebrations, but it has a fabulous everyday drinkability. It's also food-friendly, pairing well with gourmet seafood, finger food and canapes. Not to mention luscious chocolates.
Remember too; there's a lovely tradition of making talismans from the champagne corks. So, this New Year's Eve 2020 slot in a coin and capture that magic moment at midnight. Champagne hampers can create a lifetime of memories!
1. Sweet and Savoury Options
Balance out the flavours at your New Year's Eve table with the Pure Gold Luxury Foodies Hamper. With this option, you'll get a bottle of Moët & Chandon Brut Imperial NV Champagne, a world-renowned classic. Then there are decadent chocolate treats, pantry additions like garlic salt and salted caramel sauce, a bottle of red wine, crackers, sweet nuts, cranberry and pistachio crispbread, and more.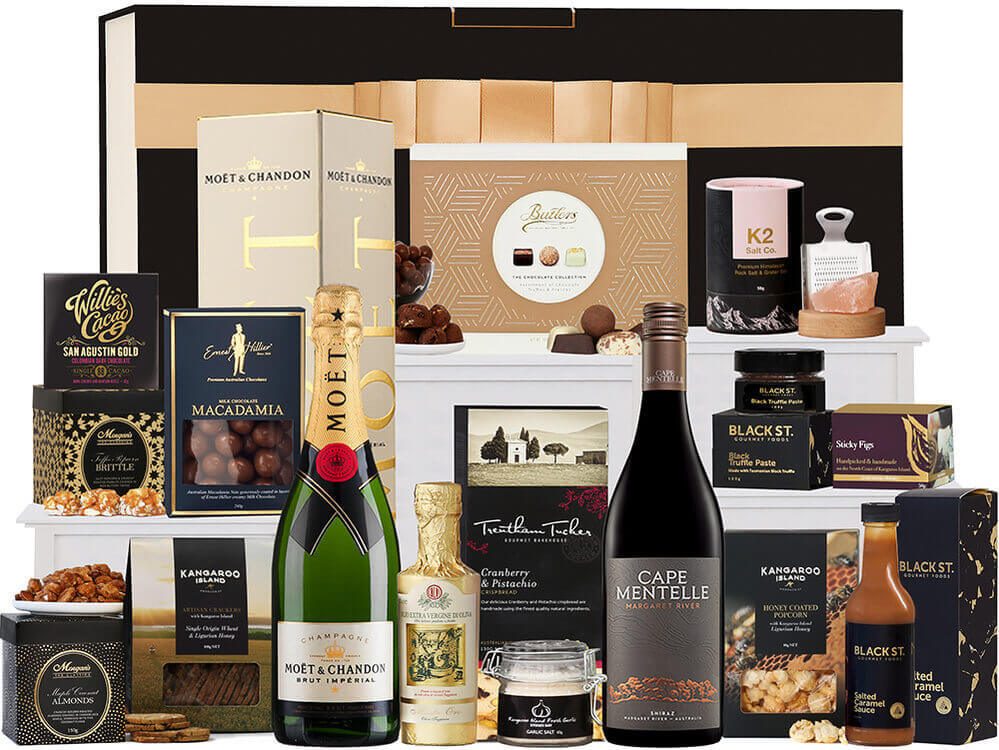 2. Hampers That Guarantee Variety
If you're together with loved ones, then a great option is our luxurious The Emporium Hamper. This champagne hamper ensures you have some premium bubbly with the world's most famous champagne, Dom Pérignon Brut Vintage, along with red and white wines. In addition, there are more than enough delicious chocolates, sweets, biscuits and pantry items to share around. You won't need to top up this family sized hamper with any other treats!
3. Pampering Alternatives
Add some R&R to your New Year's Eve champagne package with fabulous pamper hampers. Champagne inclusive options include the Jurlique Rosewater & Moët Rosé Hamper and the L'Occitane Cherry Blossom & Veuve Rosé Hamper. Besides the sparkling pink champagne and additional snacks, these come with unique gifts like satin robes, silk eyemasks, gold-lined notebooks, and soothing hand cream.
4. Budget-Friendly Hampers
Keep the New Year's Eve 2020 celebrations within your budget or top up your gourmet spread with mouth-wateringly affordable champagne and sparkling wine hampers. The Chandon with Australian Sweets & Nuts Hamper and Chandon Celebration Hamper are both packed with treats like roasted peanuts, toffee popcorn brittle, and maple coconut roasted almonds. There's a bottle of chic Chandon Sparkling Chardonnay Pinot Noir to ensure your party goes with a swing.
Celebratory Champagne Cocktails To Ring In The New Year
As you think about New Year's Eve party ideas for this year, don't forget just how versatile beautiful bubbly can be. There are lots of delicious cocktails to shake, mix and serve which will guarantee the new year holds the promise of fun and laughter!
1. The French 75
To start you off is a champagne classic, the French 75. However, instead of using the typical recipe of gin, champagne, lemon juice and syrup, you can switch out some of the ingredients. Instead of gin, why not try smooth cognac? You can also add some flavoured liqueur to bring out fruity accents and some crushed ice to give it a frosty festive look.
2. Champagne Sidecar
Prepare for a little cooking effort with this cocktail, as it requires some sugar syrup. Once it's off the heat, steep some orange zest in it for 15 minutes and strain into a shaker. Add some tangy lemon juice, cognac, and ice before shaking to your heart's content. Serve with a good glug of beautifully chilled sparkling champagne.
3. Champagne Punch
Australian summers bring an abundance of fruits ideal for creating a vibrant champagne punch. With a variety of berries, grapefruit, lemons, pears, oranges and other fruits, your options are endless. One suggestion to get you started is a lush strawberry punch. Mix fruit punch concentrate, lemon juice, water, strawberries and orange juice in a bowl. Place in the fridge to cool and add champagne and ginger ale just before serving.
4. Fruity Mimosas
Mimosas spell fun, especially for the last day of the year. So, put a fresh twist on yours by adding some fruit and herbs to the sparkling wine instead of orange juice. These wonderful champagne mimosas can take different forms depending on the flavour you prefer. Sweet, summery options include mangos, blueberries, rosemary, grapefruit, thyme, or cranberries.
5. Chandon in Bloom
Our Chandon in Bloom Cocktail Hamper comes with everything you need to create your own gorgeous summer cocktails with Belvedere vodka, Fever-Tree soda water, and Bouvier raspberry and mint syrup, and a bottle of Chandon Brut Rosé sparkling wine. Make it a summer delight with a garnish of colourful edible Australian flowers.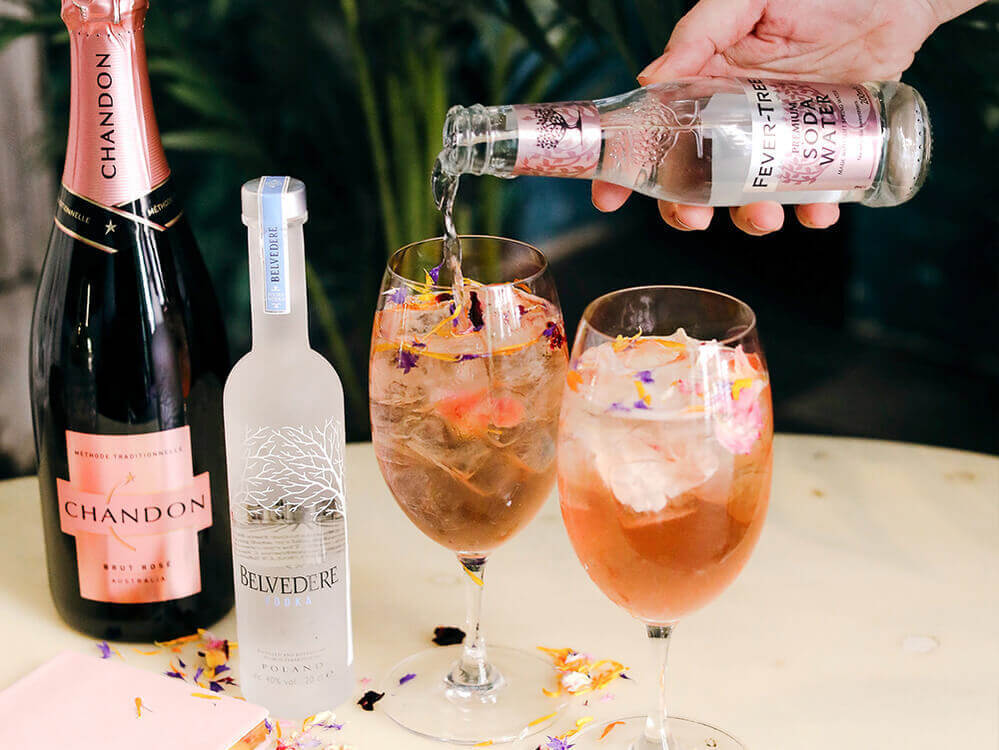 New Year's Eve Party Ideas Planned, Packed And Delivered
Whatever your New Year's Eve 2020 plans, choosing to shop at The Hamper Emporium ensures all your gourmet food and drinks are only a click away. We deliver right to your doorstep, with free delivery Australia-wide, so you don't even need to leave home. There's everything you need to see out the old and bring in the new in style.
As a bonus, when you purchase a hamper containing Chandon sparkling wine or Moët champagne you have the chance to win an incredible holiday. With each Chandon hamper purchase, you can automatically go in the draw to win a magical weekend getaway to the Yarra Valley for six people. Find out more about how to win this unforgettable experience from The Hamper Emporium and Chandon. Or, purchase any hamper featuring Moët to go into the running to win a once in a lifetime trip for two people to Champagne in France. Find out more about our Moët competition and make your 2021 unforgettable.
Don't forget the champagne!