3 Fun Ways To Enjoy The Australian Open At Home
Author: Nikki Barnett Date Posted:10 January 2020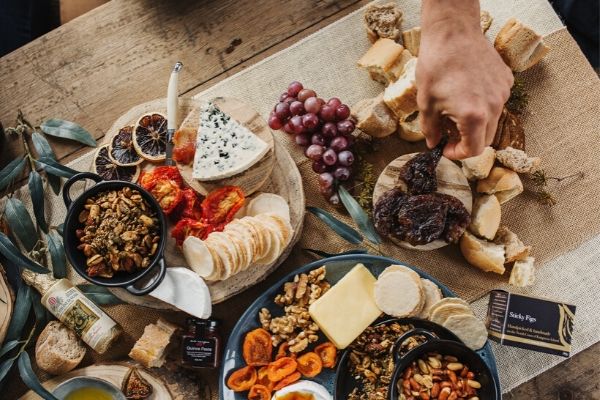 Battle Busy Crowds? Not Us, We're Staying In For The Australian Open

Right now the Australian Open Tennis Championship is just around the corner - the very first annual Grand Slam event. We just love sport at The Hamper Emporium, along with most Australians, and this tournament is one of our favourites. Most especially because it is still summer - and that means an excuse for a get-together and sharing gourmet hampers with the family.
Each year, many thousands are lucky enough to get tickets for Melbourne Park and watch in awe as tennis superstars clash for supremacy, but not all of us can or want to tackle massive Australian Open crowds. For the rest of us, the best way to experience the tennis is by getting our tennis 'fix' in the most fun way possible - at home. This year's matches are between January 20th and February 2nd, meaning we have two fabulous weekends to get planning for.

What's On In Melbourne
We like to set our standards high, so let's take a look at what's on offer in Melbourne itself. Even those that don't actually make it into the arena have lots to enjoy. Although it doesn't beat sharing our Melbourne family hampers at home!
Birrarung Marr buzzes with more live entertainment and performances than any festival. Live screenings of all the matches can be watched on the big screen, and there are numerous family activities. Along with all this comes a bevvy of food stalls and famous chefs cooking up delicious food in the AO Chef Series. Plus, kids can have an amazing time at the AO Kids Club. There are endless adventures and entertainment for them, including tennis lessons and access to the AO Ball Park.

Keeping The Kids Occupied During The Aussie Open
If you are going to be left in peace to watch the tennis and delve into the most exquisite nibbles and drinks ever, some projects for the kids needs to be underway. Every family is different, but here are some of our wackiest ideas for keeping them totally entertained, whatever their ages.
Activity bags

Sandpits

Outdoor chalkboards

Treasure hunt

Paddling pool

Tyre swing

Back yard games

Plastic waterslide

Bubble machine

Trampoline

Bouncy castle

Pool relay races

Outdoor zip wire



Enjoy The Tennis & Our Best Gift Hampers
So, now the kids are sorted out. Here are our ideas for 3 enjoyable and fun ways to fully enjoy the weekend tennis schedule! This includes, of course, our favourite family hampers for any occasion so that you don't have to waste any valuable time.
1. Weekends Loafing By The TV
If you are not going to the main arena, you will be joining millions of others watching the drama unfold from home. With every comfort on hand, a little bit of organisation will ensure days of uninterrupted excitement. Viewing this mega tennis event is a visual treat which can usually be streamed live for free with a little homework.
Plan and prepare the weekend menus in advance and put the beers on ice. It's time for 'game, set and match'! It's virtually compulsory to surround yourself with snacks and titbits to keep you going and savour them between each set. If you order in one of our family hampers for any occasion, you won't even need to lift a finger!
Pure Gold Luxury Foodies Hamper
One of our absolute favourite gift baskets for the entire family, this is simply perfect for family TV tennis days as it is chock-full of gourmet treats like sticky figs and honey popcorn. A decadent collection of chocolates and crunchy titbits, artisan crackers and tapenade will delight everyone. There's also an Australian Shiraz and Moët & Chandon Champagne when it's time to celebrate. It's a feast in a basket!
2. It's Time To Take It Outdoors!
We Australians know how to fire up the grill, and what better time than when the Open Tennis Championship is on? Although the beach is never far away, this is one time when getting together around the barbie is a must. Find an extension lead for your TV, borrow a big screen or splash out on outdoor television. Just make sure you can grill while you chill.
The prime candidates are sausages, lamb and prawns, so make sure the fridge is well-stocked in advance. Add in some interesting extras for any guests and baste with beer or wine for that added flavour. Prepare a variety of summer salads and side dishes, and choose from our family hampers for any occasion to add the finishing touches.
Ultimate Foodies Hamper With Trinders
When the festivity is over, you will still want some chocolate treats and nibbles to keep you going. So our choice of family hampers for any occasion is this fabulous sweet and savoury indulgence. From triple choc fudge and coconut roasted almonds to Butler's chocolate assortment, you will be spoilt for choice. Nibble the night away and enjoy the Cape Mentelle Cabernet Merlot as you view.
3. Create Your Own Tennis Tournament
Nothing is more fun for those that prefer action to watching tennis. Plan your own round-robin tournament for adults and children alike and enjoy your viewing time in peace. You could even join in between matches! If there's not a nearby tennis court, then make it fun in the garden and make your own mini court. Or arrange a ping pong marathon if you are really short of space.
Whatever the chosen sport, you will need plenty of soft drinks and lemonade to keep players in the game. Rustle up cold sandwich creations and the kids favourite snacks for the spectators and make sure you have a fun prize for the triumphant winner. Then order one of our delectable gift hampers for families family hampers for any occasion to round off the perfect day.
The Classic Celebration Hamper
This is the ultimate in family gift hampers family hampers for any occasion and will be a real treat. Made for sharing in groups, it's packed with mouth-watering goodies that everyone will love. Reward them with Kalamata olives, honey roasted peanuts or toffee popcorn brittle. Share bags of Butlers rich dark chocolate bars and crunchy caramels. Then toast a truly memorable day with a bold Shiraz and Moët & Chandon Champagne!

Savour The Occasion Fully
So, it might not entirely match up to the Melbourne experience, but it will undoubtedly come a close second!
The most crucial factor is to have family fun while you enjoy those gripping tennis matches. Family hampers for any occasion really do add to the sense of occasion!
You can browse the full range here and order in plenty of time before the event with free delivery throughout Australia.
Soak up the sights and sounds in the lead-up and enjoy!