The History & Tradition Of Christmas Pudding In Australia
Author: Loreena Walsh Date Posted:10 July 2019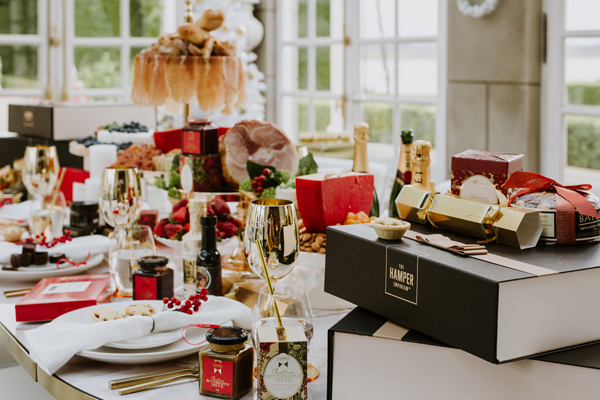 We've decided to have a little fun here at The Hamper Emporium and take a closer look at one of our favourite fruity treats – the humble Christmas Pudding. Christmas food traditions are certainly one of our favourite parts of the festive season, but have you ever wondered why certain foods are so celebrated within history? Christmas pudding has a very long history and because cakes & puddings star in our luxury hampers, we decided to dig in and learn a little more.
What Is Christmas Pudding?
Delicious is the first thing that pops into our minds, but of course, there's so much more to this rich, moist dessert. Also known as plum pudding or even figgy pudding, this dark pudding is packed full of fruits, nuts and spices, and traditional recipes often include suet (fat) as a nod to the origins of this delicious fare. To cook, pudding is generally boiled or steamed, and then served as a main Christmas dessert.
Often soaked in brandy, pudding is served with cream, custard or brandy butter, and is enjoyed traditionally in countries such as Australia, New Zealand, South Africa and the United States. While it is a loved modern treat, this Xmas favourite is a steeped in history as any Christmas tradition could be.
Where Did Plum Pudding Originate?
This delicious dessert has its roots way back in the days of medieval English sausage, and was very different to the modern version we enjoy today. Originally based on a meat 'pottage' which included meat fats and flavoured with fruits.
The 14th Century: What is likely the first form of British Christmas pudding was known as 'frumenty'. This soup-like fasting meal was eaten to prepare for the Christmas season and included ingredients such as prunes, mutton, wine, spices, beef, raisins. In poorer households, meat was scarce and a thickened version was served to help fill stomachs.
Banning Christmas Pudding: The History Continues
The 16th Century: The change toward Christmas pudding had begun. What was originally 14th century pottage was becoming a sweeter, thicker dessert with the addition of eggs, more dried fruits, beer, flour or breadcrumbs and other spirits.
The 17th Century: By 1650 this was considered a traditional Christmas Dessert, before being banned completely around 1664. Puritans declared that Christmas should be a fasting day rather than a time of feast, and for some time Christmas pudding became considered as sinful and too gluttonous for those who feared god.
King George I Declares Christmas Pudding Suitable
18th Century: Having previously tasted plum pudding with great enjoyment, it is believed that King George I ordered that Christmas pudding was once again to be enjoyed as a festive dessert, and included in his feasts. This saw pudding once again embraced for yuletide festivities, however many still considered the dessert to be too decadent and sinful.
Victorian Era Pudding: The Christmas pudding we know today was well-developed in the Victorian era. Queen Victoria and Prince Albert served pudding with silver charms and coins included to offer good luck. During this period, wealthy families would boil or steam their puddings into extravagant shapes, however for everyday families, the ball-shape popular today was norm.

Christmas Pudding Is A Gourmet Hamper Essential
Here at The Hamper Emporium, we believe everyone deserves a rich, moist, fruity dessert to share with friends and family. Our luxury festive hampers include Australia's most decadent desserts. With free delivery Australia-wide, join our family and enjoy the ultimate in festive feasts for 2019. If you'd like the chance to win one of 20 Christmas gift hampers, enter our Christmas in July giveaway now.