Lavish Gifts Worth Splurging On
Author: Michelle Richards Date Posted:5 April 2022
9 Ways To Spoil Your Loved Ones With A Little Luxury
Showing your true love and gratitude by giving gifts is something we all enjoy as much as the recipient. Spoiling someone with lavish gifts gives us a warm, cosy feeling. While the cost certainly doesn't reflect a gift's true value, it certainly feels wonderful to be treated to something totally luxurious and decadent once in a while. And we know that sometimes there are occasions that are really worth splurging on with a lavish gift.
With this in mind, the Hamper Emporium team has compiled the best lavish gifts to give loved ones this year. These are affordable luxury hampers that are truly special, infinitely pampering and worth every cent. What do you buy someone who loves designer gifts? You spoil them rotten with an exquisite selection of mouth-watering delicacies and top-shelf drinks, luxe homewares, and the finest in luxury gift ideas.
There's no better time to start spoiling your favourite people with lavish gifts to create a feeling of luxury.
What To Buy A Friend With Expensive Taste?
When you need to impress, buy a unique luxury gift that they will not have seen anywhere else. If you're going to splurge, you need expensive gifts that are worth it. Of course, you can go for designer labels or personalised gifts, but our luxury gift ideas make the whole shopping experience a pleasure. You won't risk buying the wrong designer labels or getting caught in the hype of the latest trends. Instead of choosing between the things they love, you can gift them all in one fabulous gift box of extravagance.
Luxury gifts worth splurging on don't always have to be what is considered an expensive gift. You can choose anything from their favourite cheese and wine to their best-loved skincare products. Surprise them with exquisite champagne, a silky robe, decadent body lotions or gold-rimmed glassware. Mix and match for a stunning hamper filled with an enticing range of lavish gifts for him or her.
9 Eclectic Luxury Gift Ideas For All Your Favourite People
Luxury is about enjoying and being grateful for the simple pleasures in life. It's a state of mind - a feeling - that's completely different for everyone. Understand what makes your loved one tick, and there's no limit to the decadent gifts you can treat them to. Pure luxury is choosing something that will make them feel like a million dollars.
For classy home stylers
Treat loved ones to a touch of stylish elegance and blissful aromas with our striking homewares gifts and wellness hampers. With marble coasters, luxury stoneware mugs, and an assortment of luxurious accessories, these are exquisite gifts for a housewarming, wedding, or any occasion worth splurging on. Gift them total relaxation and serenity with lounging gifts or spice it up with aromatic diffusers and classy kitchen gifts.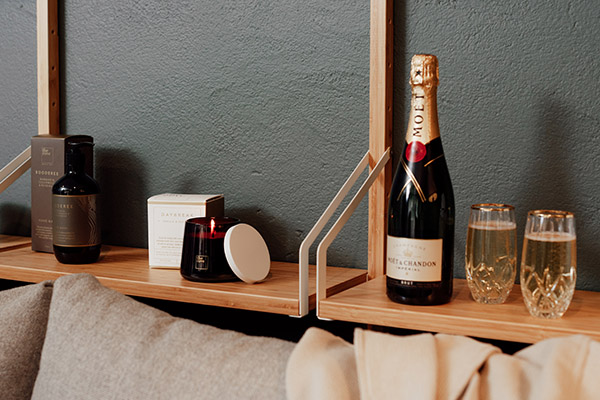 For vintage adventurers
Explore our stylish spirits hampers, and you're sure to find one any drinks connoisseur will love. Impress them with a smooth aged whiskey, full-flavoured port, or VSOP cognac's intense notes. For ideas for gifts for men with expensive taste, we recommend whisky or cognac for a vintage choice paired with an irresistible selection of gourmet goodies and tempting nibbles to create an exceptional gift for him.
For cheeseboard enthusiasts
One of the most decadent foodie gifts, our luxury cheese hampers are made in grazing heaven. They're packed full of a selection of delicious cheese flavours, fruity pastes and crunchy artisan crackers. Choose one with their favourite tipple, pair luxury cheeses with rich chocolates, or really indulge them with black truffles and champagne. Good quality, artisan cheese can be expensive, but the difference in flavour is more than worth it.
For sweet chocolatiers
Lavish gifts and chocolates always go hand in hand for the sweet-toothed, whatever the occasion. Browse our hampers for creamy chocolate flavours, smooth sweets and a variety of delicious desserts. For crunch seekers, there are selections of nutty delights, toffee, popcorn, brittles and beans. They're all totally indulgent and sensationally sinful. Good quality chocolate is a gift that's always worth splurging on.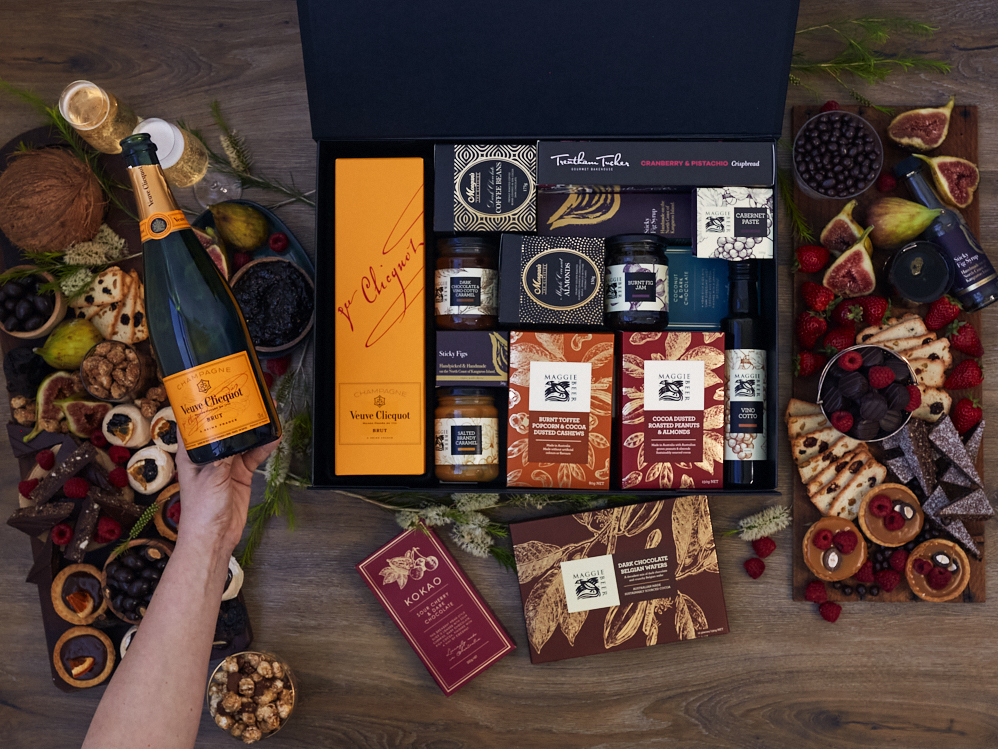 For gourmet gurus
Food is one of the most seductive gifts you can buy for anyone with discerning tastes. A gourmet hamper is literally brimming with artisan delights and luscious flavours. Explore sugary, sweet treats to a feast of aromatic savouries and sauces. Decadent food gifts are our favourite unique luxury gift ideas. Gourmet hampers blend perfectly with their favourite drinks, making them one of the best expensive gifts that are worth it!
For top shelf drink designers
Take their cocktail making experience up a notch with perfect ingredients and luxury accessories. Packed with sophisticated products, our fabulous cocktail hampers guarantee elite flavours and a professional result. Whether they love smooth vodka or pink champagne, each one comes with unique added touches to add to their mixology adventure. Top-shelf drinks are always good gifts for women with expensive taste.
For self-care lovers
Ideal luxury gifts for the woman who has everything, these lush hampers are also for men who love to revitalise. Lavish them with a hamper full of powerfully indulgent treats. There's a whole range of creamy skincare products, scented soy candles, soft robes and eye masks. They can also mix their favourite cocktails or sip on champagne while relaxing. Encouraging time for self care and body pampering is one way to make someone feel like a million dollars.
For cork-popping experts
Deliciously decadent, nothing represents luxury more than a premium bottle of champagne. Mark any special celebration with sparkling bubbles and spoil them with our hand-picked hampers. Choose from mouth-watering nibbles or luxury unique gifts like 24 carat gold-rimmed flutes just made for sipping champagne, indulgent black truffle and cheese, or beautiful home essentials.
For hosts with the most
For the sharing kind, a deluxe premium hamper is a 'must-have' on the table for any special celebration. When you need to arrive with a lavish gift for your host, decadent food gifts are perfect. Hampers are also suitable as gourmet food gifts by mail made for entertaining and pleasing any crowd. Packed with indulgent finger foods, delicious pantry items and premium drinks, they make hosting easy. As luxury gifts for loved ones, they're sophisticated winners.
Fabulous Gifts Are Our Passion At The Hamper Emporium
Hampers make the most deliciously decadent choice for those seeking meaningful experiences and perfectly presented gifts. Our stunning gift hampers are lovingly designed, filled with premium products, and beautifully presented. It's a sensational, affordable way to send luxury unique gifts to anyone who enjoys the finer things in life. You can send your lavish gift Australia wide or to friends with expensive taste in New Zealand. For an extra treat, simply add a personal message and we'll deliver a lavish dose of love and luxury right to their doorstep. They're a promise of excitement, joy, and a sophisticated surprise for friends and family.