Your Guide to Foodie Gifts for Men
Author: Nikki Barnett Date Posted:31 August 2021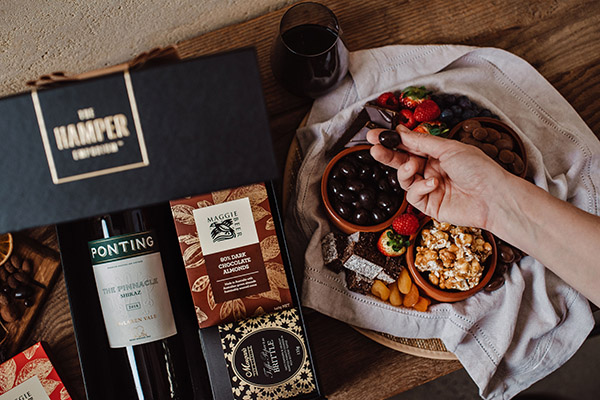 Why Food Gifts For Guys Are Guaranteed To Melt His Heart
Is the way to a man's heart, as the saying goes, truly through his stomach? Well, for many men, it's certainly a great start. Whether he's a seafood grill master, a dedicated nibbler or loves tucking into your home cooking, food will always hit the gift spot.
Here at The Hamper Emporium, we're nearly all committed foodies. So, we're convinced the most thoughtful ideas are those that indulge both their passions and their tastebuds. There are tempting food gift baskets for men and tantalising care packages in our collection just for him.
We never undervalue the heady power of gourmet food and drink when it comes to special occasions and gift-giving. Whether it's a yummy feast for a faraway loved one, something scrumptious for your friend, or a romantic celebration, edible gifts for men will always go down a treat. And the best bit is they're all made for sharing!
Friendship, Romance And Sharing Food Is A Tale As Old As Time
The dinner date remains a big part of our courtship and relationship activities the world over. Throughout history, offerings of fish, meat, sweets or beer have been given as a way for men to initiate courtship. Sharing our food and feeding other people is a huge indicator of the intimacy level in our romantic relationships. So, gourmet gifts for a foodie man really are a perfect choice.
For all of us, food is directly linked to our earliest feelings of safety and emotional security too. The simple act of giving food represents much more than you may think. In a nutshell, humans are pre-programmed to approve of other people who share and offer food. Plus, anyone who says they love cooking is immediately showing they like to care for others. Giving, receiving and sharing food feels fabulous!
Magnificent Man Hampers To Make His Mouth Water
Of course, you can't beat a delicious home-cooked meal, but edible gift baskets for men can add exquisite flavours to any occasion. They're the perfect way to treat those gorgeous men in your life and let them try new taste sensations. Whether it's for a birthday gift or a cosy weekend get-together, they're a gift delivery for men guaranteed to please. He can explore gourmet delights, snack to his heart's content, or prepare an afternoon's barbie with ease.
Finger-licking foodie feasts
Whether it's big sizzling steaks or juicy seafood, most men love their grill and relaxing sunny afternoons. Why not surprise him with a few savoury gourmet pantry products to liven it up? He can show off his culinary skills with treats that revolve around flavour, including scrumptious black truffle paste and Kangaroo island garlic salt. Plus, there are totally delicious snacks to nibble while he works up an appetite.
Pair premium tipples & food
Most men enjoy a sip of their favourite drink at some time during the working week. Whether it's a fiery scotch in the evening or a glass of rich cognac after dinner, it's a comforting reward. So why not combine it with a selection of gorgeous gourmet bites with spirits hampers? No matter his preference, the choices of food hamper gifts are endless. From smooth luxury gin to the complex fruity flavour of an exquisite port, he's sure to be dazzled.
Satisfy men with munchies
There's nothing like gourmet nibbles and bites to add the finishing touch to any celebration. These hampers make good gifts for men who love to graze as they relax and enjoy trying new artisan flavours. Add them to his favourite homemade cheese or charcuterie board and surprise him for a cosy night in. If he's a wine connoisseur, there's a whole range of delicate whites and distinctive warm reds to sip while he munches.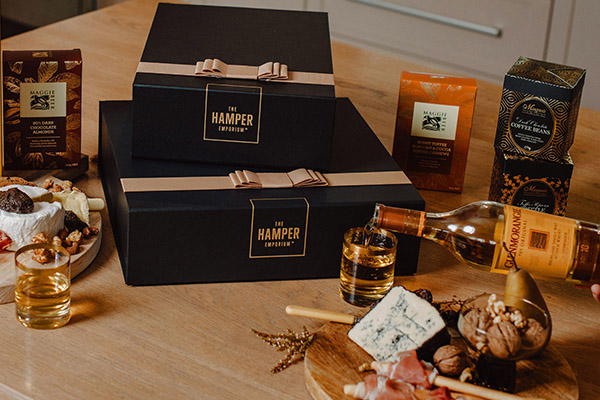 Untap those beer lovers
One of the best food gifts for men who love to eat has to be a pairing of craft beers and tasty snacks. Beerologists care deeply about their supping experience and love nothing more than finding new favourites. For every personality, there's a brew to quench their thirst. Add in gourmet beef jerky, lush olives, tapenades or crunchy nuts, and he will be in craft heaven. These are lifestyle man gifts to make him smile. For more great ideas for gifts for men to go with a hamper, including beer-themed, for the home bar, or for BBQ lovers, explore the range at Gifts Australia.
Make it the sweetest surprise
Smooth, rich chocolate isn't just for the ladies - it's one of the food gifts men secretly love too. It's also never a predictable gift if you take it up to the next level. A decadent hamper filled with sweet bites and his favourite choccy treats sends a very special message of love. There's a little bit of creamy delight in all our gift choices, so you can make it extra memorable with a bottle of lush red or white Australian wine.
Say it with champagne
When it's time for celebration, you simply can't go wrong with the pop of a cork and the delicious fizz of champagne. Indulge him with a man crate of luscious savoury and sweet treats and an impressive vintage cuvée. Hampers are brimming with every kind of luxurious full-flavoured food, titbits, dreamy chocolates and sparkling bubbles. They may be simple pleasures in life, but they will be savoured and remembered.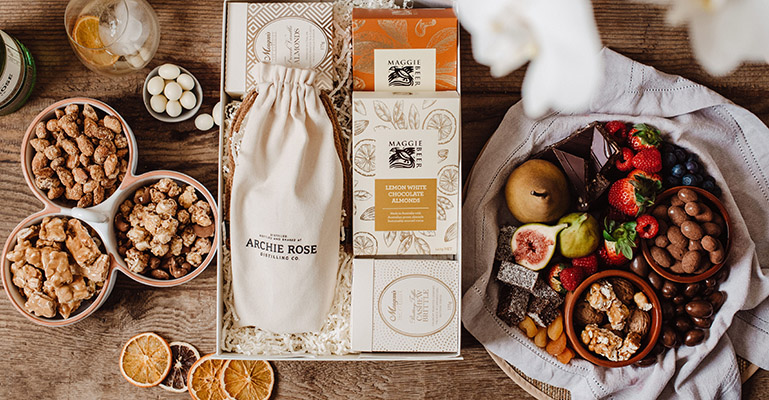 Indulgence Food As A Gift For Guys From The Hamper Emporium
If you're searching for food hamper gifts for those special men in your life, you'll want to explore our mouth-watering collection. Look no further than our high quality, delicious gourmet selections overflowing with Australia's most loved brands. Whether you need a man crate packed with beer, or sparkling champagne and nibbles, there's something to tempt. Every edible foodie gift basket is just perfect as an anniversary gift or as a treat for a Father's Day hamper for your husband.
Men are generally sensory creatures and love nothing more than having their taste buds tickled. An edible gift delivery for him is perfect for any special occasion or romantic get-together, and the gift of great food is a simple way to make any guy happy. Try it and see for yourself!