The Hamper Emporium Discount Codes

The Hamper Emporium's gorgeous hampers are an investment in happiness, though they can be a tad pricey. If you're looking to pinch those purse strings a bit, we can help. Below, we've created a list of all current Hamper Emporium coupons. Feel free to use them at your leisure.
$15 Off Your Order
Use this code and get $15 on your order
Other Hamper Categories
FOR THE LATEST
HAMPER NEWS
Join our inner circle and be the first to know about our latest products and seasonal gift ideas.
Want in? Add your details below to stay in the loop.
FAQs about The Hamper Emporium's Discount Codes
In this section, we'll answer your most common questions about our promo and discount codes.
Where can I find a gift voucher code for The Hamper Emporium?
This webpage is the best place to find active coupons of any type for The Hamper Emporium, including gift card coupons. Gift card coupon codes are slightly rarer than hamper coupon codes, though we do still offer them occasionally.
You should also know that if you purchase a gift voucher, your recipient can still use coupon codes when they redeem their voucher. They'll also get free standard shipping Australia-wide.
Do The Hamper Emporium's coupons work on gift cards?
Yes, some coupons also work on The Hamper Emporium's eGift cards. However, check the terms and conditions of the coupon code you're interested in, as some codes only apply to certain types of hampers.
Where do I redeem my Hamper Emporium voucher?
You can redeem your voucher at checkout. Specifically, you can add a gift voucher or a coupon code in the "order summary" or "delivery details" sections.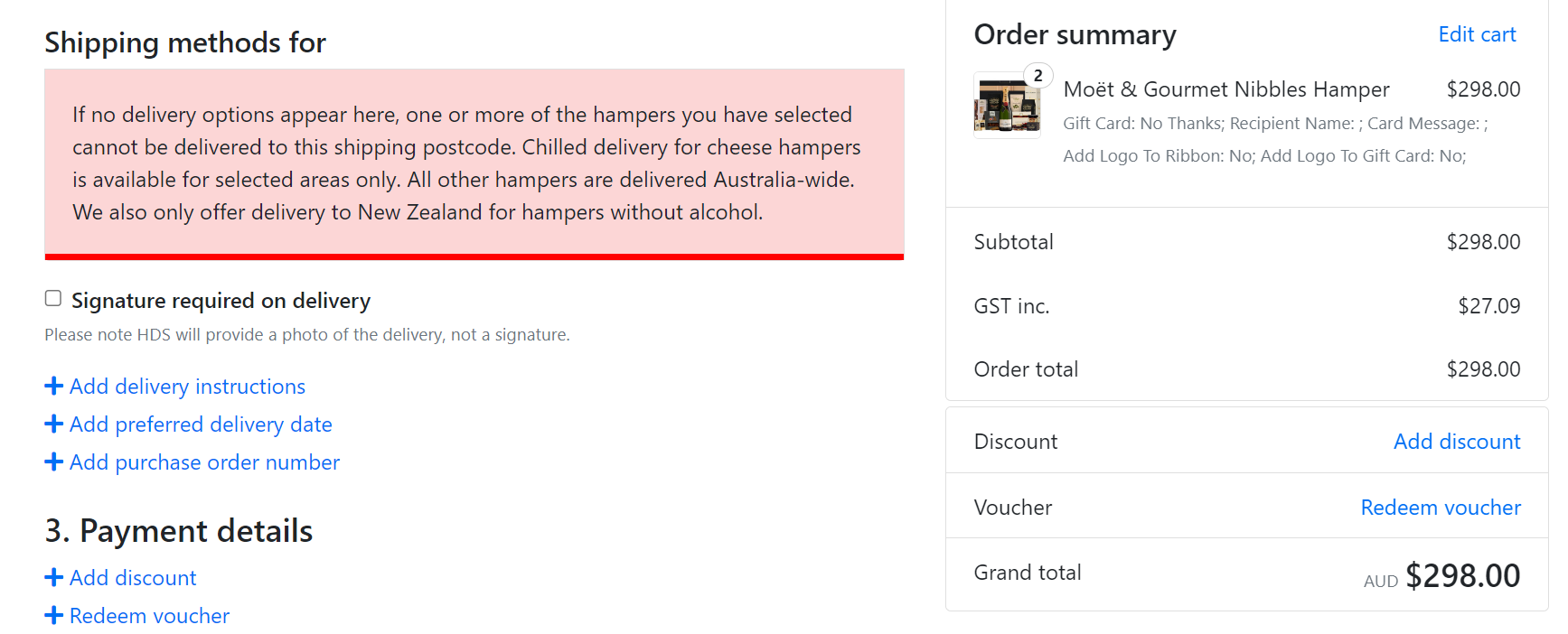 Where is the voucher code box on The Hamper Emporium website?
You can find the coupon code box at the bottom of the "2. delivery details" section and the "order summary" section of The Hamper Emporium's checkout process.
How do I get more coupons for The Hamper Emporium?
The best way to find out about new coupons and deals is to sign up for our mailing list and follow our Facebook and Instagram accounts. When you sign up for our mailing list, you get $15 off your order. This Hamper Emporium coupon code is active year-round.
You can also sign up for Honey (a free browser extension that finds coupons for you). The Hamper Emporium lists coupon codes on Honey.
Where do you enter a discount code on The Hamper Emporium?
Here's how to add a discount code:
Go to The Hamper Emporium website and add the hampers you want to your cart.
Click on your shopping cart and select "checkout now".
Enter your billing information and your delivery details.
At the bottom of the "2. delivery details" section or the "order summary" section, select "add discount". This will bring up the "discount code" box.
Add your discount code to the box and select "apply discount". If the discount code isn't valid, you'll get the response "special discount 'xxx' is invalid".
If you're having trouble with our discount codes, contact The Hamper Emporium's support team.
Does The Hamper Emporium offer any ongoing discounts?
Yes! The Hamper Emporium offers free shipping with all hampers and a free premium card.
How long do The Hamper Emporium's coupon codes last?
How long The Hamper Emporium coupon codes last depends on the coupon code itself. Some codes are single-use only or last for a set period of days or weeks. You'll know if your Hamper Emporium offers have expired if you receive the message "special code "xxx" is invalid".
Where can I find The Hamper Emporium Australia's discount codes?
This page is your ultimate source of Hamper Emporium discount codes. We also share discount codes on our Facebook, Instagram, and Twitter accounts and in our marketing emails.
When is the next sale for The Hamper Emporium?
To learn when The Hamper Emporium shop will have its next sale, join our email marketing list. That way, you'll be notified when the sale starts.
Which hampers do you offer discounts on?
We offer a wide range of hampers at The Hamper Emporium, and periodically, they go on sale. We offer sales on gourmet hampers, food and wine hampers, hampers for Mum, bub, and Dad, sparkling wine/champagne hampers, birthday gift hampers starting from $69, cider/beer hampers starting from $119, and more.
Use The Hamper Emporium's coupons and get a gorgeous hamper for less
Your Hamper Emporium coupon can give you a discount on our amazing range of beautiful hampers. The Hamper Emporium offers good food and wine hampers, baby hampers for Mum, preserved flower hampers, vegan hampers, self-care hampers, non-alcoholic hampers, beer hampers, and more.
So, whether you're shopping for that perfect present for a special someone or seasonal gift ideas for the family, we've got you covered.
Try the coupon codes on this page, and save money on your gift. And, as a reminder, we offer free shipping and a premium card with all hampers.