What Are the Best Perth Hampers for Christmas?
Author: Emily McWaters Date Posted:15 August 2019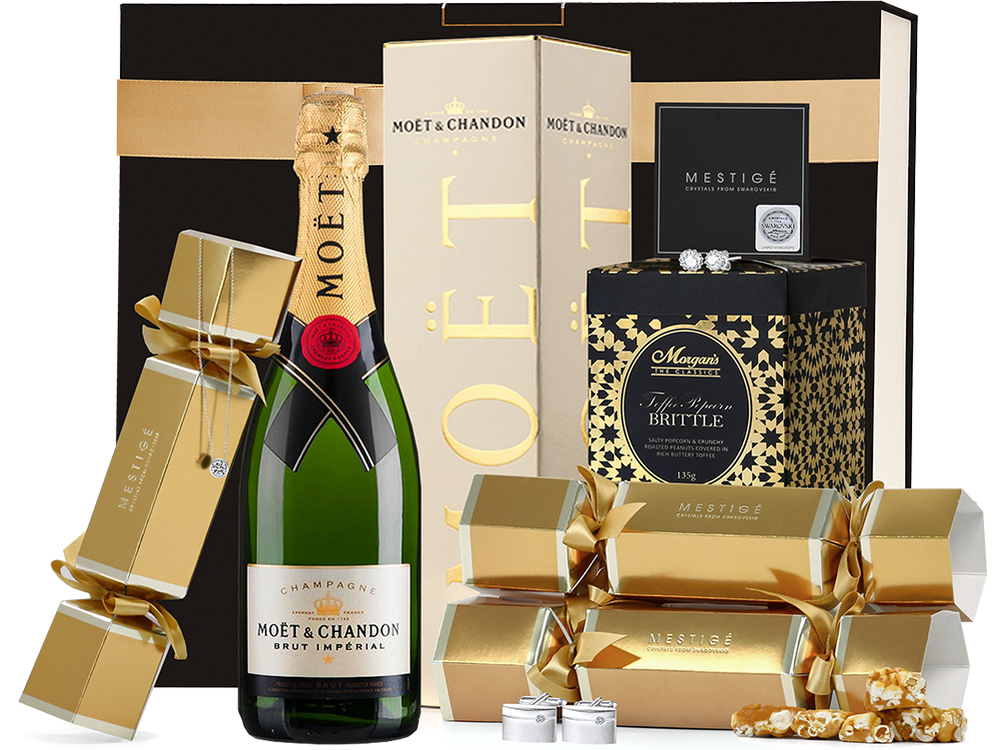 The temperate year-round Perth climate is made for festive fun in the sun. Celebrating the Christmas spirit is best enjoyed in the great outdoors with family and friends while soaking up the body and soul-warming coastal conditions.
The Hamper Emporium has expertly curated a range of Christmas hampers that are created sunny side up for Christmas Day and holiday season celebrations.
Gift givers can fulfil the gourmet wishes of all your entertaining requirements with an extensive range of festive food hampers that are brimful with premium wines, exquisite Champagnes, spirits, craft beers and ciders. These deluxe drinkables are teamed with a luxurious selection of gourmet foods for sweet and savoury palates, created by the cream of local and imported food producers.
There is also a range of specialty themed festive delights, such as exquisite handmade Christmas cakes, fruit mince pies, traditional and macadamia shortbreads, hot drinking chocolate, premium fortified wines, salted caramel sauce for all your ice cream desserts, and so much more in store. These festive and traditional treats are designed for Perth party people who love to luxuriate and also stay toasty while revelling in summer-style celebrations.
What goes in a hamper?
Premium produce is the key to winning hampers this Christmas at The Hamper Emporium. Handmade cakes, artisan chocolates, sweet nutty nibbles, salted caramel sauce, buttery shortbreads and triple-chocolate fudge cookies are perfect for sweet tooths. Savoury tastes will relish gourmet tapenades, crackers, deluxe olive oils, semi-dried tomato halves, kalamata olives, roasted nuts and so much more. Fine wines, leading Champagnes, supreme spirits, craft beers and ciders also fulfil everyone's festive wishes.
Christmas hampers at The Hamper Emporium always combine luxury, variety and value for money. Your Perth recipient will love the sparkle of designer Christmas crackers, filled with Swarovski crystal jewellery and cufflinks, complemented with Moet & Chandon Champagne and gourmet nibbles in the Moet Christmas Hamper. Rose drinkers can replace the Moet with the blushing beauty of The Islander Estate Rose and still be dazzled by Mestige Christmas crackers and sweet treats in the Rose Christmas Hamper.
The complete package in premium hamper produce is offered in luxurious abundance within The Deluxe Christmas Hamper. This penultimate festive smorgasbord takes the handmade Christmas cake, with every other fine wine, the world's best Champagne, Dom Perignon, and an endless range of Christmas-themed and traditional produce in this sweet-and-savoury gourmet selection.
What are some unique baby hamper ideas for Christmas?
There is an adorable and expertly curated range of unique baby hamper ideas for Christmas gift giving online at The Hamper Emporium. They feature the finest organic skincare, personalised accessories, clothing range, baby books, bath accessories, plush toys, to delight tiny tots, and even the finest Champagne for mature tastes.
Gift givers could choose from the 'Guess How Much I Love You' Personalised Baby's First Shoes Hamper, featuring clothing, bibs, books, sweet treats and embroidered suede shoes for baby boys and baby girls. There's even a selection from this adorable range that includes a bottle of Moet & Chandon Brut Imperial for mums and dads to share and savour.
The Jurlique All In White Baby Hamper, Aromatherapy Co Baby range, Organic and Natural Baby Hamper, and so much more, also feature natural and all-botanicals skincare, baby wear and accessories for bedtime and bath.
Your beautifully packaged Christmas baby hampers from The Hamper Emporium are set to arrive with the unique touch of a free gift card, including your personalised message, and premium gift-wrapping.
What are some good corporate Christmas hampers in Perth?
For the pinnacle in corporate gift giving this Christmas in Perth, the Emporium Hamper adds fresh resonance to the term: share market.
This supreme dream in corporate hampers is a festive celebration in one gigantic gift box. There's an endless selection of sweet and savoury gourmet treats, complete with highly recommended local wines, world-famous Champagnes and spirits, local craft beers and ciders, to delight the most discerning palates.
The office team are bound to savour the exquisite taste of the world's finest Champagne, Dom Perignon, as well as premium Cape Mentelle red and white wines. Complete with feature bottles of imported olive oil, semi-dried tomato halves, a range of condiments, tapenades, creamy sauces, artisan crackers, roasted nuts, kalamata olives and more. Then, for dessert, there are gourmet chocolate truffles and chocolate-covered berries and nuts, on tap, as well as a handmade Christmas cakes selection, artisan-made shortbreads and other deluxe biscuits, decadent salted caramel sauce and every delicious gourmet goodie known to man, woman and co-worker.
Corporate recipients will also love the caring and sharing spirit of the Moet & Australian Chocolates and Nuts Hamper. This premium selection, featuring an exquisite bottle of Moet & Chandon Brut Imperial and artisan confectionery from the cream of Australian producers, makes the perfect chocolate gift for your valued clients and staff.
The in-house graphic design team at The Hamper Emporium can also promptly and expertly embellish your Christmas hamper selection with corporate branding in uniquely personalised logos, gift tags and satin ribbons.
How to choose the best Christmas hampers in Perth?
Simply jump online at The Hamper Emporium to peruse and choose from the specialty selection of Christmas-themed gift hampers.
The bestselling range of gift hampers in Perth outlines the most popular festive hamper selections.
The Hamper Emporium also provides a convenient online customer support chat function. Expert staff is on hand to offer one-on-one gift-giving guidance and answer your every question: from fine detail to the big picture of gift purchases.
Where to buy hampers in Perth?
It's easy to buy gifts that Perth recipients will love this Christmas online at The Hamper Emporium.
The most-popular Perth guide lets you choose from the range of festive hampers that are perfectly compiled with Perth residents in mind.
What are the bestselling Christmas hampers in Perth?
The best in the West is always a matter of luxury and discerning taste at The Hamper Emporium. Number one on the bestseller list is the Classic Celebration Hamper, closely followed by the Luxury Christmas Icons Hamper. The Champagne Triple Treat, fittingly in third place, embraces the bubby spirit of Perth locals with the finest Champagne trio on offer. Continuing the theme of exquisite sparkle is fourth placegetter, the Luxury Chocolate and Veuve Hamper. Whisky connoisseurs are spoilt for choice in the Glenmorangie Quinta Ruban Hamper and rounding off the bestseller list is the ever-popular and timeless appeal of the Premium Red & White Wine Hamper.
Does The Hamper Emporium offer free delivery?
Free Australia-wide delivery on all hamper purchases at The Hamper Emporium is the gift of gratitude to the gift giver. If time is of the essence, online shoppers can also choose to purchase express or same-day delivery.
Your premium hamper selection is set to arrive in its keepsake gift box, expertly gift-wrapped, with a complimentary gift card for you to personalise your festive message. These unique touches are the icing on the Christmas cake for all your gift-giving pleasures to treasure at The Hamper Emporium.