What Gourmet Treats Are Included in the Hamper Emporium Gift Hampers?
Author: Nicole Adler Date Posted:10 March 2016


The gift hampers on the Hamper Emporium are filled with the most delicious treats. In order to provide these delicious treats to our valued customers, the Hamper Emporium researches many companies all around the world. Gourmet products that want to be included in our gift hampers need to meet our strict demands, no matter how popular or well-known a brand is. Let us take a closer look at some of the best gourmet products in our gift hampers, so you can grab one of our gift hampers and enjoy an amazing gourmet experience.

Maison Fossier Biscuit Roses

Maison Fossier biscuit roses are probably the best known biscuits in our range. These biscuits were first invented in 1690, when French bakers tried to get the most out of their ovens by creating a new recipe while baking their bread. The sweet delicacy was a big hit in France, especially with the French elite.

Biscuit roses are traditionally dipped in a glass of champagne before they are eaten, since champagne enhances the flavour of the biscuit. Still, you do not necessarily have to eat these biscuits with champagne, because biscuit roses taste amazing on their own as well.

There are several gift hampers on the Hamper Emporium that contain the Maison Fossier biscuit roses. If you want to try Maison Fossier biscuit roses as well, please have a look at our Sweetest of Gift Hampers, the Pretty in Pink Pamper Hamper or the Today, Tomorrow & Every Day Pamper Hamper.

Moet & Chandon Brut Imperial NV Champagne

Moet & Chandon Brut Imperial NV Champagne is one of the best known champagnes in the world, especially when you consider this is the champagne most celebrities like to drink. The champagne has a subtle aroma of pear and brioche and a lovely acidity in the taste palate, which leaves you wanting more time and time again.

The Moet & Chandon Brut Imperial NV Champagne embodies the house style of the Moet & Chandon Champagne House, one of the best known champagne houses in France. The Moet & Chandon Champagne House is approximately 270 years old and is currently being endorsed by tennis giant Roger Federer.

Moet & Chandon Brut Imperial NV Champagne can be found in a number of gourmet hampers and christmas gift hampers sydney on the Hamper Emporium. If you would love a glass of Moet & Chandon during the next special occasion, or just to pamper yourself, please have a look at our Champagne Triple Treat, the Moet & Sweet Treats, the Valentine's Day Moet Hamper and A Little Luxury hamper.

Jules Destrooper Virtuoso

The Jules Destrooper Virtuoso biscuits are probably amongst the most popular biscuit flavours in the world. The biscuits are made from Belgian milk chocolate, wheat flower and cinnamon, providing a taste you are never going to forget. Jules Destrooper biscuits can be eaten on their own, but they also work really well with popular desserts such as ice cream and strawberries.

Jules Destrooper biscuits are famous all over the world, but not many people realise how much history these biscuits carry with them. Jules Destrooper was founded by a colonial trader in 1886. Colonial trader Jules Destrooper was able to obtain worldwide success with his biscuits, considering he used the spices he obtained from his travels in his recipes.

The most famous biscuit from the Jules Destrooper bakery is the Belgian butter wafer, which has obtained many awards since its creation in the late 1800's. Even though the company has been around for a very long time, Jules Destrooper has stood the test of time and keeps on releasing delicious biscuits with respect for its ancient tradition.

Customers who want to try some Jules Destrooper biscuits can choose to obtain the Little Luxury hamper, the Sweet & White Hamper or the International Foodies Hamper. These hampers also contain additional gourmet treats, so you will not be disappointed no matter which hamper you go for.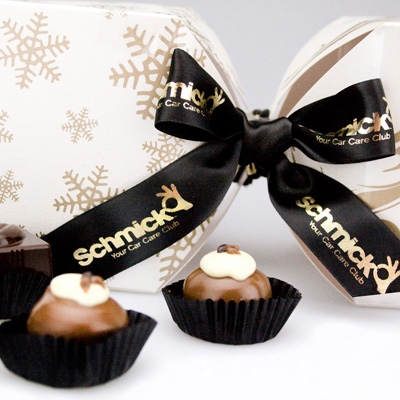 Butlers Handmade Chocolates

When we are discussing the gourmet foods in our range of gift hampers, we cannot forget to mention the delicious chocolates that are waiting for you. One of the best chocolates in the world can be attributed to chocolatier Butlers and considering the quality of their chocolates this reputation is well-deserved.

Butlers chocolates was established in 1932 by Marion Butler, an Irish woman with Indian roots. Marion Butler had a real passion for handmade chocolates and this passion led to one of the most successful chocolate brands in the world.

Since its creation so many years ago, Butlers has grown into one of the biggest chocolate brands on the international market today. The company owns several chocolate shops all around the world, which includes a number of chocolate cafes. Even though the demand for Butlers chocolates has increased tremendously, they still deliver handmade quality with each box.

Customers interested in trying a box of handmade Butlers chocolates will have plenty of choice in our range of gift hampers. To try some Butlers chocolates, please refer to our Luxury Chocolate & Champagne Hamper, the Sweet & White Hamper, the Chocolates & Red Hamper or the Australia's Finest Sparkling & Chocolates Hamper.

Fardoulis Chocolates

Butlers is not the only big name in the world of chocolates, since Australia also has a chocolate company that belongs to the top of the chocolate industry – Fardoulis.

Fardoulis chocolates made its mark on the world since the company was established in 1985. Before they created the delicate chocolates they are known for today, they created an after dinner mint for local restaurants and cafes. The after dinner mint was an original chocolate swirl with delicious milk chocolate and dark chocolate. The after dinner mint was a big success and this eventually led to Fardoulis becoming the brand it is today.

Customers who want to try some Fardoulis chocolates can choose many hampers on the Hamper Emporium. To fully enjoy a Fardoulis chocolate experience, please choose one of our Australia's Finest Sparkling & Chocolates or our Chocolates & Red Hampers. Each of these hampers contains chocolates from Butlers and Willie's Cacao as well, so there is plenty of chocolate to savour.