Celebrate Xmas Hamper
Celebrate In Flavour-Packed Gourmet Style
It is time to really celebrate this festive season and pop open a bottle and enjoy the day with friends. This Christmas Hamper is full of traditional and moder treats that you can share with your friend and family. FREE Australia-wide Delivery.
---
Biscuits & Sweets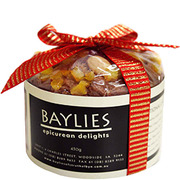 Baylies Epicurean Traditional Handmade Cake 450g
Delicious handmade cake, baked with fresh ingredients from the Adelaide Hills region.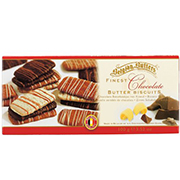 Belgian Butters Finest Chocolate Biscuits 100g
Delicate chocolate butter biscuits from the Belgian Butters almond thins range of Jules Destrooper.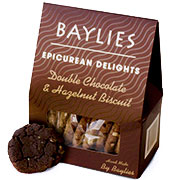 Baylies Double Chocolate & Hazelnut Biscuits 150g
High-quality chocolate and hazelnut biscuits from Baylies, solely created with natural ingredients.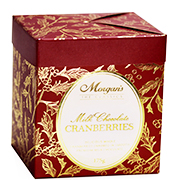 Morgan's Christmas Milk Chocolate Cranberries 175g
Morgan's finest selection of cranberries with an added layer of Australian chocolate.
Wine & Champagne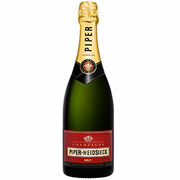 Piper-Heidsieck Brut NV Champagne 750ml
Authentic champagne and an eight time winner of 'Sparkling Winemaker of the Year'. It's perfectly crisp.
Chocolate
Willie's Peruvian 70% Dark with Hazelnut & Raisin 50
Dark chocolate, hazelnuts and raisins, crafted by world-class chocolatiers with real Peruvian cacao beans.
Willie's Sierra Leone 70% Dark with Ginger & Lime 50
Unique chocolate flavour made from ginger, lime and cacao beans from Sierra Leone, handcrafted in the UK.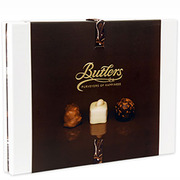 Butlers Premium Handmade Chocolate Collection 210g
Available in a variety of flavours, Butlers Chocolates are some of the finest handmade chocolates Ireland has to offer.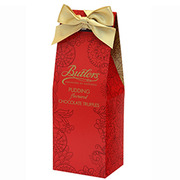 Butlers Milk Chocolate and Pudding Truffles 100g
Collection of gorgeous milk chocolate truffles from Butlers Chocolates, comes in a beautiful tapered box with bow and ribbon.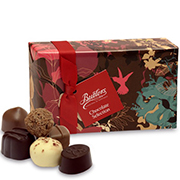 Butlers Red Floral Ballotin Chocolate Selection 92g
Exquisite floral gift box containing a fine assortment of Butlers Chocolates in various flavours.
Pantry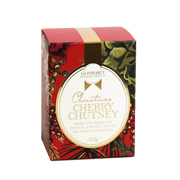 Gourmet Regional 'Ham Jam' Cherry Chutney 215g
Gorgeous sweet and tart cherries, make this chutney a delightful side for your Christmas ham. Made in Australia.
Also Included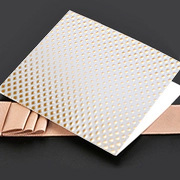 Optional FREE Premium Greeting Card
Beautifully embossed and printed with your message inside; we include a premium greeting card free with every hamper.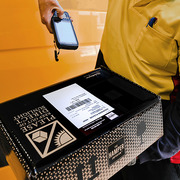 Comprehensive Track & Trace
Once your order is shipped, you will receive an email containing a tracking ID number and a link to the couriers tracking page.
---
Standard Delivery - FREE
NSW, VIC, QLD metro areas
2 - 4 Business Days
TAS, SA metro areas
3 - 5 Business Days
Perth, Darwin & regional areas
5 - 8 Business Days
Express Delivery* - from $14.95 per hamper
Sydney Metro Area
Same / Next Business Day
Melb, Bris, Adel, Perth, Can, NSW cities
Next Business Day
Darwin & outside of major cities
1 - 3 Business Days
*Delivery times based on orders placed before 10am on the same or previous business day.
Visit our
Delivery page
for detailed delivery information.
Due to seasonal variations and exclusivity of our stock, items in hampers are occasionally substituted for products of the same or higher value and quality.
What Is the Celebrate Christmas Hamper?
Everyone is excited to celebrate Christmas; it is the time when almost everyone stops doing their usual routines to enjoy the merriment. It is also a season of remembrance and thanksgiving for all the good things that have happened throughout the entire year. Therefore, it is the best season to share and give thanks to the special people in your life. This is why gift expert the Hamper Emporium ensures that everyone can obtain the best hampers in the most convenient way.
Perfect for Friends & Family
As a part of our range of food hampers, The Hamper Emporium designed a Celebrate Christmas Hamper as a lovely treat to surprise your own parents, relatives and friends. This Christmas hamper can also serve as a generous reward for a loving teacher, who never gets tired of teaching you or your children. It can also be a luxurious treat for friends and relatives who have always stood by your side. The mouth-watering goodness of chocolates, gourmet nibbles and the smooth clear taste of wines and champagnes are thoughtful gifts that are not just superb in quality, but also excellent in value. All the popular Christmas hampers in our Christmas collection are also delivered without any additional cost throughout Australia.

All Christmas food and beautiful gift wrap was especially selected to create the ultimate gift! It includes the world's favourite champagne, which comes in a 750ml bottle of Piper Heidsieck Brut NV. Once you have pulled back the black ribbon, you can discover each item included in these luxury Christmas Gift Hampers.
Only Fresh Products In Our Christmas Hampers!
We guarantee that all the food and drink included in this gift basket is fresh and that it has the sweetest aroma ever. A good example of this is the goodness of 450g Baylies Epicurean Delights Traditional Handmade Cake. You can arrange it in an attractive platter and surround it with pieces from 150g Baylies Double Chocolate Hazelnut Biscuits, which does not only make it the perfect gift, but also makes it a great additional to your Christmas dinner!

As you continue to enjoy your Celebrate Xmas Hamper, you will want to open the Belgian Butters Finest Chocolate Butter Biscuits, which simply melt in your mouth. It is best to share these nibbles with someone dear to you, while you prepare a cup of freshly made fragrant Harney & Sons Holiday Tea. If you still want more, the Hamper also contains 150g of Elsa's Story Christmas Butter Cookies. The richness and buttery flavour of these baked goodies is a perfect match to your tea.
Suitable for Sweet Tooths
Prepare your sweet tooth, because this hamper has plenty of treats to satisfy you. To start, you can enjoy Willie Cacao's 50g Peruvian 70% Dark Chocolate Hazelnut and Raisin, which comes in tiny square shapes ideal for snacking. Next stop is Willie Cacao's 50g Sierra Leone 70% Dark Chocolate Ginger & Lime. This perfect blend of chocolate, lime, ginger and honey, will slowly melt in your mouth and deliver a unique tasting experience. Want more? Well, the Butlers chocolate is simply waiting for you to open it.

Have a blast with the richness and flavours of the handmade pralines and truffles from Butlers Premium Handmade Chocolate Collection. You can also enjoy the great assortment of six divine chocolate truffles and milk, dark and white pralines in a 92g Butlers Red Floral Ballotin Collection. The Celebrate Xmas Hamper is an extremely popular Xmas hamper from the Hamper Emporium and it will save you shopping time! At the end of the day, it will certainly bring a smile to your recipient's face.
The Easiest Christmas Gift!
Looking for thoughtful, useful and simple Christmas Gift Ideas? The Hamper Emporium has you covered! Our Christmas gift range is now available and all hampers are now listed and available for delivery. Skip the busy shops, lengthy queues and sore feet from trekking around the city! Browse Hamper Emporium's fabulous range of thoughtful Christmas gift ideas online, from sweets and chocolates to festive gifts and bubbly!

The Hamper Emporium offers its customers a complete service and is dedicated to fulfil all your personal and business Christmas gift requirements. We handle each service with efficiency and add a little luxury to each gift that leaves our warehouse. We have made buying your gifts online a fun, yet simple and stress free experience, offering you gift ideas for all sorts of occasions and recipients.

Once you have found the perfect Christmas gifts simply add them to the cart and checkout. We guarantee swift and reliable delivery of your Christmas hamper, so rest assured that your gifts will reach your loved ones on time. Take a look at our estimated delivery times on the Hamper Emporium website and know that all delivery is free of charge Australia wide!

The Hamper Emporium is here to take the hard part out of Christmas gift shopping, so you can enjoy what is most important during the holiday season – spending time with your family and friends!
Specialised Gift Service
Gourmet gift baskets, gift box and gift hampers are our specialties. Included in our extensive range are specialist wine gift hampers, wine hampers, and gourmet treat hampers tailored for your recipient. We also provide customised Christmas hampers, corporate hampers and specialty hampers. If you are not sure what to choose, our expert staff can provide you with great gift ideas.

Whatever the preference of your recipient, our indulgent range of gift hampers has it covered. Whether you want to spoil them with chocolate, relax them with a drop of red wine, or celebrate their achievements with champagne, our gift hampers are a great value. Each hamper will come packaged in a beautiful presentation box with a ribbon wrapped around it.
Safe Payment Options
Once you have chosen your perfect gift hamper, you can use our secure online payment system which will accept MasterCard and Visa. We also accept PayPal payments.

Christmas Gift Hampers are the ideal gift to say Merry Christmas and Happy Holidays and as the leading provider of Christmas hampers Australia wide we offer the perfect range of simple yet impressive and unique gifts suited to all budgets and requirements. Spoil a loved one, friends, family, colleges and clients with one of our premium gourmet gift hampers filled with an assortment of different chocolate treats, champagne, wine, cookies, savoury treats, pamper products and much more. We have Christmas hampers to suit everyone. So pick up your favourite hamper, use our easy payment system and enjoy the look on the face of your recipient or contact us on 1300 459 452!

Celebrating Christmas always requires the right combination of treats and champagne. Fortunately, this ultimate combination of gourmet products is provided by the Celebrate Xmas Hamper, so it is not surprising that this Christmas hamper is one of our bestsellers during the holiday season. Inside this hamper, recipients can find handmade Cake and chocolates, but also a bottle of Piper-Heidsieck Champagne for the ultimate Christmas party.
Brewer's Nut Company Premium Nut Mix
A quality pack of nuts always goes down well during the holidays, which is why we added a selection of premium nuts from the Brewer's Nut Company. The premium nut mix consists of fresh Brazilian nuts, creamy cashews, Australian peanuts and quality almonds, which are bound to provide your recipient with plenty of enjoyment.
Maison Fossier French Galettes St. Remi
One of the finest biscuit brands in the world was also added to our Indulgence Xmas Hamper. The delicious French Galettes St. Remi from Maison Fossier are an absolute must for any recipient, because these delicate biscuits are a unique experience on their own.

Even though they are made with fresh ingredients such as butter, sugar, eggs and flour, the centuries of experience Maison Fossier has accumulated contributes to a unique and delicate treat for the holiday season.
Baylies Epicurean Delights Traditional Handmade Cake
To provide our customers with fresh Christmas treats this holiday season, we often look for local brands with a good reputation. One of these brands is Baylies Epicurean Delights, which is situated in one of the most prominent gourmet regions of our country – the Adelaide Hills.

Baylies Epicurean Delights Cake is made with fresh, local ingredients and a helpful dose of Barossa Valley brandy. If you have not tried this cake before, you are missing out, since this is the perfect cake for the holiday season. If you love Baylies Epicurean Delights, be sure to gift a friend or relative on of these Indulgence Xmas Hampers, so they can enjoy the superior quality this brand can deliver.
Copperpot Christmas Spiced Butter Fudge
Foodies will certainly appreciate some fudge during the holidays, which is why we added a unique fudge from one of the best fudge manufacturers in the world. Everyone knows that the best fudge comes from England, so our hamper designer decided to go for the premium brand Copperpot.

The Christmas Spiced Butter Fudge from Copperpot is made with fresh ingredients, which includes a good dose of brandy and festive fruits. The result is a fudge that cannot be compared with most traditional fudge options on the market today, simply because it is so much better. So, be sure your recipient can experience this quality fudge this holiday season with our Indulgence Xmas Hamper.
Byron Bay Triple Chocolate Fudge Bon Bons
Our hamper designer did not say goodbye to traditional fudge options completely, because this hamper also contains triple chocolate fudge bon bons from Byron Bay Cookies. While Byron Bay is best known for their selection of premium biscuits, made with the utmost respect for the environment, their triple chocolate fudge bon bons are certainly not any less where quality and flavour is concerned.
Gourmet Regional Produce Brandy Butter
Tired of the normal butter being served with Christmas pudding during the festive season? Then, you will certainly need one of these hampers for your recipient, since it contains a nice brandy butter from Gourmet Regional Produce. So, if you or your recipient like something a little more adventurous during Christmas dinner, our Indulgence Xmas Hamper will give you everything you need.

No matter the personal preferences of the recipient you buy this hamper for, the Piper-Heidsieck Champagne inside this hamper will ensure they have a wonderful Christmas. This champagne has a strong body and added complexity, which was obtained through a high percentage of pinot noir grape varieties and reserve wines. Subsequently, the Celebrate Xmas Hamper is not only suitable for recipients wanting to celebrate Christmas, it is also a good choice for champagne collectors and connoisseurs, who appreciate a complex champagne that still provides that fine bubble during a special celebration.