Glenmorangie Whisky Tasting Hamper
Four varieties of a fine Scotch and gourmet products
in stock | ships now
$159
Give Father the ultimate Christmas gift this year with our Glenmorangie Scotch Whisky Father's Day Hamper with FREE Australia-wide Delivery. Enjoy four varieties of Glenmorangie Scotch Whisky (4 x 100ml bottles) with some gourmet delicacies and start Christmas the right way!
---
Savoury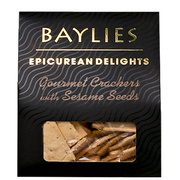 Baylies Gourmet Crackers with Sesame Seeds 130g
Baylies are one of the original gourmet providores, and these crackers are handmade with Australian Extra Virgin Olive Oil.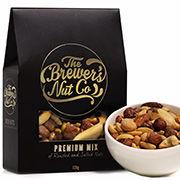 Brewer's Nut Company Premium Nut Mix 120g
A blend of the freshest and best tasting roasted, salted Brazilian nuts, creamy cashews, hazelnuts and Australian peanuts and almonds.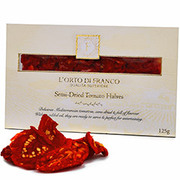 L'Orto Di Franco Semi-Dried Tomato Halves 125g
Delicious Mediterranean tomatoes, semi-dried & full of flavour. With no added oil, they are ready to serve & perfect for entertaining.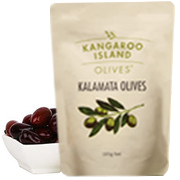 Australian Kangaroo Island Kalamata Olives 185g
Simply delicious Australian-grown olives from our friends on Kanagaroo Island! A perfect addition to any gourmet platter.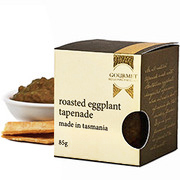 Gourmet Regional Smokey Eggplant Tapenade 85g
A subtly smokey all-natural tapenade with roasted eggplant and chargrilled capsicum. Simply delicious!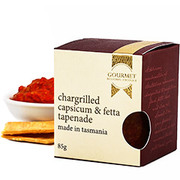 Gourmet Regional Capsicum & Feta Tapenade 85g
A Tassie produced tapenade, this gourmet dip with the perfect balance of Australian capsicums, creamy fetta cheese and olive oil.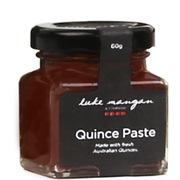 Luke Mangan Tasmanian Quince Paste 60g
A sensational Australian quince fruit paste made in Tasmania with the freshest ingredients. A delicious addition to cheese platters.
Biscuits & Sweets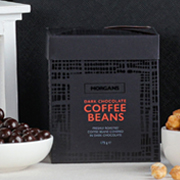 Morgan's Dark Chocolate Coffee Beans 175g
Freshly roasted coffee beans covered in smooth, rich 50% cocoa dark chocolate. Made in Sydney.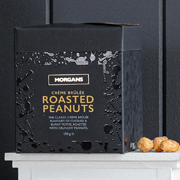 Morgan's Crème Brûlée Roasted Peanuts 175g
The classic crème brûlée flavours of custard and burnt toffee roasted with crunchy peanuts. Made in Sydney
Wine & Champagne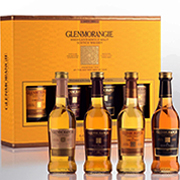 Glenmorangie Taster Pack
Featuring the finest drops of the Scottish Southern Highlands this Glenmorangie Scotch Whiskey is a superb tasting set.
Also Included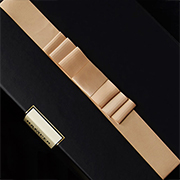 Premium Black Gift Box with Gold Ribbon
This gift box is sure to impress, lined with luxury white embossed paper and finished with a fine grosgrain ribbon.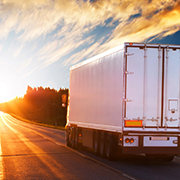 FREE Delivery to Anywhere in Australia
Make the most of our FREE delivery service to any address within Australia, all included in the price of your hamper.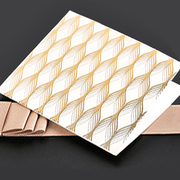 FREE Gold Gift Card
Write a personal message to your recipient and it will be presented in this luxury gift card with gold foil embossing.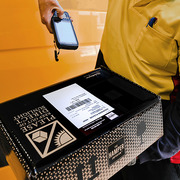 Comprehensive Track & Trace
Your parcel can be tracked as it is shipped anywhere in Australia. A tracking ID is emailed upon dispatch.
---
Standard Delivery - FREE
NSW, VIC, QLD metro areas
1 - 3 Business Days
TAS, SA metro areas
3 - 5 Business Days
Perth, Darwin & regional areas
5 - 8 Business Days
Express Delivery* - from $14.95 per hamper
Sydney Metro Area
Same Business Day
Melb, Bris, Adel, Perth, Can, NSW cities
Next Business Day
Darwin & outside of major cities
1 - 3 Business Days
*Delivery times based on orders placed before 1pm on the same or previous business day.
Visit our
Delivery page
for detailed delivery information.
Due to seasonal variations and exclusivity of our stock, items in hampers are occasionally substituted for products of the same or higher value and quality.
Pamper Your Business Relations with the Glenmorangie Scotch Whisky Hamper!
Many businesses will use corporate gifts over the holiday season, which enables them to strengthen the relationship between their business and an important client, supplier or even employees. If you want to pamper one of your business relations this holiday season, be sure to have a look at one of the new gift hampers at the Hamper Emporium – the Glenmorangie Scotch Whisky Hamper. This Glenmorangie hamper is the ideal combination of gourmet treats and a selection of Glenmorangie whisky, so let us look a little closer at the Glenmorangie whisky inside this hamper to determine it could provide your business with some benefits in the future.
Original Glenmorangie Whisky
The original Glenmorangie whisky is truly the flagship of the namesake wine label. The whisky is an outstanding combination of florals, which ensures the whisky is as elegant as it is smooth. The whisky is also matured for at least 10 years, so quality is certainly a word you could associate with the Original Glenmorangie Whisky.

One of the most remarkable factors contributing to the quality of Glenmorangie Original is the fact that the whisky is made with Scotland's tallest stills. Once the whisky is made, then it is transferred to first and second fill American white oak casks, which certainly contribute to the unique characteristics this particular whisky is known for.
The Lasanta
When you cannot decide between the old and new Glenmorangie whiskies, the Glenmorangie Lasanta may become your new favourite. The Lasanta has a better integration of flavours, which certainly delivers an outstanding whisky with an interesting aroma, taste and finish.

To create the unique Lasanta whisky, Glenmorangie matures this particular whisky in special ex-bourbon casks, also referred to as American white oak casks. Once they have completed the maturation process inside these casks, they are matured for an additional two years in Oloroso and PX Sherry casks, which are obtained from Spain.

There are numerous words that could be used to describe the Lasanta, but the two words that come to mind first are warmth and passion. It clearly reminds consumers of the Spanish cultures, thanks to the use of Spanish casks during the maturation process, but also expresses a soft and deep texture that is quite typical for the Glenmorangie whisky label.

The aroma of the Lasanta is very unique when compared to most whiskies on the market today. Consumers can clearly detect an aroma of warm spices, chocolate, raisins, honeycomb and caramel toffee. However, the complexity of the whisky is not limited to the aroma, because the taste could also be described as wonderfully complex. Thanks to a combination of flavoured sultanas, oranges, walnuts and butterscotch, Glenmorangie is able to provide a whisky that is the perfect blend between the old and the new.
Quinta Ruban
The Quinta Ruban is another whisky from Glenmorangie's core range. It is also the most intense whisky from the Glenmorangie range, so this is a whisky that no whisky-lover can afford to miss.

To ensure the intense aroma, palate and finish of the whisky, Glenmorangie matures this particular whisky for at least a minimum of 12 years. First, the wine is placed in the characteristic American white oak casks, which are always used to create the Glenmorangie Original. When the whisky has been matured for at least ten years, then the whisky is transferred to unique ruby port pipes, which are obtained from Quintas or wine estates in Portugal.

The extra maturation of the Quinta Ruban certainly delivers where flavour is concerned. The Quinta Ruban is known for its voluptuous character, which features a complex balance of both sweet and dry flavours; this in contrast with the smooth and crisp textures that also characterise this whisky. Also, to ensure extra aroma and a superior palate, Glenmorangie is non chill-filtered.
When you experience the aroma of Quinta Ruban, you can clearly detect dark mint chocolate, tangerines, Seville oranges, sandalwood and walnut, with a finish of pepper and nutmeg. The unique aroma of the Quinta Ruban also follows in the taste, which predominantly consists of mind chocolate and walnuts. Still, despite the crisps flavours in this whisky, the palate of the Quinta Ruban can still be described as a soft velvet.
Nectar D'Or
The last Glenmorangie whisky from the core range is the Nectar D'Or. The Nectar D'Or is considered very rare in the world of whisky, because Glenmorangie uses French casks to deliver a unique sweet and dry balanced whisky, something no other whisky label has been able to achieve through French casks.

Casks used for the maturation process provide the whisky with dessert-like flavours. To ensure superior aroma and mouthfeel, this whisky is also of a non-chill filtered nature, enabling Glenmorangie to create an aroma of lime, oranges and sultanas.

The actual taste of Glenmorangie whisky varies considerably from the aroma, since the taste notes mainly consist of ginger, nutmeg, toasted almonds, lemon meringue and honeycomb. The taste flawlessly continues in the finish of the whisky, which is characterised by lemon zest, white chocolate, vanilla, ginger and nutmeg.
More Whisky at the Hamper Emporium
Businesses or individuals looking for a suitable whisky hamper for a special occasion will find many options at the Hamper Emporium. In addition to our Glenmorangie Whisky Tasting Hamper, customers can find additional options such as the Glenlivet Founders Reserve Whisky Hamper, the Jameson Select Reserve Whiskey Hamper, the Glenmorangie Scotch Whisky Hamper and many more.

Please note that all the whisky hampers at the Hamper Emporium contain additional gourmet treats to make the unique flavours of the whisky come to the forefront. However, the presence of additional gourmet treats also makes sure that all our hampers are perfect for entertaining purposes as well as gift giving.

To find the perfect gift hamper for the recipient you have in mind, please use our categories or type in a keyword in the search window to find an overview with suitable choices. Can't decide which hamper will be best? Do not hesitate to contact our team of professionals for some personal advice!
There are great whisky hampers available on the Hamper Emporium, so you certainly will have a tremendous amount of options when you shop with us. However, when you are in doubt about the specific whisky hamper you need to choose for your recipient, the Glenmorangie Scotch Whisky Hamper is always a safe choice.
Not only can you count on one of the best whiskies in the world, you can also count on a variation of gourmet treats that will leave your recipient wanting more!
Aside from the Glenmorangie Scotch Whisky Hamper, there are other options available for you at the Hamper Emporium, which you are free to explore if you are uncertain about your whisky hamper choice at this present time.
Another whisky hamper from our range that is certainly worth considering is the Glenlivet Founders Reserve Whisky Hamper. The Glenlivet Founders Reserve Whisky Hamper contains the Glenlivet Founder's Reserve Scotch Whisky, which features flavours such as pear, candy and toffee apple.
This Glenlivet Hamper also contains a large range of gourmet treats, which complement the whisky inside perfectly. Still not sure about the hamper? Then make sure you check out the other available options, which include the Glenmorangie Scotch Whisky Hamper, Jameson Select Reserve Whiskey Hamper, Jameson Whiskey Xmas Hamper and many others available at the Hamper Emporium.