Christmas Delights Hamper
Delight Their Tastebuds & Gift Them Joy
With plenty of traditional Christmas treats and favourites, the Christmas Delights hamper will surely please even the biggest Christmas connoisseur. FREE Australia-wide Delivery, this hamper is the perfect Hamper for friends, family or colleagues!
---
Biscuits & Sweets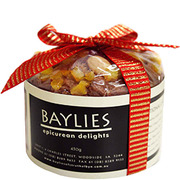 Baylies Epicurean Traditional Handmade Cake 450g
Handmade in South Australia; featuring Barossa Brandy and fresh Australian ingredients for the finest quality.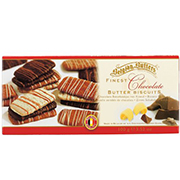 Belgian Butters Finest Chocolate Biscuits 100g
Everyone will love Belgian Butters Chocolate Biscuits featuring a hint of cinnamon & white & dark chocolate.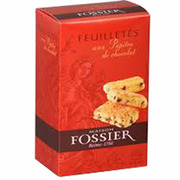 Maison Fossier Feuilletes Chocolate Chip Puff Pastries 125g
Oh yum! These delicious choc chip puff pastries are guaranteed to delight their tastebuds and impress guests. Ready for another Maison Fossier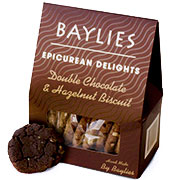 Baylies Double Chocolate & Hazelnut Biscuits 150g
Made in South Australia, featuring crunchy hazelnuts and delicious chocolate for a true Australian treat.
Wine & Champagne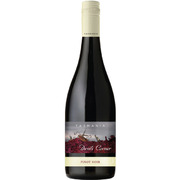 2014 Devil's Corner Tasmanian Pinot Noir 750ml
An exquisite cold climate pinot noir with a seductive palate and light astringency. Perfect for savouring with a meal or alone. Discover
Chocolate
Willie's Peruvian 70% Dark with Hazelnut & Raisin 50
Another delicious chocolate creation from the world-famous Willie's Cacao. Crafted from Peruvian Cacao Beans. Willie's Cacao Peruvian 70% Da
Willie's Sierra Leone 70% Dark with Ginger & Lime 50
Willie's Cacao has done it again with an exotic chocolate blend crafted from Sierra Leone Dark Chocolate.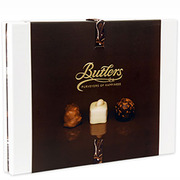 Butlers Premium Handmade Chocolate Collection 210g
Beautifully presented with only the finest of flavours and ingredients, from the chocolatier experts at Butlers. Enjoy Gorgeous Chocolate Flav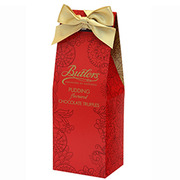 Butlers Milk Chocolate and Pudding Truffles 100g
Flavour-filled with the finest of flavours these milk chocolate and pudding truffles are delicious at every bite. Discover the Ultimate Christ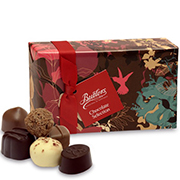 Butlers Red Floral Ballotin Chocolate Selection 92g
Beautifully presented to bring joy for every occasion, with a selection of truffles and pralines from Butlers. Spoil Someone with Butlers
Also Included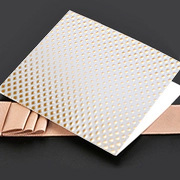 Optional FREE Premium Greeting Card
Your own special message sent along with your hamper inside this gorgeous embossed gift card. Simply enter details during checkout.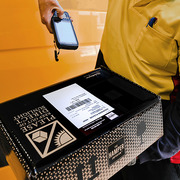 Comprehensive Track & Trace
Track your parcel as it's shipped Australia-wide with comprehensive tracking for your peace of mind.
---
Standard Delivery - FREE
NSW, VIC, QLD metro areas
2 - 4 Business Days
TAS, SA metro areas
3 - 5 Business Days
Perth, Darwin & regional areas
5 - 8 Business Days
Express Delivery* - from $14.95 per hamper
Sydney Metro Area
Same / Next Business Day
Melb, Bris, Adel, Perth, Can, NSW cities
Next Business Day
Darwin & outside of major cities
1 - 3 Business Days
*Delivery times based on orders placed before 10am on the same or previous business day.
Visit our
Delivery page
for detailed delivery information.
Due to seasonal variations and exclusivity of our stock, items in hampers are occasionally substituted for products of the same or higher value and quality.
Discover The Hidden Gem Amongst Food Hampers – The Christmas Delights Hamper!
When you want to celebrate Christmas the right way, you are going to need a good Christmas hamper that incorporates all the traditional treats you associate with this holiday. A delicious selection of chocolates, a nice bottle of pinot noir and a handmade Christmas cake, this is our Christmas Delights Hamper in a nutshell!
Devil's Corner Pinot Noir
Tasmania offers rolling green mountains, windswept coastlines and some of the country's most remote wilderness; it also offers some of Australia's best wines. With a cool climate and rich soils, Tasmania offers the perfect combination for producing cool climate wines like the Devil's Corner Pinot Noir.

Owned and operated by one of Australia's most famous wine-making families - Brown Brothers - the quality of this aromatic wine is a celebration of decades of wine making expertise. Named after a treacherous bend on Tasmania's Tamar River; Devil's Corner Vineyards have an excellent maritime climate, providing the grapes with the perfect growing environment that results in a Pinot Noir that has remarkable purple tones and is perfect for those who love a good glass of red wine. This Devils Corner Pinot Noir also offers a fresh acidity, coupled with soft, ripe tannins and juiciness. A wine that delights even the harshest critics;
Why Should I Choose This Christmas Gift Hamper?
Our Christmas Delights Hamper is bursting with delicious, traditional Christmas treats. One of these premium treats is the Baylies Epicurean Delights Traditional Handmade Cake, one of the gifts that simply cannot be missing from your Christmas table.

Of course, there are other Christmas foods waiting to be discovered in this gourmet hamper, including quality biscuits from Belgian Butters and Elsa's Story. Belgian Butters and their Butlers Milk & Chocolate Pudding Truffles are a sister company of Belgian biscuit giant Jules Destrooper, who have made a name for themselves with their traditional butter waffles, better known under the name "Lukken". Elsa's Story is just as good though, because these traditional biscuits are still made according to the recipes that put Elsa's Story on the map so many years ago. Elsa's Story and Belgian Butters can be found in many popular Christmas hampers on the Hamper Emporium, because their superior taste is what our customers want and deserve!

Customers who like a few biscuits with hints of hazelnut can enjoy an extra addition from the Baylies, the Baylies Double Chocolate & Hazelnut Biscuits, an all-time favourite after dinner snack on Christmas Eve. Baylies is often added to our Christmas collection and our range of luxury Christmas gift hampers, so you can discover more options on the Hamper Emporium website if you are looking for a gift basket containing this biscuit brand specifically.

Christmas also needs good food and drink, so we incorporated an exquisite 2015 Devil's Corner Tasmanian Pinot Noir in this gift basket as well. The Devil's Corner Pinot Noir bubbliest wine is soft and fruity, but still gives plenty of generous flavour throughout its palate.

Last but not least, there is also a huge selection of chocolate to enjoy. When you choose our Christmas Delights Hamper, you will be able to appreciate chocolate from Willie's Cacao and all-time favourite chocolate brand Butlers, which is such a delight!

The combination of chocolate, wine and nibbles makes this Christmas hamper the perfect gift for gourmet loving friends and family members.
Are There Similar Christmas Hampers You Want to Recommend?
Our Christmas hampers provide the best nibbles, wines and chocolates this world has to offer and this makes it difficult to pick a favourite, or to put one particular Christmas hamper above the other. However, if you enjoy our Christmas Delights Christmas Hampers, there are a few other Christmas hampers that will tickle your fancy.

An additional Christmas hamper we would like to recommend is the Christmas Bites Xmas Hamper, which has a nice selection of traditional biscuits, chocolates and a good bottle of Brown Brothers Shiraz. In this particular hamper you will also find something from Baylies, more specifically a delicious handmade Baylies Christmas pudding.
When in doubt about your Christmas hamper choice, you can always fall back on our classics, which includes the Christmas Delights Hamper. This delightful hamper from our Christmas hampers range contains everything a recipient needs during the holiday season, without breaking the bank for our valued customers. However, this does not mean that the products inside the Christmas Delights Hamper are of lesser quality, because each of the products inside are obtained from the best Australian and international brands.

To ensure customers get the best flavours possible from our Christmas Delights Hamper, our hamper designer went to some of our trust brands and suppliers. Therefore, customers can find brands in the Christmas Delights Hamper that often return on the Hamper Emporium; this includes Baylies Epicurean Delights, Butlers Irish Chocolates, Willie's Cacao and Brown Brothers. The gourmet delights inside also feature a specific Christmas flavour, so whether your recipient is in the mood for a nice selection of Christmas chocolate or a handmade fruit cake, the Christmas Delights Hamper always delivers a marvellous tasting experience!