Why Do We Buy Presents at Christmas?
Author: Nicole Adler Date Posted:23 March 2019


The history of giving presents is steeped in religion. While the meaning of Christmas presents has changed considerably over the years, its origins is still widely known by most people. Below, we have explained where the tradition of Christmas presents comes from, but also an overview with some recommended Australian Christmas hampers from our own collection. So, be sure to read on to get a treasure trove of information for the holidays.
Where Does the Origin of Christmas Presents Lie?
The origin of Christmas presents lies with the bible. It is used to remember the presents Jesus was given by the three wise men; this included frankincense, gold, and myrrh. Of course, the actual meaning of Christmas has changed a little over the years, brining in other figures such as Santa Claus, Father Christmas, and even St. Nicholas in some countries.
Where Should I Buy My Christmas Presents This Holiday Season?
Customers looking for the best presents this holiday season should certainly consider one of our Australian Christmas hampers. Our Australian Christmas hampers are packed with the finest gourmet products; this ranges from delicious chocolates, champagnes, and delicate biscuits.
Some of our Australian Christmas hampers include more unique gifts, suitable for recipients who are searching for something original. We provide dedicated Australian Christmas hampers for men and women, but also Melbourne Christmas hampers with personalised leather products. There is no limit to the unique nature of our Australian food hampers this year.

How Does The Hamper Emporium Guarantee the Best Quality for Their Australian Food Hampers?
Quality is important for The Hamper Emporium, so we only use the finest gourmet brands in our catalogue. Brands you can expect in our catalogue include Baylies Epicurean Delights, Butlers Irish Chocolates, and even Moet & Chandon. By choosing the best brands for our Australian food hampers, we can guarantee the best quality possible for our customers.
What Are the Recommended Australian Food Hampers for Christmas?
Need some recommendations from our range of Australian food hampers? Check out our suggested Melbourne Christmas hampers for Christmas 2018 below!
The Best of All Gourmet Hampers
When you want to surprise your recipient with one of our finest Melbourne Christmas hampers, you should certainly consider the Best of All Gourmet Hampers. Not only does this hamper contain the finest selection of gourmet treats, it also includes a new Hentley Farm wine selected by our hamper designer!
Everything but the Ham Festive Hamper
Customers who are looking for a more extensive hamper in our Melbourne Christmas hampers catalogue should certainly take a look at the Everything but the Ham Festive Hamper. Inside this hamper, customers can find the ultimate collection of Christmas treats; this includes shortbread, fruity mince pies, and even delicious handmade cake.
Luxury Chocolate & Veuve Hamper
There are a lot of chocolates in our range of Melbourne Christmas hampers this year, so you will have no problems finding something for the chocolate lover. One of our favourite Melbourne Christmas hampers with chocolate is the Luxury Chocolate & Veuve Hamper, including a bottle of champagne, shortbread, and countless chocolates from Butlers Irish Chocolates, Ernest Hillier, and Willie's Cacao.
The Emporium Hamper
Do you want to pamper your recipient with the largest of our Melbourne Christmas hampers? If so, you cannot look past The Emporium Hamper. As the name suggests, this gift basket is named after The Hamper Emporium, so you can expect a lot from this gourmet gift basket.
Since The Emporium Hamper is one of the largest Christmas hampers in our catalogue, it is often used by corporations to reward their employees. Of course, if you have a big budget during the holiday season – or looking to buy a gift basket for an entire family – The Emporium Hamper should be on your shortlist.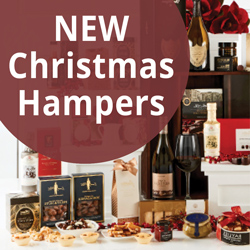 Up Until When Can I Order Christmas Presents from The Hamper Emporium?
The Hamper Emporium has extended the delivery time for Christmas presents; this means you can now expect a delivery up to Christmas Eve. We still urge customers to check on the estimated delivery times on our website; this will give you a better idea about the timeframe your hamper will be in transit.
When you choose one of our Christmas gift baskets this holiday season, you can also count on a free delivery. If you wish to take advantage of this free delivery, please select the standard delivery option during the checkout process.
Of course, customers also get a delivery option that enables them to speed up the delivery of their Christmas hampers; this option is available for a small additional fee. During the checkout window, select the "Express Delivery" option to speed up the delivery of your hamper.
Do you have a question about one of our gift hampers? Or do you need gift advice? Do not hesitate to contact The Hamper Emporium this holiday season.