Putting The Ho-Ho-Ho Back Into Christmas Shopping
Author: Nicole Adler Date Posted:25 October 2017


If you're in the habit of making a list and checking it twice then setting out to comb the shops for the gifts you need, you might want to consider saving your feet, your time and loads of stress by shopping online this year.
Retailers like to call it 'festive spirit' but you know it is more like 'Christmas chaos' where you are risking life and limb fighting amongst thousands of shoppers to secure that perfect gift, especially when there is only one left on the shelf…
What are the benefits of online shopping?
If you are a pre-planner, you can streamline your already-efficient Christmas shopping process by ordering your gifts online and having them delivered. This option is open to you because you are pragmatic and organised which means you have time up your sleeve. You are on Santa's 'nice' list. You are also probably not as stressed as some in the lead-up to Christmas.
If you're a last-minute shopper online shopping isn't for you. You might find yourself on Santa's 'naughty' list because really, there is no excuse for not purchasing gifts that you have put a lot of thought, time and effort into. Christmas rears its (ugly for some) head in the shops just after Easter every year, so you can't say you didn't know it was coming.
If you can make the transition from last-minute shopper to pre-planner you can broaden your shopping options from your suburban mall all the way to the little town of Bethlehem. Online shopping really does open the doors and bring joy to the world, of shoppers.
Shopping online includes delivery, which is sometimes free! Not many things are free at Christmas time, so why not take advantage of places like The Hamper Emporium who offer free delivery across Australia.
If buying Australian goods is important to you, buying from The Hamper Emporium means you are buying from a 100% Australian owned and operated company, providing Australian shoppers with the finest quality gift hampers all across Australia.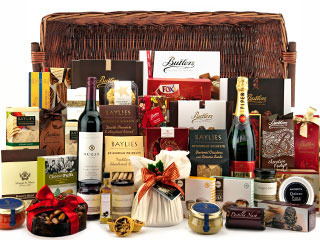 If I don't know what to buy, why is online shopping any better?
You can browse a greater selection online than you can traipsing the shops. For you non-shoppers we'll call that 'research' if the word 'browse' makes you uncomfortable. And even for the disorganised among you, if you consider something like a Christmas hamper as a one-gift-fits-all solution, you can make all your purchases online and have them delivered to your gift recipient right up until the last week of Christmas.
The Hamper Emporium don't just provide the ease and convenience of online shopping, they offer a selection of over forty amazing Christmas food hampers for you to choose from.
It can be hard to decide when you have so many incredible choices. You will be salivating at the thought of the Festive Cheer Christmas Hamper and unable to resist the mouthwatering treats in the Traditional Christmas Epicure Hamper. The rest of the range are equally tempting and guaranteed to give everyone a merry little Christmas.
Who are Christmas hampers good for?
Christmas hampers are great for everyone. Even Santa wouldn't say no to a Christmas food hamper from The Hamper Emporium! They are the perfect gift when you need something not too personal for people like clients, colleagues or staff members.
For those who have everything – Mum, Dad, elderly relatives, Grandma and Grandpa or even those that are notoriously difficult to buy for, a gift basket is sure to put the merry back into their Christmas.
Christmas hampers are especially good gifts for your interstate friends and family. Delivered right to their door, free of charge, is the easiest way to give a gift from afar.
For those you love but find notoriously fussy, it may be easier to select from The Hamper Emporium's range which includes corporate, gourmet, chocolate, beer and cider specialty items. You can package a Christmas hamper in a cane basket or even a stylish wooden or cardboard box. When decorated in Christmas colours and ribbons they will make an impressive gift.

What is in a Christmas food hamper?
Gourmet, totally decadent, wickedly delicious food and liquor which generally don't form part of your everyday diet. There is no place at Christmas for the everyday and the mundane. Christmas is special, as are the contents of The Hamper Emporium's gift baskets. Consider the Luxury Christmas Icons Hamper. Now that is how to do Christmas in style! Filled with extravagances such as Moet & Chandon Grand Vintage Champagne and Tasmanian Black Truffle Paste, Baylies Epicurean Traditional Handmade Cake, Morgan's Popcorn Toffee Peanut Crunch and many more such delicacies, this is the elite in Christmas food hampers.
Alongside the best champagnes, wines and craft beers, The Hamper Emporium's Christmas hampers also contain fabulous festive foods such as shortbreads, puddings, fruit mince tarts and Christmas cakes. They present top line pantry items such as chutneys and jams and delicious quince pastes to adorn your cheese platters. Sweet and savoury sauces, an assortment of nuts to nibble, wickedly indulgent chocolates, dried fruit, sweet biscuits, savoury crackers, and to-die-for fudges and truffles make up many baskets.
Why not dive into the world of online shopping this year, and make Christmas shopping easy and fun by purchasing your gifts online from the gift-giving gurus at The Hamper Emporium.