What Are the Different Types of Australian Christmas Hampers Available?
Author: Loreena Walsh Date Posted:23 March 2019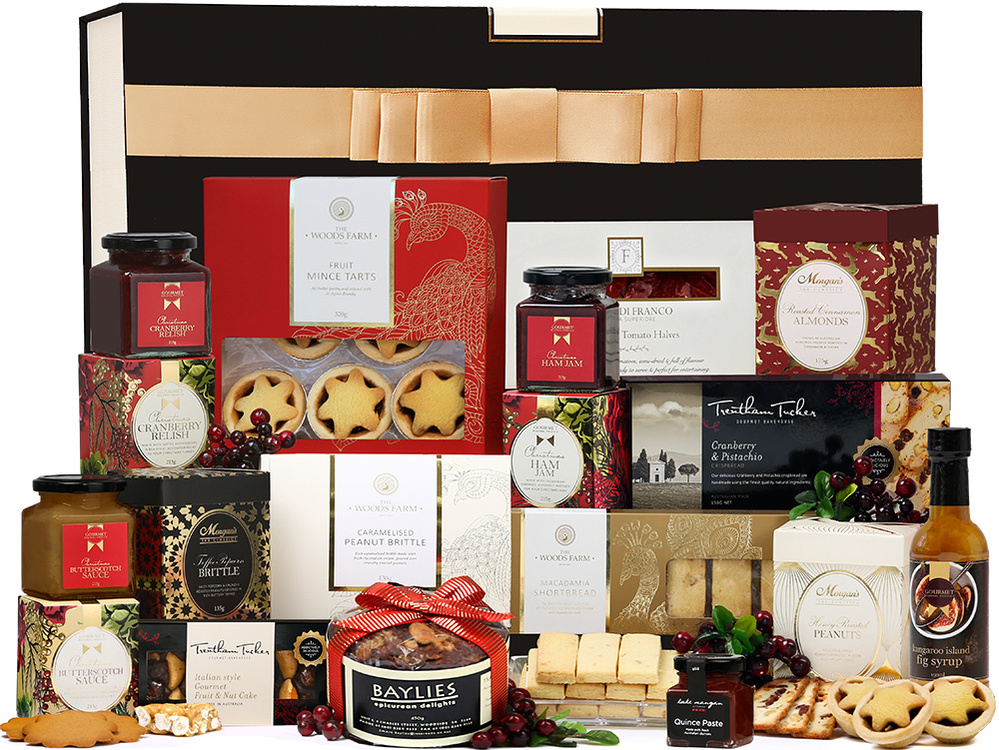 The Hamper Emporium has a huge range of Australian Christmas hampers available online and ready to order. We have everything from gourmet food & wine hampers, chocolate Gifts, and beer & cider hampers to pamper gifts, alcohol-free gourmet food hampers, and even new baby hampers. So, if you need a good gift for a special occasion such as Christmas, you are bound to find it at the Hamper Emporium.
Want to know more about our range of Australian Christmas hampers and the high-quality goodies we include in each? We've taken them apart piece-by-piece so you can learn a little more about our hamper-worthy products.
What Is Included in Sydney Gourmet Hampers?
You won't find the gourmet goodies we include in our hampers on the shelves of your local supermarket. That's because our team have searched the globe for luxury products, true artisanal produce and purveyors of fine food. Whether it be delicious olive and fennel spread from France, black truffle pastes from Tasmania or the best Shiraz from Margaret River, the products we include in our Australian Christmas hampers convey feelings of indulgence and pampering. One of the most popular Australian Christmas hampers in our range is the Pure Gold Luxury Foodies Hamper.
What Is Included in Chocolate Christmas Hampers?
Our chocolate hampers are some of our most popular Australian food hampers, especially around Christmas time. We work with chocolatiers from all over the world, who create delicious chocolate goodies that are unique and extra special. A few favourites include Butler's Chocolate Caramels, Willies Cacao Milk of the Gods 'Rio Caribe' and Ernest Hillier's Milk Chocolate Scorched Almonds. It was a hard decision, but our pick for best chocolate-themed hamper has to be the Luxury Chocolate and Veuve Hamper.
What Is Included in Savoury Australian Food Hampers?
Our savoury hampers come in handy around the holiday period because they are packed and ready to entertain. We pay particular attention to the savoury items we include in Australian food hampers - they need to strike the right balance between sweet and other gourmet inclusions. Our picks for best savoury inclusions are Brewers Nut Company Premium Nut Mix, Luke Mangan Tasmanian Quince Paste and the ultra-gourmet Baylies Crackers with Sesame Seeds. If savoury treats are your thing, we suggest the Vintage Moet Hamper.
What Is Included in Wine Hampers?
The Hamper Emporium is fortunate to be able to include some of the best Australian wines in its Australian food hampers. Wineries we partner with include Cape Mentelle, Brown Brothers and The Islander Estate. Our pick for top wine hamper is the Premium Red and White wine hamper with gourmet nibbles.
What Is Included in Spirits Hampers?
The Australian food hampers we curate provide an experience for those who appreciate the finer things. In our best Christmas hampers, we include top shelf spirits including Kangaroo Island's award-winning Wild Gin, Hennessy VSOP Cognac, Penfold's Father Grand Tawny Port and Glenmorangie Whiskey. Our pick for the best hamper featuring spirits would have to be the indulgent Wild Gin and L'Occitane Hamper.
What Is Included in Champagne Hampers?
Christmas is a time for celebrations and what better drink to toast to family and festivities than Champagne? Many of our best Christmas hampers feature the best of the best bubbly including Moët & Chandon, Veuve Clicquot and Dom Perignon. The Moët Nectar Imperial Hamper is a wonderful hamper to share and enjoy at Christmas.
What Is Included in Beer and Cider Hampers?
Perfect for lazy Summer barbeques, our beer and cider hampers are always a very popular Christmas gift. We have several of our best Christmas hampers that offer the best boutique beers and ciders made in New Zealand and Australia with breweries including Burleigh Brewing, Lord Nelson, Murray Craft Brewing, Bridge Road Brewers, Feral Brewing, McCashin's Brewery, Barossa Cider Co and The Hills Cider Company.
Our pick for the best beer or cider hamper is Microbreweries of Australia hamper, an outstanding choice for any beer lover during the holiday season. Even though there are more beers to be savoured in our range of best Christmas hampers, we believe the Microbreweries of Australia Hamper from the best Christmas hampers range is the most solid choice this year.
What Is Included in Pamper Hampers?
Pamper hampers are a perfect way to spoil someone special. Our Australian luxury gift hampers include skincare products by L'Occitane, MOR and Jurlique, fashion accessories by Mimco and Seafolly, and gorgeous notebooks from Rifle Paper Co. If you want to spoil someone this Christmas, the L'Occitane Celebration Pamper Hamper will win you a lot of brownie points.
Looking for More Australian Luxury Gift Hampers This Holiday Season?
The Hamper Emporium is proudly Australian-owned and operated and is the best place to shop online for gourmet and Australian luxury gift hampers. Melbourne, Sydney, Brisbane, Adelaide, Perth - it does not matter where you are in Australia, we will deliver all Australian luxury gift hampers right to your doorstep. We have a great selection of Christmas hampers available including Gourmet Food & Wine, Chocolate Gifts, Beer & Cider, Pamper Gifts, Gourmet Food (no alcohol) and New Baby hampers. You are sure to find a hamper that will be remembered for years to come.
Want to get more familiar with our range of Australian luxury gift hampers before you decide? Head over to the Christmas catalogue to uncover countless luxurious options. From corporate gift hampers and Sydney gourmet hampers to Melbourne Christmas hampers, there is a category for each type of customer at the Hamper Emporium.