3 Fatal Mistakes To Avoid With Your Corporate Christmas Gifting
Author: Nikki Barnett Date Posted:7 October 2019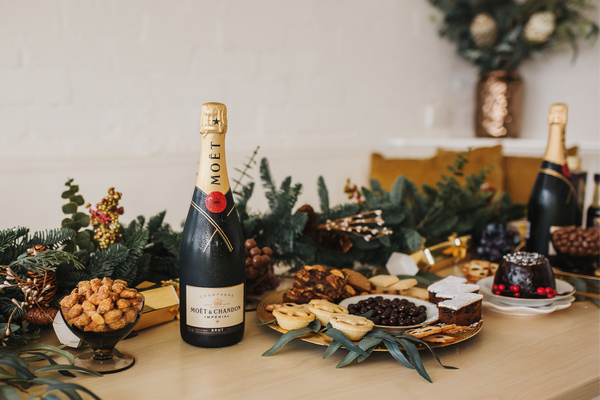 Avoid Making The Wrong Impression This Year!
As Christmas draws nearer have you made your plans for your business gifts? No? Then unless you want your gift-giving to be a waste of time and money, you need to put some thought into it or discover for yourself the fatal Christmas gifting trap!
Your corporate gift represents your company as much as your staff and product do. A good gift makes an impression. A bad gift? Well, they do make for fun dinner conversations, but not so much if you are the butt of the joke. Corporate gifting is a time-honoured tradition with expectations and pitfalls. Let us help you enjoy the festive season and avoid any fatal Christmas gifting pitfalls.
How to Avoid Fatal Christmas Gifting
Fatal is a strong word, but when it comes to business, a bad gift can be viewed as a reflection of the company, and that can ultimately destroy relationships. Consider it like giving your wife a toaster when she was expecting a diamond! The reasons for giving a corporate gift are many, but make no mistake, the act of gifting correctly is essential for your continued business relationships.
Fatal Christmas Gifting No 1 - Inappropriate Gifts
Do spend some time considering who you are sending your gifts to. Pay particular attention to religion, sexual orientation and culture. Avoid anything that could be regarded as sensitive. So you may have to avoid alcohol for teetotalers and meat for vegans and vegetarians. Also, bear in mind some cultures see gift-giving from anyone but close family as suspicious!
Gender-specific gifts can seem like a great idea, but being too personal can embarrass the recipient and send the wrong message. Another wrong message is when you select something too generic, that shouts out,' not a lot of thought went into this'. You can personalise a gift without making it too intimate a gift.
Sending a message is what we do with our Christmas gifts. A message that says you, your company, appreciates their business relationship and values their loyalty. Maintaining a professional message is very important to your future business relationship.
Fatal Christmas Gifting No 2 - Giving Cash
A very definite no-no. It sends a number of messages to the recipient, and they are not the ones you want them to receive. For one, you have been too lazy to go out and shop. Two, how arrogant you are to give them money. Three it might make them wonder how you view them, and their business and the list goes on.
As you can see the giving of cash is not deemed a Christmas gift; well not a good one! Even your employees, while welcoming a Christmas bonus, would consider it earnt not a gift per se. A gift is about appreciation, acknowledgement and as a thank you!
Fatal Christmas Gifting No 3 - Over The Top Gifts
I can hear you saying, 'Why shouldn't I splurge out, been a good year and I can afford it'. That is great for you and your company, and the sentiment is equally as generous, but it can backfire. Badly! An expensive or overindulgent gift is classic fatal Christmas gifting.
'Why is it fatal' you ask? Don't worry; our suggestions are here to help you maintain your business relationships, not damage them.
One of the first responses to an over-effusive gift is embarrassment. It is followed by even more discomfort if they realise that their Christmas gift was no match for yours.
Remember, reciprocity in gift-giving is an integral part of today's modern world, a social norm and fairly well embedded into our society and businesses. Even if that was not your intent, it is how it can be perceived.
As your aim with gifting is to promote your business relationships, embarrassing and possibly annoying the recipient is not the Christmas message you want to send and could fatally affect your good working relationship.
The fatal Christmas gifting errors do not end at three. Oh, yes, there are more! Not spending enough time to select the appropriate gifts, not doing your research, not setting your budget, not personalising the gifts, or over-personalising, and so forth.
Now you have seen the fatal gifting trap that is hiding in the wings; we have some suggestions that could help you make this exceedingly busy and stressful time less so.
Our Christmas Hamper Suggestions To Avoid The Fatal Christmas Giving Trap Already at Hamper Emporium, we have an excellent selection of delectable Christmas Hampers, all specially designed to provide you with a perfect gift. Starting from $69, you can select a beautifully presented hamper. Yes, we even take care of the wrapping!
You can also choose to add in your corporate branding, and we have a team on hand who can assist you with that. Ensuring whichever hamper you select, will carry your corporate goodwill into the New Year.
Another bonus of selecting one of our Hampers, is they all come with free Australia-wide delivery and are ready to pre-order now!
To avoid falling into the fatal Christmas gifting trap maybe it's time to get ordering. It might even bode well for you to consider the advantages of bulk ordering! Plus, you could take advantage of our Christmas Early Bird Special to get a 10% discount on your corporate orders.
Our Top Recommendations:
Christmas Mini Delight Hamper $69 - as the name suggests this is packed full of delicately crafted treats creating a marvellous festive flavour sensation for any Christmas table. This hamper is without alcohol, so a recommended gift for teetotallers of choice or religion.
Indulgence Christmas Hamper $99 - this is the ultimate festival hamper sans alcohol. Gourmet treats from around Australia come presented in a custom made keepsake box. Expect delights like Kangaroo Island produce Co, Honey Popcorn and Morgan's Maple Coconut Roasted Almonds among the goodies as well as the delicious Woods Farm homemade Christmas pud.
Champagne and Christmas Cake Hamper $159 - just made for each other. French Champagne, Australian Chocolates and Baylies Traditional Handmade Christmas Cake along with other festive treats.
Pure Gold Luxury Foodies Hamper $299 - fabulous indulgence for the tastebuds. A little more of everything that makes Christmas such a feast for the senses. Including Moet & Chandon and a Margaret River Shiraz, plus Australia's finest artisan nibbles. This is a hamper that avoids all the fatal Christmas gifting traps.
Gifts For Staff And Colleagues
To avoid any of the fatal Christmas gifting errors for in-house gifts to colleagues and staff. Might you consider giving a small token of appreciation for all their work and one of our larger hampers for a Christmas office party? The Celebration of Christmas Hamper, $599 would be perfect as it is designed for sharing!
Another alternative you could consider to avoid any fatal Christmas gifting is to use our Corporate Gifting Platform. Using this alleviates any of the errors mentioned above, and all the stress that busy holiday seasons bring with them.