5 End of Year Gifts For Your Child's Teacher
Author: Michelle Richards Date Posted:18 November 2021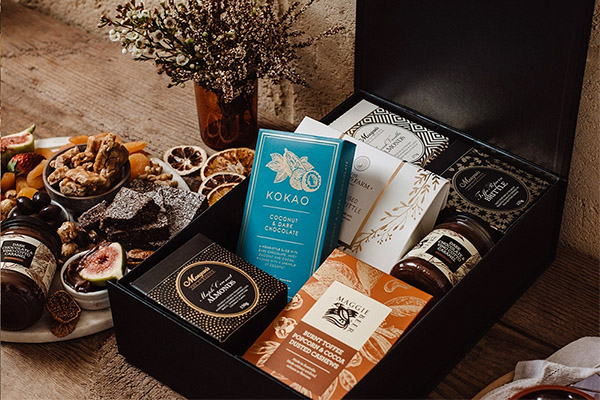 How To Say Thank You Teacher & Show Appreciation With Wonderful Teacher Gifts
Teachers have such a significant role in the lives of our children. They can make it look easy, but they are constantly listening, motivating, and mentoring. Often supporting us way beyond the classroom, they're warm, caring and enthusiastic and always willing to lend a helping hand.
For many, this year has also meant the pressures of keeping kids engaged with remote teaching and balancing structure, schedules and school closures. Some went out of their way to ease stressful situations for both kids and parents. So, here at The Hamper Emporium, we think it's time to go all-out with thank you gifts for teachers that really celebrate the end of the year.
Though teacher appreciation gifts aren't expected, they're lovely to receive, and youngsters can join in with handicrafts or artwork. We've curated a list of creative, fun ideas for all budgets, including our top 5 fabulous festive hampers we know they'll adore.
5 Sweet Thank You Teacher Gifts From Kids
Are your children already starting to ask 'What should I get my teacher for a thank you gift?' Then it's time for some DIY action on homemade gifts that always leave a lasting impression. Not only do they come from the heart, but they're also unique treasures that can't be duplicated.
Thank you card - never underestimate the power of a heartfelt note including a handmade card with a cute message or drawing from your youngster.
Festive fruit - it's nearly Christmas, so children can choose bright berries and luscious fruit to deliver in a handmade festive container that they can re-use.
Prized books - let your kids donate and wrap some of their classic favourites to add to the classroom library for everyone to read and enjoy.
Christmas cookies - get them baking fun school-themed cookies and cakes or cute gingerbread men sure to satisfy any sweet-toothed teacher.
Tree baubles - make your own colourful homemade Christmas tree decorations together so your child will be remembered each and every year.
5 Cool Personalised Teacher Gifts From Parents
It's easy to make your teacher smile whatever your gift budget. You can make their classroom life easier with small fun accessories or brighten up their day with a self-care and pampering treat. Here are just some of the top teacher gift ideas 2021 for a little creative inspiration.
Desk organisers - help your teacher keep daily life organised with festive drawer or desk tidiers for their pencils, erasers, pens and post-it notes.

Chic totes - most teachers just can't have too many totes, so treat them to a lovely personalised or fun bag for their binders, books and files.

Luxury treats - when it's weekend relax time, everyone loves pampering products like lush scented candles, hand or body cream, bath bombs and salts.

Dinner delivery - you can never go wrong with delicious food and drinks, so find out their favourite eatery and give them a gift card for meal delivery.

Fun supplies - teachers love beautiful things too, so think personalised pencils, a gorgeous blank journal, customised stationery or an arty desk pad.


5 Fab Teacher Christmas Gifts From The Hamper Emporium
For something a little extra special, festive Christmas hampers make an incredible end of year teacher thank you thought. Pool your resources for gorgeous gourmet treats that everyone will enjoy. They can open them now for sharing around or put them under the tree for Christmas!
This is one of our best teacher gifts for foodies and perfect for cheese boards or grazing platters. It's packed with wonderful local flavours and special treats from Maggie Beer's pantry and, of course, that essential thank you bottle of wine. A blend of savoury and sweet, there are delicious classic beer nuts plus tasty quince paste and roast capsicum tapenade. Add in a selection of Maggie's mouthwatering burnt toffee popcorn, and they'll be in seventh heaven. This hamper makes the best affordable teacher gifts male and female teachers will love.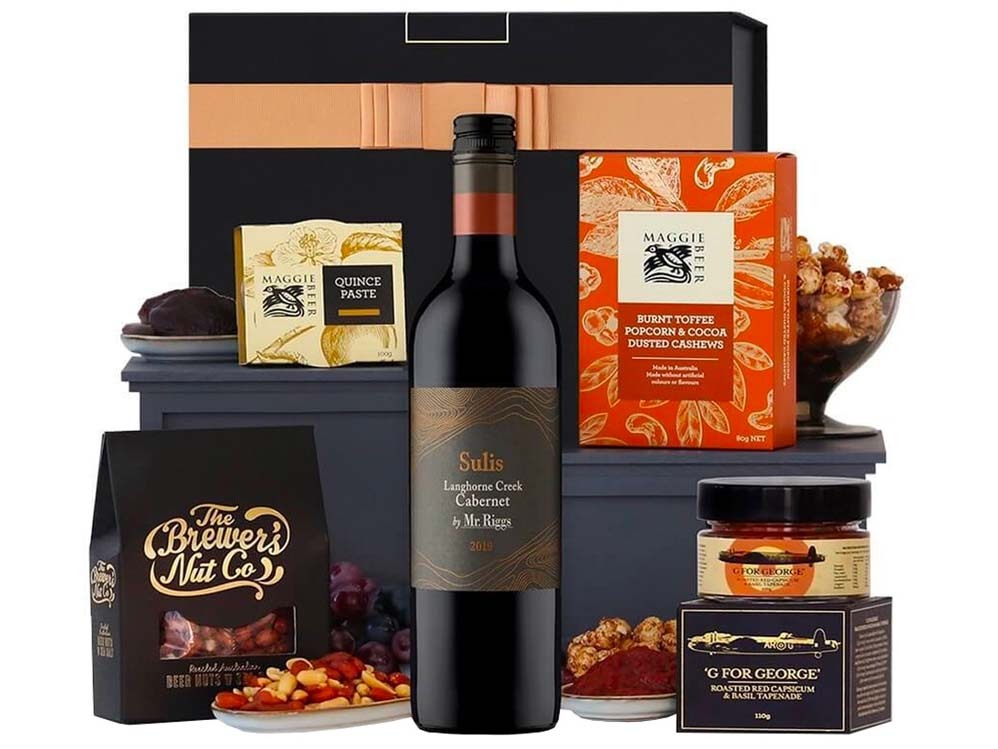 A gift for female teachers, this gift hamper is oh-so indulgent and full of little relaxing and luxurious treats. For personal gifts, there's a gorgeous hand-poured candle with the aroma of warmed figs and a lovely dusty pink A6 notebook with gold-lined pages. Then there's a whole collection of different crunchy, sweet and chocolatey nibbles from Australia's finest producers. Irresistible, it's the perfect pampering end of year gift for our overworked and tired teachers.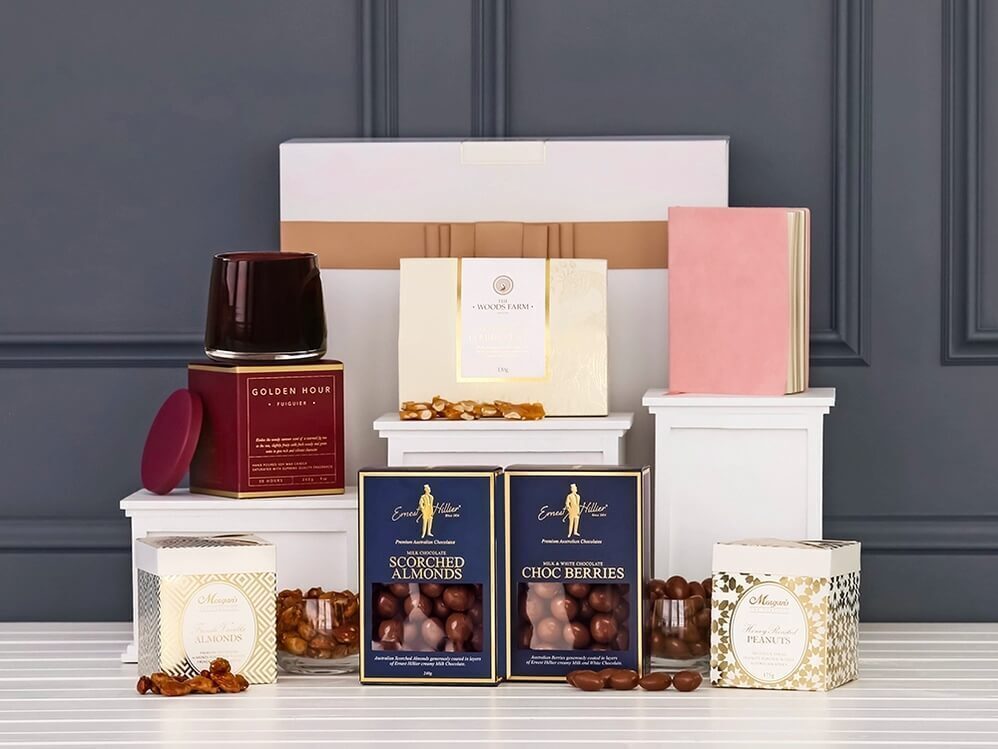 If you're looking for teacher gifts for male mentors, then this hamper will go down a treat. It includes five bottles of imported Corona beer guaranteed to quench their thirst on a weekend off work. To complement its light, crisp, and sweet notes are tempting snacks like Byron beef jerky, classic savoury nut mixes and plump Kalamata olives. Perfect for any Mexican beer fans, female teachers might well enjoy this fabulous flavour sensation hamper too!.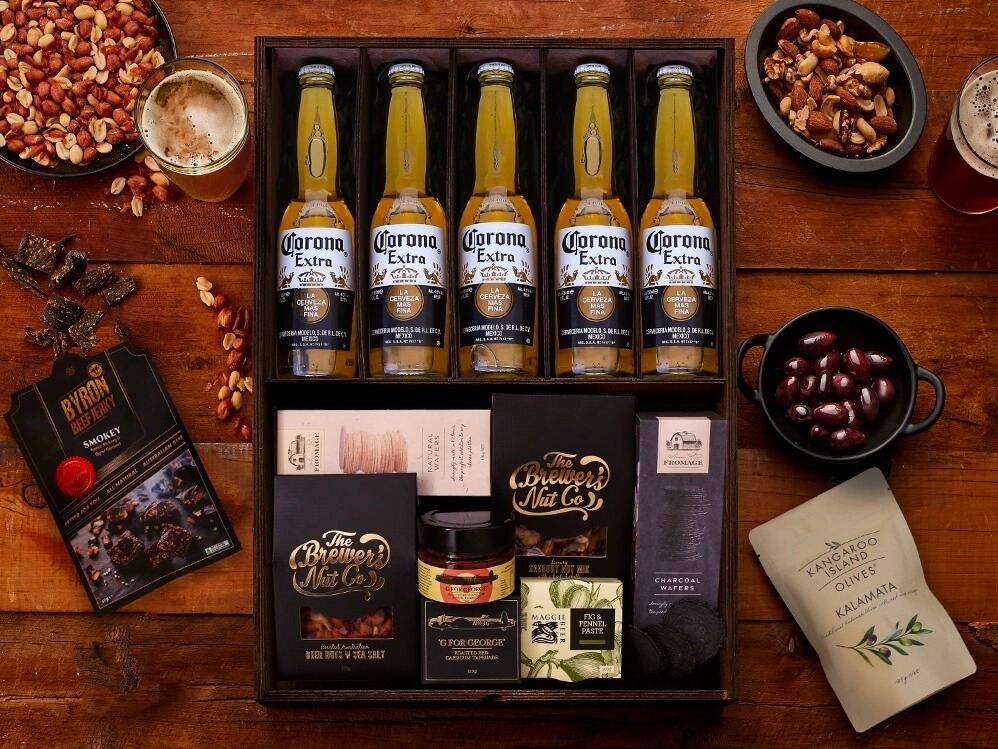 When your teacher has gone above and beyond, and you want to show your heartfelt gratitude, this is a very special hamper. It's one of the thank you teacher gift ideas they'll treasure forever as it comes with two beautiful gold-rimmed stemless champagne glasses. Fruity sparkling rosé from Chandon is a fabulous treat to pop and toast, plus there are four delicious sweet nibbles to try. It's the ultimate thank you gift for any teacher, and they'll love you forever.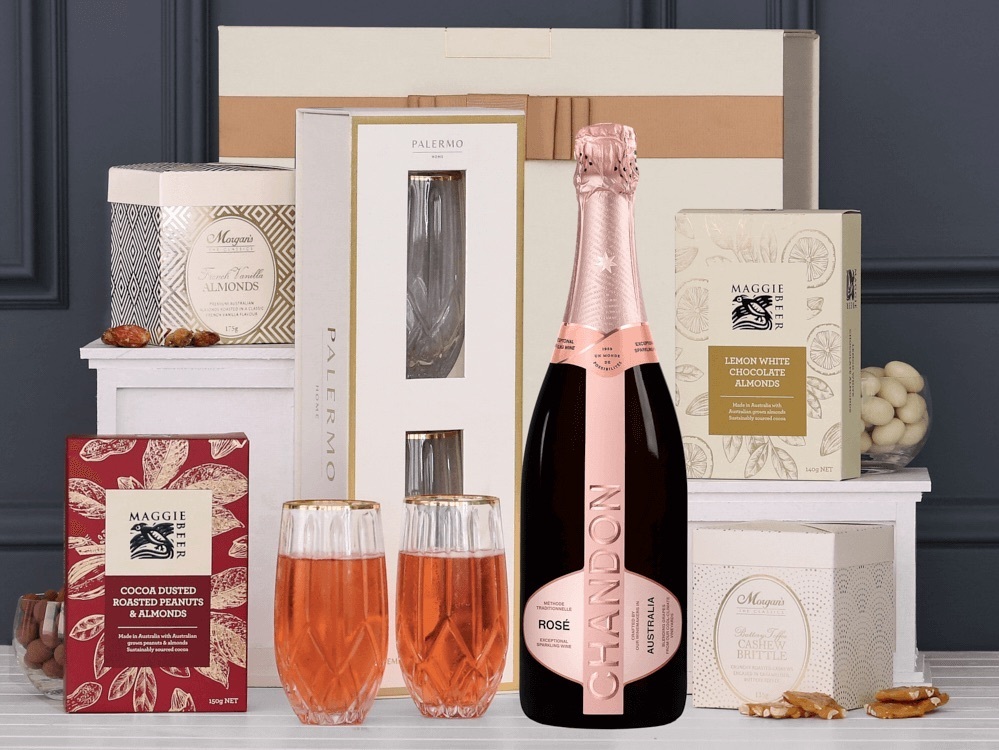 If your teacher adores Christmas, then why not bring the celebrations early with this thoughtful and tasty option? Full of iconic aromas and tastes of the holiday season, there are savoury wafers, crispbreads, nibbles and pastes. Handmade brandy-soaked pudding, fruity mince tarts and a delicious gingerbread bonbon make it a spread to remember. It's an unexpected end of year teacher thank you that will bring smiles and Christmas cheer to the classroom.