Clever Corporate Gifts For The Hard To Please
Author: Nikki Barnett Date Posted:21 October 2019
Why Make A Strategy For Clever Corporate Gifts?
You have to be smart in business, to be a success, and just as importantly maintain that success. One of the ways to do this is with a well-thought-out strategy for corporate gifting. Clever Christmas gift ideas can deepen client, customer or supplier relationships, and are a super way of showing appreciation and saying thank you to them and your employees.
Organise your corporate Christmas gifting strategy, as you would any other business strategy, as an ongoing essential part of your business plans. But branding and marketing opportunities are not something you have to leave it until Christmas to think about. There are excellent marketing and branding opportunities all year that you should capitalise on.
Know The Subtle Differences between Branding and Marketing
No intention here for a lengthy discussion, this description works for us and hopefully you too: where branding is about making loyal customers, who become your advocates and promoters. Marketing is about 'unearthing and activating new customers' about promoting your company and product. Branding is the sum of your experiences, something that forms in the mind, which you continue to reinforce in different ways through a variety of points of contact.
The two often intertwine, supporting each other, but it is necessary to understand the differences when creating your strategies.
A corporate gift strategy is part of the reinforcement of your brand. A gift is sending many positive messages to your client, how you regard them, value them. A surprise that tells them you think of them, even out of traditional gift-giving time, or while you are just doing your Christmas shopping. Of course, the gift should subtly include your logo, colours and name - they have to know and remember it is from you, but when you use beautiful packaging these messages are subtle and leave the right impact.
Maintenance of your brand is a mixture of components that we at The Hamper Emporium fully understand. Both new and well-established companies need to display a brand that is,
Credible - by improving the perception of your company.
Makes you appear more established - which increases your credibility, the cycle continues!
Complies with the expectation of customers, clients and suppliers - increases your market value.
Clever Corporate Gifts Are Beautifully Presented Christmas Hampers
Giving a smart corporate gift demands some thought!
Consider Your Client or Customer
Who are they?
Do you know what they like?
Spend some time to analyse your relationship with your client; how do you want the bond to develop?
Your gift has to suit your client and reflect your company in a positive light. Maintaining both a professional and a personal relationship.
Consider the Budget
Allocating a budget is essential, as is the consideration of how much to spend on individual corporate gifts. Too little and it doesn't say 'I care about' to the customer. Too much and it may be shouting out, 'is this a bribe?' A bit like Goldilocks, you need to find just the right one!
Consider the Timing
Holiday times are not the only time to gift. Birthdays, anniversaries, a surprise thank you for being a good customer, reaching a sales target or something similar. Get the thinking caps on well before the Christmas presents need to be bought so you can plan, find just the right Christmas gift baskets that are thoughtful and creative and just the right kind of 'right'.
Consider the Decoration and Presentation
This far more important than people think. Remember, the visual impact of a gift is the first impression your customer or client will have. No over the top logo or company name, subtle but seeable is important.
This is where we at The Hamper Emporium come in. Our corporate branding team is on hand to ensure you Christmas hamper is of the highest quality. When your client or supplier opens their Christmas gift hamper for the first time they will be immediately impressed. And remember you well into the new year!
We can offer several suggestions, to subtly incorporate your branding, including our luxurious double-sided satin ribbon with gold or silver writing. We also have 12 templates for cards, or you can work with our in-house graphic designer to find the right format for you and your clients. On top of all of this we offer Free Delivery Australia Wide throughout the whole year.
Clever Corporate Gifts
There are many gifts to choose from, you can find them all over the net, but, what is difficult to know is if you are being original or giving them something they already have! Alcohol is an easy option, but unless you know which drink if any you client prefers, just giving alcohol does not send quite the right message.
When choosing a gift for that 'hard to please' client remember why you are doing this. What you want your client or customer to feel. We, of course, think our corporate Christmas hampers are a perfect answer for anyone, plus a nice extra, our selection caters for personalising some of the products included.
A Gourmet Christmas Hamper
Any of our gourmet hampers are designed to please even those you might deem a bit 'picky' shall we say? Who could turn their noses up at a selection of some of the finest artisan goods from Australian?
All our products, from Australia and worldwide, are selected to please discerning palates be that for food, chocolate or wine and spirits. With prices ranging from $59 - $849, and free Australian Wide Delivery, there is a hamper that is perfect for your gifting strategy.
You can include in your hamper one of our range of personalised gifts, which include,
Engraved Keyring

Premium Chopping Board

Branded Wine Wrap

Branded Hamper Sleeve
There are many excellent hampers on our site that you can easily classify as a clever corporate gift; these are three from the range to consider.
Packed to the brim with the tastiest chocolates and sweets. You will find -
Australian Shortbread

Fruit Mince Tarts

Three Different Types of Christmas Cake

Cape Mentelle Margaret River Shiraz

And a Range of Christmas Condiments Perfect For Your Festive Dinner Table
This hamper is for friends and family, clients and suppliers that are not known for their sweet tooth. This beautifully packed hamper is overflowing with delectable, top-quality savoury nibbles included you will find,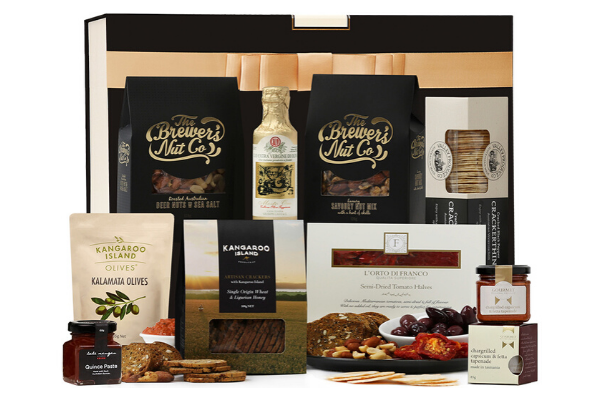 L'Orto Di Franco Semi-Dried Tomato Halves

Kangaroo Island Olives Kalamata Olives,

Kangaroo Island Produce Co Artisan Crackers

Valley Produce Cracker Thins Cracked Pepper 1

Gourmet Regional Produce Capsicum & Fetta Tapenade

'Most Oro' Cold-Pressed Olive Oil

Brewer's Nut Co. Classic Beer Nuts & Savoury Nut Mix

Luke Mangan Quince Paste
Our stunning gourmet hampers and Christmas hampers contain a combination of the best local and international produce. Delicious savoury and sweet nibbles to tempt all. With all of our hampers, you also get FREE DELIVERY Australia-wide, and the option to add your company branding and logo to the gift.
Do you want to make a lasting impression with your Christmas present ideas in 2019?
Do you want to build and maintain a relationship with your client, growing your brand, and establishing another level to your high-quality professional relationship?
Then send something that is already established as a quality gift but has enough variety to please everyone - a Hamper Emporium clever corporate Christmas hamper!
Shop the Xmas hamper range today!